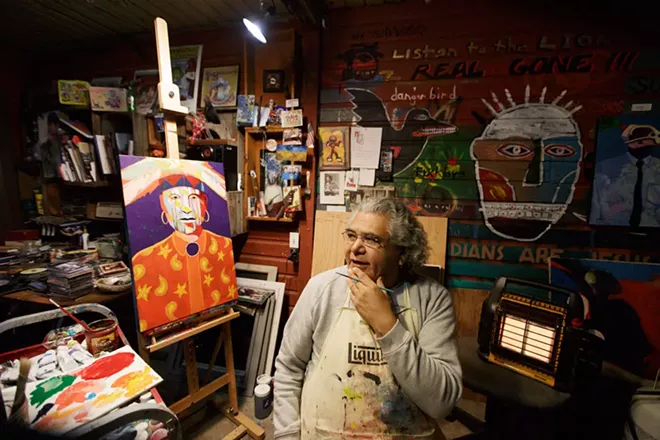 Y
ou know Ric Gendron's
work even if you don't know the rock 'n' roll-loving artist himself, thanks to the vibrant colors, melding of his Native heritage and modern influences, and seeming omnipresence in Inland Northwest galleries.
Earlier this week, his home in Elmer City in Okanogan County was one of several
destroyed in a fire
. According to various Facebook posts from friends and family, he lost art supplies, paintings and his beloved guitars. He also lost his vintage vinyl collection, according to his friend Marshall Peterson, owner of Marmot Art Space, a regular home to showcases of Gendron's work.
Gendron was the subject of a
2015 Inlander cover story
that dug into his roots and inspirations. In the years since, he continued working steadily while moving from Peaceful Valley to Elmer City.
While he's not ready to talk about the fire just yet, Gendron sent the
Inlander
a message via Peterson about the last couple days:
"The outpouring of support has been amazing," Gendron says. "I didn't realize this many people cared about me and my work. I can't thank people enough."
While formal plans to help Gendron get some semblance of his life back are sure to come — and we'll update this post with information — there are already a couple of ways to help out.
One is to visit
Marmot Art Space
and check out some of the Gendron works available to purchase. Peterson will be showing Gendron's work along with the regularly scheduled works by John Morey Maurice opening Friday. You can also make an appointment with Peterson to see Gendron's work outside normal gallery hours.
Another option is donating money to Gendron's account at
Spokane Art Supply
, located at 1303 N. Monroe in Spokane. They can take donations via credit or debit card on the phone, too, at 327-6628.
UPDATE: A GoFundMe account has been set up to raise money to help Gendron get back on his feet. As the page says, he lost his studio, supplies, and paintings he could have sold as well as his own art collection. You can read more and
donate here
.