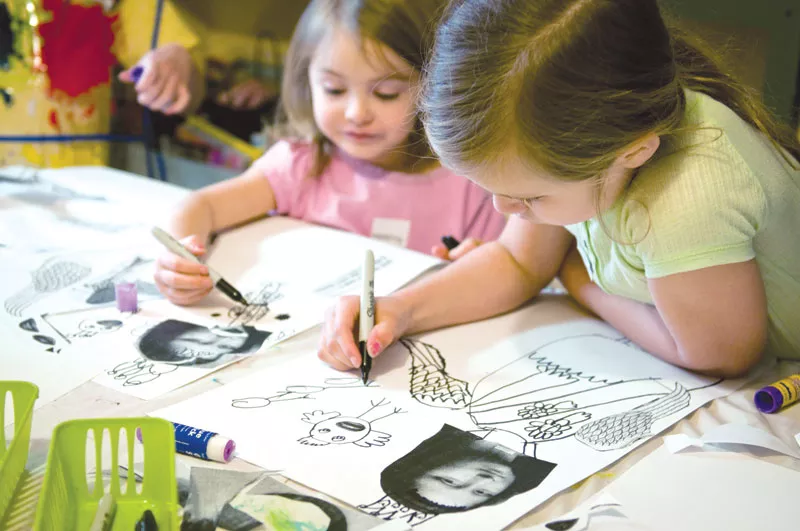 "I think everyone's favorite school supplies when they were going to first grade were their crayons," says Sue Bradley, owner of the children's bookstore Tinman Too in the Garland District. "Through art, children learn how to express themselves, but somewhere in the education system they lose art along the way."
It's difficult to quantify. Art curriculum is an important element of a child's education, but is it integral? Is painting a portrait as beneficial to a child's growth and development as solving a math problem?
For their part, local art teachers say quantifying the impact of art education in a child's life cannot be measured in black and white statistics, but rather in blues, purples, yellows and reds.
A 2006 study by the Guggenheim Museum found that third graders who participated in art programs showed greater improvements in six categories of literacy and critical thinking skills — including thorough description, hypothesizing and reasoning — than did students who were not in arts programs.
Researcher Johanna Jones told the New York Times that while it is unknown exactly how learning about art helps literacy skills, "the hypothesis is that the use of both talking about art and using inquiry to help students tease apart the meaning of paintings helps them learn how to tease apart the meanings of texts, too. They apply those skills to reading."
But the research isn't definitive. A 2000 study by Ellen Winner and Lois Hetland from the Harvard Graduate School of Education found no conclusive evidence that art classes improved student's overall academic performance.
But researchers didn't stop there. The team furthered their study in 2007 and published the book, Studio Thinking: The Real Benefits of Visual Arts Education. In it, researchers found that visual arts classes do have broad, yet indirect benefits in children's thinking skills.
They concluded that "students who study the arts seriously are taught to see better, to envision, to persist, to be playful and learn from mistakes, to make critical judgments and justify such judgments."
As children move into adolescence, creating art offers the opportunity to for self-expression, helping teens to explore their own identities in a safe way. Creative problem-solving — whether it is in choosing paints or discovering the geometry of perspective drawing — can be empowering during this stressful time.
Still, arts education is being slashed across America, and federal and state mandates rely upon standardized tests and the "No Child Left Behind" policy, which emphasize test results.
"The good news is children's art education is important enough that people will find a way to do it," Bradley says. "The bad news is there seems to be an institutional lack of commitment now to have it happen."
Local organizations like Bradley's and the Corbin Art Center are working to pick up where the schools leave off. Tinman Too offers painting workshops, drawing classes and teaches classic fine art techniques to children up to age 10.
"It's so important to keep the arts going because the principles and skills they learn through art will apply over all different kinds of subject matter," Bradley says. For example, a pop-up book class allows students to write their own stories, make their own drawings and then fold their own pop-up creations. "When children do artwork with their hands and eyes and brains, then it does end up bearing fruit in the classroom."
Corbin Art Center director Lynn Mandyke agrees. The organization is located in the historic D.C. Corbin House and is operated through the Spokane Parks and Recreation Department. Predominantly through volunteer efforts, the organization provides more than 500 classes each year to more than 5,000 students, ages 2-13.
"We worked with school districts and representatives in the educational community to find out what need we need to fill in the community," Mandyke says. "Our courses are full of learning opportunities in interdisciplinary programs that are purposefully created so that children will have fun but also be in a learning environment."
The courses craftily combine the subjects of theater, history, biology and astronomy to help kids see things in new ways. "Not every child learns the same way," Mandyke says. "And engaging a child through an art project allows them to learn in a different way, to see that there are multiple ways to approach things. Through experimentation and the magic of the art project and the art process, they learn."