Through Oct. 8
The Boys Next Door
One guy's obsessed with Russia; another's obsessed with keys. A third man has the mind of a 5-year-old; the fourth guy is a schizophrenic who's sure that he's a golf pro. Together they live in a group home and struggle to get by. And now Jack — their social worker, the man who goes to bat for them every day — is feeling burned out on the job. The Boys Next Door — Emmy-nominated in 1996 as a TV movie — is the kind of play that laughs along with its developmentally disabled characters without condescending to them. And with Spokane Civic Theatre's resident director, Troy Nickerson, bringing in half a dozen Civic actors, The Boys presents an opportunity to see local talent in a different theatrical setting. (MB) Interplayers, $10-$24, Wed-Sat 7:30 pm, weekend matinees 2 pm
Through Oct. 22
Saranac Group Exhibition
Promotional materials are a tease, and generally kind of a bore. Group shows can sometimes be limp or lack cohesion. The promotional materials for Saranac Group, though, give a tantalizing glimpse into a show featuring work by some of the collective's most interesting, evocative and divergent artists. It is work that, despite being quite different in medium and even tone — the dark satire of Scott Kolbo's prints and projections, the classical forms in absurd positions of Margot Casstevens' sculpture — still seems to want to speak with one voice about where we find ourselves as a nation and a species. Or, if not one voice, at least a small choir of assonant voices using different media and perspectives and subjects that, taken in whole, say a lot of little things about aspiration, beauty, desolation and menace. (LB) SFCC Fine Arts Gallery, Bldg. 6; free, Mon-Fri 8:30 am-3:30 pm, Sat 11 am-2 pm; Roundtable discussion with Saranac Group on Sept. 29, 11:30 pm
Through Oct. 23
Thoroughly Modern Millie
A revamped musical based on the Academy Award-winning 1967 film of the same name, Thoroughly Modern Millie sees provincial Millie Dillmount (Ashley Cooper) arrive in New York City in 1922 with one aim: to marry a wealthy businessman. She adopts the flapper looks and lifestyle of the era, yet despite her attempts at cosmopolitan sophistication, she finds herself in lighthearted predicaments both social and romantic in nature. Jeremy Trigsted and Mark Pleasant play competing love interests Jimmy Smith and Trevor Graydon III. This thoroughly modern musical adaptation scooped up six Tony Awards when it premiered in 2002. Musical highlights include "Not for the Life of Me" and "Forget about the Boy." (EI) Spokane Civic Theatre, $35 ($15 with a member coupon), Thur-Sat, 7:30 pm, Sun, 2 pm
Oct. 1
Cokie Roberts
NPR turned 40 this year and, to celebrate, Spokane Public Radio is bringing a 40-year veteran of national and international political reportage to the Bing. Her name is Mary Martha Corinne Morrison Claiborne Roberts (née Boggs), but all her friends just call her Cokie. In fact, despite winning three Emmys, quilling a handful of best-selling books and being inducted into the Broadcasting and Cable Hall of Fame (yes, there is one of those), everyone calls her Cokie. She's super-laid-back like that. Spokane Public Radio invites you to a suitably laid-back evening with Roberts, who will discuss our intractable Congress, our broken health care system, our underperforming schools, our towering national debt and one or two other of the inescapable hell-mouths we find ourselves sucked into. Afterward, she'll sign copies of her book about reconciling interfaith families and then disarm you with her easy banter and simple charm. (LB) Bing Crosby Theater, $42, 7:30 pm
Rabbit Hole
The Kolva-Sullivan Gallery displays art for art's sake. And that's because they can
The end is always nigh for the humble rabbit. Always prey and never predator, he lives by dodging disaster.
So it's almost appropriate that Jim Kolva and his wife, Pat Sullivan, have filled their home — a second-floor luxury loft space above their downtown gallery — with artistic renderings of the long-eared animal. Behemoth rabbit heads stand sentinel in a sitting room. A sinewy giant hare peers down from the loft over the kitchen. Delicate, thimble-sized rabbits pose in a glass case. A symbol of trickery and elusiveness, the clever beast is immortalized — almost worshipped — in their home.
But while most of the couple's rabbits are lounging in silent repose, one is dead. A blue porcelain bunny by Seattle ceramicist Charles Krafft stands up on its hind legs, as if sniffing the wind to sense a predator when it was struck from behind. Out of its back sticks a black-handled switchblade.
That's the kind of rabbit Kolva and Sullivan don't want to be.
Avid art stockpilers, Kolva and Sullivan intended to open a gallery when they renovated a forgotten brick building next to a downtown Spokane railroad trestle 12 years ago. But they never thought that, one day, theirs would be one of the only galleries left in Spokane. Kolva- Sullivan Gallery has skirted disaster where so many others couldn't.
"The art scene has kind of shrunk," says Kolva, 65. He points to the 2009 closure of Lorinda Knight Gallery after 13 years of operation. The shuttering of the Spokane Art School, the layoff of the senior art curator at the Museum of Arts and Culture, a bad economy — it's all had a dire effect on the way Spokane treats its artists.
But Kolva and his wife have, over the years, afforded a different approach at their gallery — one that could be the very reason they've stayed comfortable while other art institutions around them are being eaten alive.
At Kolva-Sullivan, they've attempted to bridge gaps and take risks on emerging artists, while also bringing in nationally known artists.
"We don't take an intellectual approach to art. It's more what we really respond to," Kolva says. "And part of that is by the visceral response you have to a piece of art … learning a lot of what you like, what you respond to, what you feel comfortable with. Or maybe what makes you uncomfortable, but you can't live without."
"Or just beauty for the sake of beauty," adds Sullivan, 70.
They can take a personal approach at their gallery because, frankly, they're not worried about it being a business venture. Kolva is an urban planner and environmental consultant, and Sullivan is a retired social worker. They own the building that houses their gallery and their home. They pay rent to themselves.
And while that makes their worries about the bottom line practically nil compared to most gallery owners, it also has an impact on what art they can show there.
"Number one, we're not afraid of someone being offended by what we're doing, and we're not afraid of subsidizing it. If we don't make any money, we don't make any money," Kolva says.
In October, they'll host their annual exhibition of Archie Bray Foundation ceramicists — a show that's important on a national level. But, in the past year, they've given a home to vibrant local shows, like "Sext," an April show that covered the white gallery walls with text descriptions of sexual encounters and frustration. On opening night, writers and artists read their stories while standing in their underwear.
Kolva and Sullivan got flak from some members of the art community for that show, "probably because there were nasty words on the wall," Kolva says.
"We had a window broken, and I don't know if that had anything to do with that show," Sullivan says. "It doesn't stop us from doing it again."
"It just spurs me on," Kolva says.
Tenth Annual Archie Bray Resident Exhibit • Fri, Oct. 7, from 5-8 pm • Kolva-Sullivan Gallery • 115 S. Adams St. • 458-5517
Oct. 1
Imperial Sovereign Court Coronation
Heavy is the head that wears the crown, especially if the head belongs to a drag queen. This October marks the end of the royal rule of Emperor 35 Joe Surreal Kennady-Smith, Empress 39 Nova Kaine VI, and the prince and princess of the Imperial Sovereign Court of Spokane — a local chapter of an international nonprofit organization composed of drag queens and members of the gay community. The annual coronation or "step down" will feature a slew of drag shows, fundraisers and celebrations to honor the retiring court. The queen that founded the international organization, Nicole Murray-Ramirez, Queen Mother of the Americas, will honor the event with her presence and special guests Cheryl Kilodavis, author of My Princess Boy, and her son. Visit courtofspokane.com for a complete calendar of events (starting in late September at various venues), because it's going to be a long couple of days filled with dick jokes, tiaras, catcalls and lip-syncing (JB) Red Lion Inn at the Park, $45, 5 pm
Oct. 1-29
Scarywood Haunted Nights
For those who like putting their bodies through undue stress in the name of good old-fashioned fun, Silverwood has just the thingy for you: an entire haunted theme park. Attractions include the Terror Canyon Trail, wherein they drain their river raft ride to form a little gorge you follow while getting stalked by "creatures from your worst nightmares." They're also running select roller coasters backwards. Eek! (TH) Silverwood Theme Park, $20-$35, Thurs (starting Oct. 12-27) from 6:30-10 pm; Fri-Sat from 7 pm-12 am.
Oct. 5
Jack Nisbet Reads from Purple Flat Top
Jack Nisbet is a teacher, Spokane native and Stanford graduate who frequently publishes naturalist prose — think Steinbeck, London. Not to be confused with a groovy '90s haircut, Nisbet's Purple Flat Top reads as a series of vignettes depicting various methods of life in the wheat-filled lands of northeast Washington. Originally published in 1996 and recently reprinted by the University of Washington Press, Purple Flat Top excels in connecting the mindsets of rural and urban dwellers, in addition to crafting detailed imagery that allows readers from anywhere to relate with the material. Meet the author and listen to his words in-person. Or just peruse his works inside the store and absorb the event by proximity. (EW) Auntie's Bookstore, Free, 7 pm.
Oct. 6
Brandi Carlile & Justin Townes Earle
When people talk about Dave Matthews, usually it's in reference to getting stoned or some "super-sick" jamming or something equally bleh. When Brandi Carlile, on the other hand, talks about Dave Matthews, it's about how he made her famous. Carlile toiled for years in the Seattle music circuit until Matthews noticed her at the 2003 Sasquatch music festival, then took her on tour with him. From there, she's belted her way to serious success. Justin Townes Earle has taken the opposite path, starting out in fame through performing with his father, singer-songwriter Steve Earle, before losing much of what he'd gained to drug addiction. But he's back at it now, and his rich vocals and country-but-not-too-country vibe is fantastic. (TH) Knitting Factory, $26, 7:30 pm, all-ages.
Oct. 7
Beyond Pink Designer Bra Fashion Show
In the 1990s Madonna made pointed, sequin-encrusted bras cool again. Thanks to a local nonprofit organization called Beyond Pink, you can revisit the fashion faux pas with good intentions. October is national breast health month and in honor of boobies everywhere, Spokane will host the second annual designer bra fashion show and auction where feathered, bejeweled and bedazzled bras befitting of Madonna and Lady Gaga will take to the runway for one night only. All of the proceeds from the live and silent bra auctions will benefit local women in need of thermography — a non-invasive tool that screens women for breast cancer, diabetes and metabolic disorders. This sexy affair will feature bras, cleavage, scantily clad women, hors d'oeuvres, tax write-offs and a no-host bar. What's not to love? (JB) Masonic Center, $35, 5-9 pm
Oct. 7
Terrain
Four years ago, something weird happened in the Spokane art community. Terrain — a one-night blitz of art and music and performance and many sloshing pints of beer — happened. And in the years following, the event (which is partially organized by Inlander staffer Luke Baumgarten) has drawn thousands to see the newest work by some of the most creative young minds in the region. Every year, the walls of the Music City Building are papered in local art. And this year is no different, featuring some favorites (Cori McWilliams, Dani Pavlic, Darcy Drury) but also some really interesting up-and-comers (Meghan Flynn, Brad Reynolds, Eric- Alain Parker). And, though the music this year isn't all local, the night is sure to end in a dance party — I mean, doesn't it every year? (LS) Music City Building, free, 5 pm–1:30 am
Oct. 14
Territory Opening
With three years of massively successful art/music/culture events under its belt, the scrappy folks of the Terrain group are partnering with Spokane's largest arts organization for two additional exhibits: the juried art show Need | Want, and "Territory: Generational Triptychs." The show is an invitational mix-and-match, in which the MAC and Terrain paired emerging artists (like photographer Joslyn Cain and painter/printmaker Austin Stiegmeier) with established artists (Mel McCuddin, Kay O'Rourke, Ken Spiering). The pairs then collaborated on a single work and also prepared their own independent bodies of work. We've never seen anything like it before. The show hangs through the end of the year, but catch the opening, which will feature music by the Globes, the Perennials, Tiny Dances, Et Al and others. (LS) Northwest Museum of Arts & Culture, free, 6-9 pm
Rebooting the MAC
Even as state funding dries up, the MAC's newest director wants to expand the museum's mission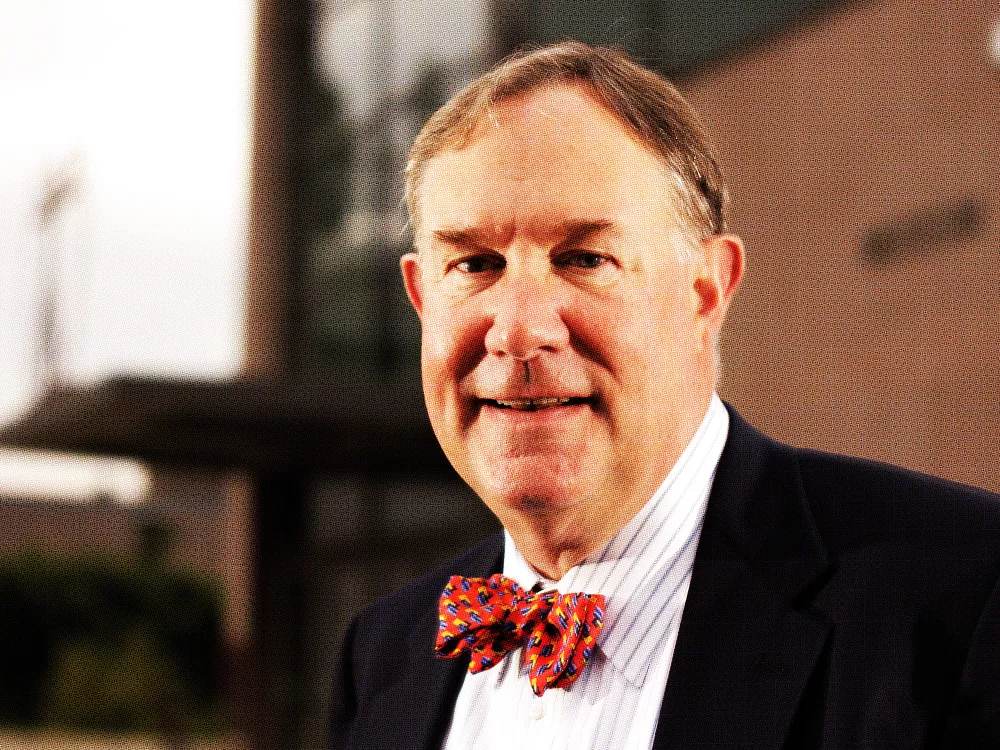 "It's quieter — literally," Ben Mitchell, arts curator of the Museum of Arts and Culture, told us over the phone from the MAC offices last February. "You don't hear anything behind me right now." Constant layoffs, propelled by recession and state budget cuts, had emptied the MAC of staff.
It was only a matter of time before Mitchell himself — creator of large-scale showcases for local artists like Timothy Ely, Harold Balazs, and Ruben Trejo — would be eliminated.
Into this environment, with staff levels down 40 percent and state funding evermore tenuous, enters a new director.
Cellophane tape affixes a piece of printer paper — typed with FORREST B. RODGERS — to his office nameplate. But Rodgers, a ruddy, round-faced 59 year-old, with a gold pen in the pocket of his light-pink shirt, gleams with enthusiasm. He's done the whole turning-around-a-financially-desperate-museum-thing before, reversing eight years of attendance decline at the High Desert Museum in Bend, Ore.
So here, his plans aren't just schemes to keep the museum afloat or to find the least painful ways to cut. Though the museum no longer has an arts curator, he not only wants to continue the MAC's commitment to art — he wants to expand it.
"I think the thing we have to remind ourselves is that 'Arts' in this museum name does not only refer to the visual arts," Rodgers says. He believes it refers to the performing arts, the literary arts, the visual arts, the graphic arts. He's brimming with ideas for the museum — lectures, poetry readings, book festivals. Already this year, the museum is collaborating with Terrain, an arts showcase that features music and dancing to go along with paintings and sculptures.
Here, as he often does, he refers back to his experience at the High Desert Museum. There were two secrets to its success, he says.
The first was a focus on its live animal collections, like an otter, a bobcat and reptile — which is a bit outside the scope of the MAC's mission. But the second method is something Rodgers is seriously considering implementing at the MAC. "We realized that we had some beautiful exhibits, but they were static," Rodgers says. "We needed to increase the interactivity of the museums."
And he's not talking about video screens or podcasts. At the High Desert Museum, he says, 24 volunteers, dressed in authentic period costumes, would act out scenes at the homestead or the barn. Some of the actors would be community-theater mainstays or retired teachers or, really, anyone who had a passion for history. Shades of Colonial Williamsburg in Virginia or Fort Nisqually in Tacoma.
"I would be talking to you using the vernacular of the time, wouldn't know what a camera was or what a tape recorder was," Rodgers says. "I might carry a Henry rifle, which was authentic to that time."
Museums nationwide, he says, have had to move to engage a generation demanding interactivity, not just motionless artifacts. The recent Da Vinci exhibit, after all, didn't have a single authentic artifact, but the interactive reproductions of Da Vinci's designs brought around 32,000 paying visits to the Museums of Arts and Culture.
But even with the Da Vinci-propelled, boost, there's no dodging the financial reality.
"Once you start losing your key critical skills, it's hard to support your core function," Rodgers says. "With any fewer staff, it would be able to provide the quality and variety of programming we do know." While the museum has secured enough state funding to survive for the next two years, the originally proposed budget threatened to shutter the MAC completely. There's always that concern.
Rodgers says they must operate as if state funding will eventually disappear.
And the High Desert Museum — while it sought federal grants — did not have a dime of state funding, Rodgers says. Could the MAC do without state funding as well? Not as easily, he says. Unlike the High Desert Museum, the MAC has a large archived collection and research library.
"It's a resource that does not generate revenue to support itself," he says. "It does generate costs."
Beyond fundraising — and as the former director of the Central Washington University Foundation, he knows fundraising — he brainstorms a few possibilities, including creating a cultural heritage district to create a separate taxing authority.
Either way, the board will soon develop a plan, a way to prove to the community that, no matter what happens, the MAC won't decline.
"This museum is a real jewel for the region," Rodgers says.
Oct. 14
Need | Want Opening Feat. Y La Bamba and Terrible Buttons
Need | Want is a juried exhibition concerning values in contemporary America. What do people need as a society? What do we need as a people? Featured works — from established locals like Ildikó Kalapács to young favorites like Tiffany Patterson — will be displayed at the Northwest Museum of Arts and Culture, kicking off at the MAC's monthly BeGin celebration. The exhibition is the brainchild of both the MAC and Terrain, a nonprofit group aiming to bring emerging artists into the spotlight. Check out the diverse displays, from paintings to assemblage, installations to electronically altered signage. And contemplate how your own yearnings and necessities relate to their message. Live music by Portland's Y La Bamba and local favorites Terrible Buttons. (EW) Northwest Museum of Arts and Culture, free, 6-9 pm
Oct. 15
Spokane Symphony Superpops: Sinatra Sings Sinatra
This has very little to do with his music, but did you know that Frank Sinatra, Jr. was once kidnapped? His dad, Frank Sinatra, Sr. had to pay $240,000 in ransom! It's right there in his seven-page bio on the Spokane Symphony website. Apparently the incident marred his career for years because, according to the bio, "Desperate attorneys for the drug-addled kidnappers came up with the bogus defense that they had been hired by Frank, Jr. to kidnap him as a publicity stunt …" This bio is one hell of a read. Anyway, Junior is now performing his father's hits, like "New York, New York," with accompaniment by the Spokane Symphony. But isn't that performance even more enticing now that you know about his salacious past? (TH) Martin Woldson Theater at The Fox, $25-$58, 8 pm, all-ages.
Oct. 17
Rocky Votolato and Matt Pond Pa
When Rocky Votolato moved to the Pacific Northwest from Texas as a teenager, he became all kinds of depressed. Because, really, if you had to move from honkytonk-ville to flannel-clad Seattle in the early 1990s, you'd feel out of place, too. So Votolato started hanging out with punk rockers and began combining folk sensibilities with strains of punk in his own music. This fall, he's embarking on his first full-band tour in nearly five years, along with friend and fellow singer-songwriter Matt Pond. Like Votolato, Pond has ties to the alt and punk communities (his first two shows were opening for Superchunk and Bikini Kill) despite opting for a folky vibe. Also, they're both gonna sound fantastic in the unique space of the BellTower. (TH) The Belltower, $11-$14, 6 pm, all-ages; Also at A Club on Oct. 16
Oct. 20
Spokane is Reading Feat. Mary Roach
What happens if you vomit in your helmet during a space walk? What happens to you when you can't walk for a year? Is it possible for the human body to survive a bailout at 4,000 miles per hour? Ahh ... life's existential questions. Thanks to government funding and the ultimate pursuit of science, researchers across the world are attempting to answer such questions. Mary Roach has positioned herself as the layman tour guide between the scientists and the general public. The author of Packing For Mars: The Curious Science of Life in the Void presents a comical and entertaining look at space exploration, research and absurdity that lies in between. The author will speak twice during the 10th annual Spokane Is Reading event. (JB) Garland Theater, 1 pm; Bing Crosby Theater, 7 pm, free
Oct. 21
Horse Thieves Dual Album Release
The Horse Thieves are obsessed with lawlessness. They love Cash. They love Haggard. They read Cormac McCarthy.
The songs they write aren't about physical prisons, though, but metaphorical ones. There are no killers walking around with cattle guns. No one robs a bank. The Horse Thieves confront the lawlessness we find in our everyday dealings with each other. The interpersonal crimes we commit and those that are committed against us.
To be a Horse Thief is to find a rocky windbreak on the cliff of the soul and hole up there, consumed with one's thoughts, waiting out the storms that befall us.
They are outlaws in the way that we all are, and they are prolific. They have two albums dropping simultaneously in October. You can get them as part of the ticket price, if you go to their release party. You really should. If there's one thing an outlaw needs, it's a posse. (LB) Bing Crosby Theater; $12 pre, $15 door; 6 pm
Oct. 21 - Nov. 13
The Turn of the Screw
Veteran director Susan Hardie oversees this clever stage adaptation of Henry James' fin de siecle novella. With a cast of just two (Doug Dawson and Laticia Widman), this gothic ghost story unfolds around a governess hired to look after a young boy and girl (wards of their distant uncle) on an eerie country estate. A short while later, another two decidedly un-childlike presences appear — and they might or might not be communing with the children. A classic thriller that relies on goose bumps, not gore, it's kept readers and audiences guessing for more than a century at the nature of the evil it portrays. (EI) Spokane Civic Theatre's Firth J. Chew Studio Theatre, $35, Thurs-Sat 7:30pm, Sun 2pm
Oct. 22-23
Brahms Requiem
In Brahms' A German Requiem, the grave doesn't win any victories. In a great, sprawling work — like a cathedral, symmetrical over the course of its seven movements and 70 minutes (or more) — the composer traces some powerful musical consolations for anyone who has ever mourned. He once remarked, in fact, that he wouldn't have minded calling it "A Human Requiem." Eckart Preu will conduct the combined forces of an entire symphony orchestra and a 90-member chorale in a program that also includes the funeral-bell solemnity of Arvo Part's Cantus in Memory of Benjamin Britten (1980) — with the Estonian composer commemorating a great British composer — and a Bach cantata. After listening to the works of Part, Bach and Brahms, you just might be convinced that death has lost its sting. (MB) The Fox, $14-$44, Sat 8 pm, Sun 3 pm
Oct. 22
Flicker Film Festival
Films actually shot on film are a rarity. Like Polaroids , Kodachrome — the iconic mass-market celluloid — has been discontinued. There are those who still keep the faith, however. Spokane's Flicker Film Festival is a holy night for local adherents to the Church of Film on Film, and this year, as with last, there will be three services throughout the night. The first two will feature completely different slates of films. The third will be a best-of mash-up of the first two.
The submission window is still open (get those Super 8 opuses in by Sept. 23, kids), so the lineup isn't quite solidified yet. But organizers will be showing a film — untitled and, as yet, unfinished — by Rick Pukis, a former Spokie who is now an Associate Film Professor at Augusta State. Also, a cycle of three films that "get weirder and weirder," by the avant filmmaker Reynold Reynolds. (LB) Magic Lantern, $7, 2 pm, 6 pm, 10 pm
Oct. 22
Poetry Reading by Mary Jane Nealon
When people talk about the draining aspects of their job, normally it falls along the lines of "my boss sucks" or "someone from HR took my parking space — who am I supposed to complain to when that happens?" But what about those people who get paid to experience trauma every day? Mary Jane Nealon is one of those people. As a nurse who deals with those close to death, she is on the frontlines of the war against emotional strain. In her new, award-winning book, Beautiful Unbroken: One Nurse's Life, Nealon chronicles her challenges with work and the death of her brother, capturing her struggles in poetry, which has been her saving grace in an often bleak field. (TH) Auntie's Bookstore, free, 2 pm
Oct. 26
Patricia Henley
The female brain has been poked, prodded, weighed and dissected in both literal and figurative terms for centuries. Author and former Spokane resident Patricia Henley uses literary devices in place of scales and scalpels to tackle such a complicated subject matter. Henley is a National Book Award finalist and New Yorker Fiction Prize finalist, and has been anthologized in Best American Short Stories. Her latest work, Other Heartbreaks: Stories, is a delicate collection of nine short stories about family, loss, love and the many bonds and betrayals among women. All at once her characters are heroic and destructive, honest and deceitful, beautiful and ugly. Much like the brain, Henley's narratives and landscapes are fickle, yet constantly evolving. (JB) Gonzaga Wolff Auditorium, free, time TBA
Oct. 27 - Nov. 12
The Receptionist
Caren Graham stars as Beverly Wilkins, the receptionist in the title of this dark, four-character comedy by emerging playwright Adam Bock. Her job appears to be as mundane as it gets. She makes coffee. She answers phones. She gossips with friends. But the arrival of the central office rep, the suave Mr. Dart (Jorge Paniagua), sends things spinning off into a much more sinister direction. Since its 2007 debut, The Receptionist has been staged at playhouses across the country and has been praised as a "deceptively complex" work that raises timeless questions about the banality of evil and our complicity in it. Maria Caprile directs. (EI) Interplayers Theater, $20-24, Wed-Sat 7:30pm, Sun 2 pm
Oct. 27 - Dec. 15
In A Nutshell: The Worlds of Maurice Sendak
Where are the wild things? For the better part of autumn and nearly into winter, the wild things will be in Cheney, Washington.
A traveling exhibition of Maurice Sendak's book art will roll into Eastern Washington University's JFK Library and park there for seven weeks, beginning at the end of October.
In addition to illustrations from his iconic Where The Wild Things Are and other works, the exhibit is an analysis of the way the artist was influenced by the pop culture of his day and the Judaism that so infused his life as the child of Jewish Polish immigrant parents.
Unique to the EWU leg of the trip: Eastern, along with Temple Beth Shalom, the Spokane Children's Chorus and a host of other local talent, will value-add a bunch of events, like "Jewish 101 for Non-Jews" (Nov. 2), a performance of Sendak and Carole King's musical Really Rosie (Nov. 14) and a lecture by Rita Berman Frischer on Jewish culture in children's lit. (LB) JFK Library, free, various hours