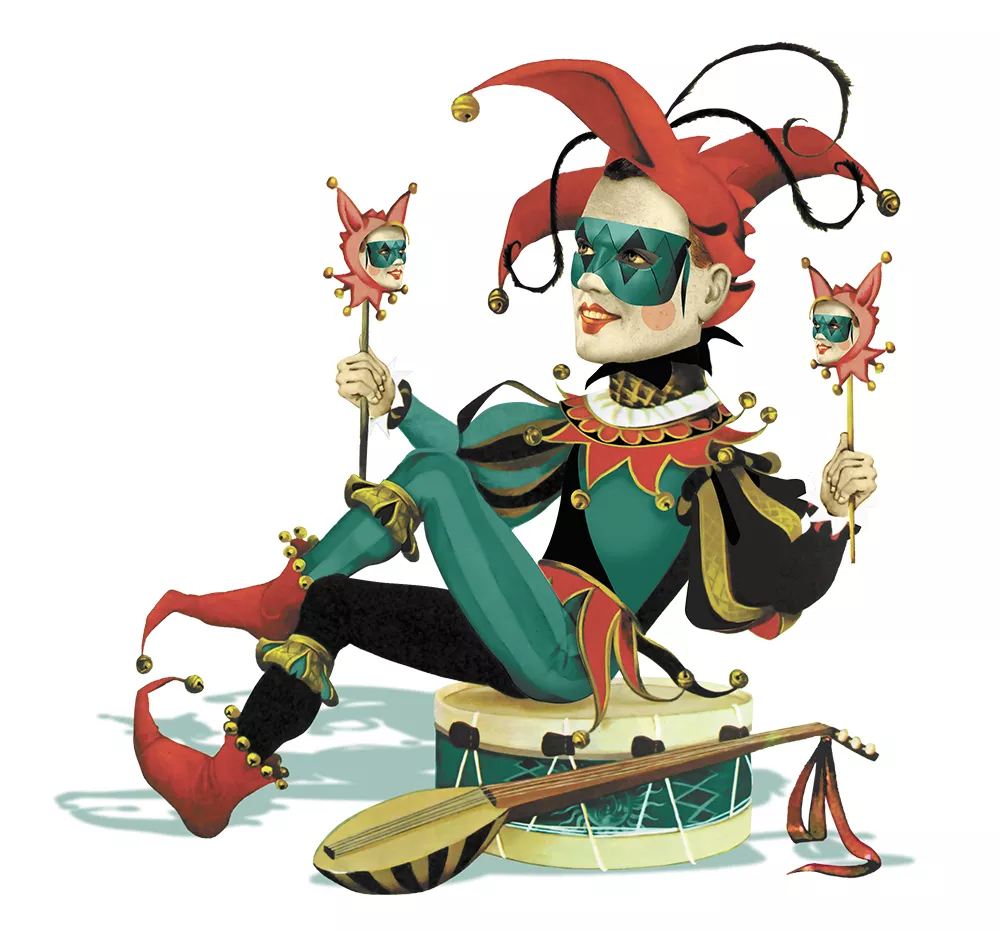 Best Singer/Songwriter | CAMI BRADLEY
Her past couple of years have been big. In 2013, local singer-songwriter Cami Bradley placed sixth overall on America's Got Talent. Now she's back with a new alt-folk project called the Sweeplings, which she formed with Alabama singer-songwriter Whitney Dean. So far they've already been featured on the ABC Family show Switched at Birth and released an EP and multiple music videos. They're a band on the rise, but Bradley says she has no plans to leave Spokane. She can do it all from here. (LAURA JOHNSON)
2nd PLACE: Robert Vaughn; 3rd PLACE: Nicole Lewis
---
Best Band, Covers | THE CRONKITES
For the third year in a row the Cronkites were voted the best cover band in the region, and for an eclectic rock band that's been at this for 20 years, that recognition feels wonderful. "We're awfully lucky we get to do what we do," says Pat Simmons, the group's drummer and co-vocalist. "Our goal is always to connect with the people who come to our shows." The band plays about half of the weekends a year and already is booked solid with bar gigs and events through the end of December. There's no sign of stopping. (LJ)
2nd PLACE: The Ryan Larsen Band; 3rd PLACE: The Rub
---
Best Local Play/Musical of 2014-15 | ELLEN TRAVOLTA'S "I REMEMBER CHRISTMAS"
Local theater is alive and well in the Inland Northwest; even John Travolta knows that. This past holiday season, the famous actor's sister Ellen produced a very personal Christmas-themed show full of stories and songs, with the help of sister Margaret Travolta and other Coeur d'Alene residents. John even flew his private plane up for the event, staged at the Coeur d'Alene Resort. (LJ)
2nd PLACE: Fiddler on the Roof, Spokane Civic Theatre; 3rd PLACE: A Christmas Carol, Spokane Civic Theatre
---
Best Band, Originals | MARSHALL McLEAN BAND
Attend a Marshall McLean Band show and people of all ages are grooving and swaying and stomping to the group's upbeat Americana folk tunes. But the four-piece never set out to be a dance band.
"We welcome it, but that's developed over time," McLean explains. "The live energy just sets people off. Our fans are rowdy, and we never expected that."
Tonight at band practice, the group — everyone but drummer Jesse MacDonald, who's working — has turned McLean's compact dining room into a rehearsal space. The room's table is pushed against a gray wall, and in its place are McLean on lead vocals and acoustic guitar, Justin Landis (Cedar & Boyer) on bass and vocal harmonies and Jamie Frost (the Makers) on steel pedal guitar (a complicated-looking instrument he swears only takes five minutes to set up).
They're running through a new song, "Broken Diamond," which will be on their next album, one they're slated to start recording shortly. McLean's signature vocals, delicate yet powerful, soar over the group's instrumental layers of dusty, twangy and heartfelt harmonies. Even though it's just a run-through, there's a sort of electricity flowing through this space.
A lot has happened since the Marshall McLean Band released their first album Glossolalia back in November 2013. They've switched drummers, embarked on a West Coast tour, signed with a music agency in December then dropped the agency a couple of weeks ago, have played every notable area festival and have also captured the hearts of many Inlander readers, being voted best local original band in this year's Best Of poll.
"It was such a surprise to us," says McLean, genuinely.
These are all guys who've worked hard in other bands; this is one they think will stick for years to come.
"I love the songs, and we're starting to see these songs be a part of people's lives," Landis says. "People are saying that our record was playing for some of their big life events, and that is so incredible."
"We're here for the long game, we're not going to disappear. I made Justin pledge to his dying day that he'd be my bass player," McLean says jokingly.
"It was a contract in blood," Landis says. ♦ (LAURA JOHNSON)
2nd PLACE: Mama Doll; 3rd PLACE: Folkinception
---
Best Touring Musical of 2014-15 | WICKED
Essentially since the first time the touring show came through in 2011, Spokane had been waiting for the mega-popular musical Wicked to come back. Last May, dreams finally came true when the family-friendly show about the witches of Oz hit the INB Performing Arts Center for a two-week engagement. Now we can only wonder when it'll come through again. (LJ)
2nd PLACE: The Book of Mormon; 3rd PLACE: How the Grinch Stole Christmas
---
Best Nonprofit Charitable Organization | VANESSA BEHAN CRISIS NURSERY
It's difficult to determine which community nonprofit charity is the best, but this year the Vanessa Behan Crisis Nursery — an organization created to offer an alternative for parents struggling to maintain a safe home life for their kids — made the biggest impression on voters. Inlander reader Danielle Norman says she was highly impressed with their work: "The relief and support they provide offers parents a time to catch their breath, run errands and much more. That way tragedies don't repeat themselves." (LJ)
2nd PLACE: Union Gospel Mission; 3rd PLACE: Second Harvest Food Bank; NORTH IDAHO'S BEST: The Salvation Army Kroc Center
---
Best Charity Event | BEYOND PINK DESIGNER BRA FASHION SHOW
There's something about watching bra fashion shows that sticks in people's minds. Add glitter, feathers, flowers, etc., to those bras, and it's unforgettable. In October, the annual Beyond Pink fashion show — these decorated bras are then auctioned off — raises both awareness and funding to support thermography, a noninvasive type of medical screening. To date, the organization has helped more than 400 women. (LJ)
2nd PLACE: Epicurean Delight, INBC; 3rd PLACE: Polo Classic, Ronald McDonald House
---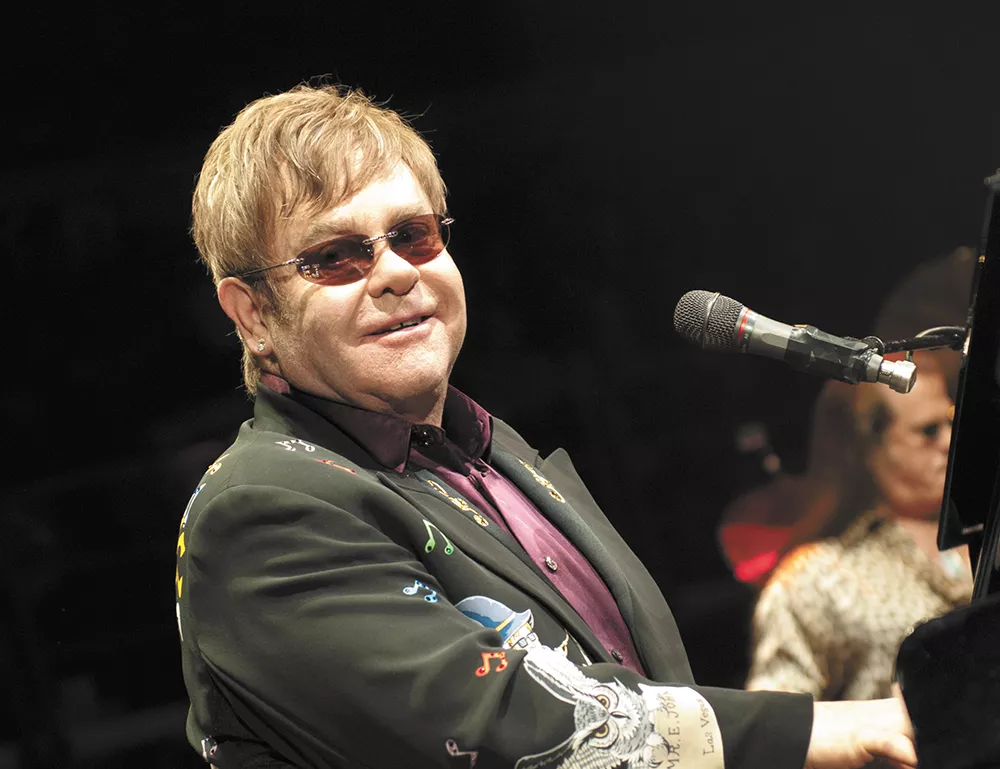 Best Concert of the Past Year | SPOKANE ARENA, ELTON JOHN
It was Elton John and the more than 11,000 fans who packed the Spokane Arena who brought the venue its Hall of Fame designation for Best Concert.
"He continues to bring it," says Matt Gibson, Spokane Arena's general manager, of the 67-year-old mega-pop star.
This is the second time an Elton John show has been deemed Best Concert by our readers. The other was in 2000 when John performed solo, sans band. In fact, 10 different artists have won 13 times for their Arena shows — Braid Paisley and Cher also repeated.
"Just him and his piano in a lilac suit. He wouldn't engage the audience. He'd hold up his can of Diet Coke and then sing a song," Gibson recalls.
John returned to the Arena with his full band a few years later and then again in September.
For Inlander reader Jan Martin, the recent show brought back some incredible memories.
"[The show] was extra special to me because the Elton John concert three years prior in Spokane was the first date with my husband, Ray," says Martin. "We danced in the aisles to 'Your Song' then, and we did it again at this concert. Elton John is the consummate professional and makes every concert he does so special."
Entering the Hall of Fame for shows like Taylor Swift, Pearl Jam and Keith Urban over the years is yet another reward for the Arena's relentless pursuit, which attracts acts to a city the size of Spokane rather than other markets, says Gibson.
"We take the responsibility for the event. We're not going to get ... Madonna like Seattle or L.A. ... But for us to land the big shows we do, we have to put some work in," says Gibson.
The Arena's staff spends time at entertainment conventions throughout the year asking promoters to come to Spokane. They send out clever, Spokane-centric gifts — doing whatever they can to get noticed so they can bring big shows to a venue that has become a proven spot for the city's biggest shows.
"The Arena is a good size for a community this size. We're very lucky in terms of what we have. We keep it clean and the community rallies around us, and we're thankful for that," says Gibson. ♦ (MIKE BOOKEY)
2nd PLACE: Eric Church, Spokane Arena; 3rd PLACE: Blake Shelton, Spokane Arena; NORTH IDAHO'S BEST: Huey Lewis, Festival at Sandpoint
---
Best Family Event | PIG OUT IN THE PARK
For the past 35 years, Spokanites have happily eaten their way through the long Labor Day Weekend at Pig Out in the Park, and last September was no exception. People consumed food like bacon-wrapped corndogs and fresh-squeezed lemonade while listening to the sultry tunes of Los Lobos, along with many local acts. Last year reportedly was one of the best-attended Pig Outs ever, with 112,000 people flowing through Riverfront Park. (LJ)
2nd PLACE: First Night Spokane; 3rd PLACE: Bloomsday; NORTH IDAHO'S BEST: Art on the Green
---
Best Music Festival | ELKFEST
Celebrating Elkfest's 10th year in existence, Browne's Addition came alive with music, alcohol and sunshine during last June's event. Bros, families and snake charmers alike came out to see math rockers Minus the Bear, former Spokane DJ James Pants and many more during the still-very-free block party. (LJ)
2nd PLACE: Festival at Sandpoint; 3rd PLACE: Pig Out in the Park
---
Best Arts Festival | ARTFEST
For one weekend in May, Coeur d'Alene Park in Browne's Addition turns into a tent city for ArtFest. Under the trees and canvas, booths offer a mix of regionally made affordable art, along with some more expensive pieces. Inlander reader Meredith Noble notes that, for her, the MAC-sponsored ArtFest symbolizes the official kickoff for summer. "It's a sundress-wearing, casual-strolling affair and I love to attend it every year," she says. "It's an entry drug to buying fine art." (LJ)
2nd PLACE: Art on the Green; 3rd PLACE: Terrain
---
Best Place to Take Photos in the Inland NW | DUNCAN GARDENS AT MANITO PARK
The Inland Northwest is saturated with natural beauty. From parks and gardens to the Spokane Falls to the urban appeal of downtown, how could anyone choose? The people have spoken and overwhelmingly chosen Duncan Gardens at Manito Park. Amateur Instagrammers and seasoned professionals alike flock to this quiet, ethereal haven.
Apple Brides-recommended photographer Kerry Langel of Kerry Jeanne Photography is elated when she hears about Spokane shoots — especially weddings: "I love Manito. The garden itself is stunning! It's a European-style garden, which is weird to find in Washington."
For Langel, the idea of Spokane is romantic already. Visiting the city every fall was a beloved childhood tradition that she has since passed down to her daughter. Duncan Gardens holds a certain nostalgic elegance that can be found nowhere else.
Out of all the potential photo ops in Spokane, Duncan Gardens holds a certain secluded comfort that the hustle and bustle of the city cannot provide. "It's out of the way," Langel explains. "It's off from the middle of Spokane, not downtown where everyone goes, but it's so quiet. There's something about the secluded location that makes for a really good photo op, where the clients can relax and not worry about people watching. They can be themselves. I really look for those off-the-grid locations. There are so many different looks you can achieve."
The 3-acre garden was created in 1912 when John Duncan dreamed of a European Renaissance-style garden. The symmetrical layout and more than 20 different plant species keep the garden looking beautifully photograph-worthy all year round. With its grand granite fountain and delicate gazebo, Duncan Gardens is timeless and magical.
"I shot a wedding and it was the middle of December but we had no snow!" says Langel. "It worked out really well because the garden holds such a magic appeal." ♦ (COURTNEY BREWER)
2nd PLACE: Spokane Falls at Riverfront Park; 3rd PLACE: Finch Arboretum