FOR STARTERS
Walk and Talk
Art walks are the easiest, most flexible way to begin enjoying the visual arts — for free! Step 1: Check out what's offered; for example, through Downtown Spokane's searchable online map with photos (downtownspokane.org). Spokane's First Friday occurs, like the name says, on the first Friday of every month and Coeur d'Alene's ArtWalk takes place on second Fridays.
Step 2: Find a few places that look interesting, ranging from galleries to pop-up spaces, restaurants to city buildings. In Spokane, there might be 30 or more venues, so hone in on a few neighborhoods you'd like to explore, building your itinerary around a place to eat before or after your arts adventure.
Step 3: Go. Meet friends, make new ones, and wear sturdy shoes (or bike) to get around and make a night of it. And if there was something you missed on your arts-loving walk, you have three more weeks to go check it out.
Chase Scene
Formerly a Montgomery Ward department store, Spokane's City Hall is a cool old building in its own right. It's also home to several permanent art pieces and a consistently good, thought-provoking rotation of individual and group art exhibitions in the lower-level Chase Gallery. College students' artwork from around the region, for example, is a regular feature in the spring.
Julie Gautier-Downes' show Dislocated Memories opens July 5 and continues through Sept. 26, with a set of three installations that explore the idea of home, trauma and loss (spokanearts.org/chase-gallery). Sometimes art makes us dig a little deeper, even those just starting out.
Made in the Shade
For nearly five decades, people have strolled the campus of North Idaho College the first weekend in August to enjoy Art on the Green (artonthegreencda.com), featuring a juried art show and an array of talented artists. Cooling breezes from Lake Coeur d'Alene and the tree-shaded grounds make for a very pleasant day looking at art, listening to music and catching up with old friends.
Check out two adjacent festivals — Taste of Coeur d'Alene, put on by the Kiwanis, and the Coeur d'Alene Downtown Association's Street Fair on Sherman Avenue — to make a weekend out of it.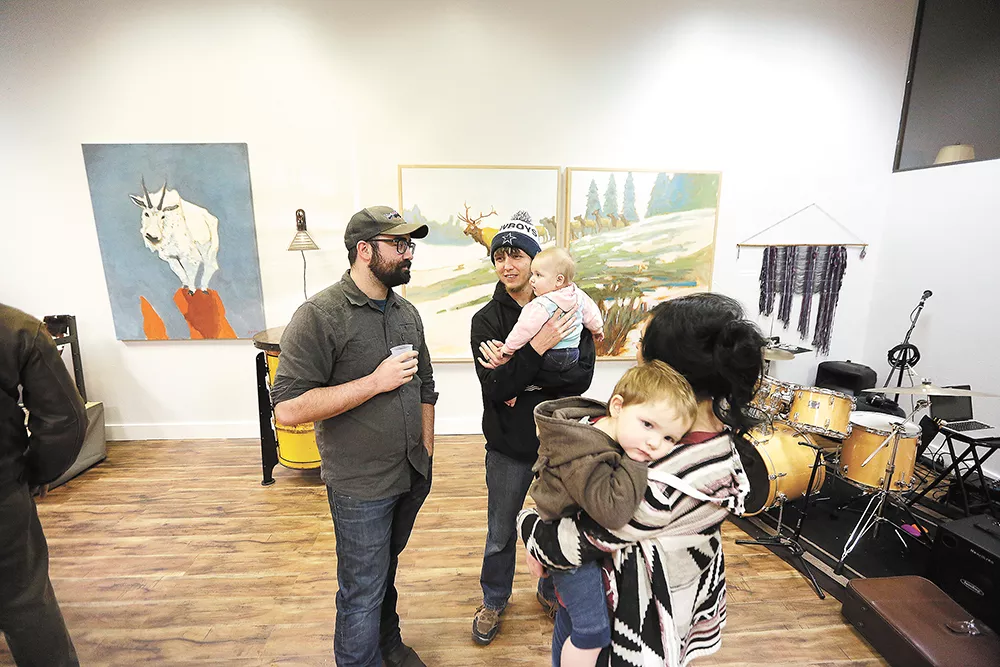 Must-See Gallery
No trip to Coeur d'Alene is complete without a stop at the Art Spirit Gallery, which celebrates its 20th anniversary with a commemorative exhibit of nearly 150 artists from July 14 through Aug. 5 (theartspiritgallery.com). The location that helped make Harold Balazs a household name is one of the region's few contemporary galleries, able to completely revamp both floors of its gallery space and rearrange dozens of pieces of art, to create a unique exhibition experience every month.
MAC Daddy
It's an institution in the best sense of the word — reliable, professionally run, authentic, rooted in research, community-oriented — and yet the Northwest Museum of Arts and Culture, aka the MAC, isn't stuck in the past it so lovingly preserves. A great place to go with the family, out-of-town guests or on your own, the MAC (northwestmuseum.org) offers exhibitions, classes and events for all ages.
Exemplifying their effort to reach to an even wider audience, the MAC presents Z Nation: Behind the Camera. Wesley Jessup, the MAC's new executive director, is excited to host the exhibit showcasing such diverse regional talent: "Everyone from sculptors, costume designers, makeup artists, photographers and set builders work together to create this series, which has become an international hit television show. In addition to shining a light on artists, we will also take the unusual step of building two sets for Season 4 in the galleries. Depending on when they visit, guests to the MAC could experience live action shoots with actors, extras, and the film crew."
Want to up the likelihood of being on the set when the cameras start rolling? Auditions for would-be zombies were rescheduled from May to June 17 and 18.
THE NEXT LEVEL
Roll Through the Palouse
You don't have to wait for an art walk to experience the visual arts. While it takes a bit more work and a willingness to drive a bit, the Moscow-Pullman area is well worth the effort. Explore Moscow early in the morning, making sure to visit the Third Street Gallery (ci.moscow.id.us) in City Hall, where Tobias Sauer's oil-on-linen works are featured through Aug. 1. Drop down to Uniontown to visit the historic Dahmen Barn, a working studio collective that also features musical and cultural events (artisanbarn.org).
Head north again to Pullman to visit the eclectic Bank Left Gallery (bankleftgallery.com) and finish up with a tour of Washington State University's latest exhibit at the Museum of Art/WSU, which through June 30 is Reflections on Place through WSU Faculty and the Museum Collection (museum.wsu.edu).
Seek and Ye Shall Find
The internet is a wonderful tool for discovery. Google a location and the words "art gallery" to discover little gems like the Confluence Gallery in Twisp, Washington, which features Elemental Sculpture through June 24, followed by a photography exhibit (confluencegallery.com).
Tucked into a wooded spot in Nordman, Idaho, en route to Priest Lake, the Entree Gallery has been a favorite summer art destination for more than 40 years and this summer will feature exhibits by David Govedare, Janene Grende, Michael Short and Terry Lee, among others (entreegallery.com).
Pitch In
Many hands make light work. Coeur d'Alene's Art on the Green (Aug. 4-6) relies on approximately 500 volunteers; be one of them. Jolie Bazler, Art on the Green's volunteer coordinator, can set you up with a 2-to-3-hour shift working in food and beverages, the children's art area, helping with art sales at either the juried or unjuried "clothesline" collections.
"It's fun to volunteer with a friend or family member, or come and make new friends!" says Bazler, who notes that volunteers (children of elementary-school age must be accompanied by an adult) get a commemorative pin and select snacks upon shift completion. Since you're already there, you might as well stay and enjoy the festival. Sign up with Jolie at volunteer@artonthegreen.org.
Beautiful Ruins
Samuel Beckett's landmark tragicomedy Waiting for Godot, about the futility of action and inaction, is unusual enough. But this collaboration of Gonzaga's art, theater and dance departments, Terrain and several local environmental groups takes it to new places. The show's already had its initial four-day run at the Washington Cracker Company Building, but the outdoor set — a clay-based installation resembling a glacial ice field — will be allowed to degrade over the course of the summer, culminating in a closing performance of the play on Sept. 10. Purchase tickets and get more information at facebook.com/gutheatreanddance.
School Yourself
If watching the latest Spokane Arts muralist transform the Altamont Underpass (approximately July through September) inspires you, consider investing in yourself with a class through one of the region's local arts educators. Ease into the process at Spokane Art School, which once again offers Art on the Street, guided mural drawings with local artists, on Saturdays through Aug. 26 (spokaneartschool.net). Spark Central features affordable, fun art and other classes (including science and technology) for kids and adults, such as the DIY Screenprinting class on July 27 (spark-central.org).
In Coeur d'Alene, kids and adults can take classes including playwriting and puppet making, photography, pottery and creating your own comics at Emerge CDA (emergecda.com/events). Classes vary from morning to evening and from a few hours to several days, but all will help you learn something new about art — and about yourself.
Catch the Buzz
In Coeur d'Alene, on the first Friday of each month, there's the Arts Buzz meeting of visual and performing arts representatives from throughout the region. Find out what's new at the symphony, in theater, at galleries and other nonprofits, while building valuable networks with other like-minded people. It's a way to take both your art and your organization to the next level. And it's free, courtesy of the Arts & Culture Alliance (artsandculturecda.org/arts-buzz). ♦