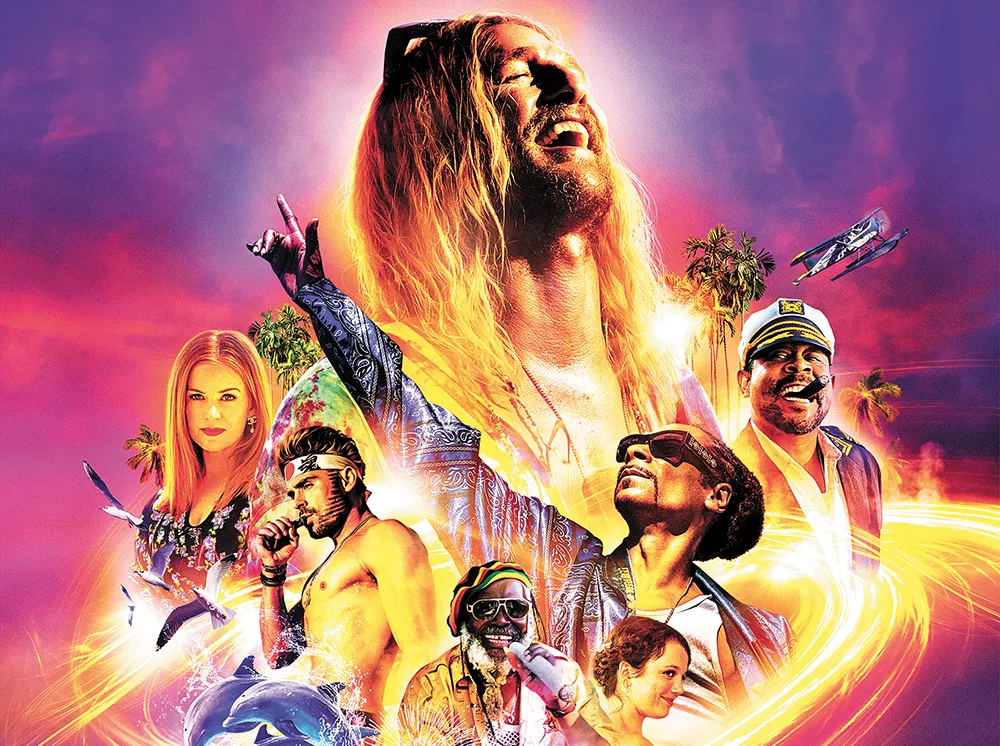 The Beach Bum
Accompanying Strain: Moonshine Haze
The latest Harmony Korine joint is billed as all-time stoner cinema. We have Matthew McConaughey delivering perhaps the ultimate culmination of the McConnaissance movement, as he plays a burnout pseudo-nomad poet named Moondog, living his existence on the Florida coast. Unlike many of Korine's previous features, The Beach Bum strays largely from unpleasantries, as the warm color palette and Jimmy Buffett landscape constantly overwhelm the frame. The film's ambivalence to time and location parallels the haziness of a nice and mellow high, and the paired strain of Moonshine Haze matches that ambivalence as a full-body relaxer.
Being John Malkovich
Accompanying Strain: Jack Herer
Sometimes the goal for a stoned viewing experience isn't to giggle well past the punchlines or to gaze at the visual stimulant until your eyes no longer focus and you wonder how long you haven't moved any of your appendages. Sometimes the goal is a nice case of bewilderment. 1999's Being John Malkovich is as close to the platonic ideal of "cerebral" movie that Netflix so confidently categorizes for you. Director Spike Jonze and writer Charlie Kaufman are the perfect pairing, as the story uses practical effects and props to masterfully capture the absurdity and surrealism of humanity. An uplifting and energetic sativa like Jack Herer is the ideal mate to this film, as it will nudge you to consider further implications of John Cusack's journey into the legendary character-actor's head. Streaming on Netflix.
Dumbo
Accompanying Strain: Elephant
Not all stoner movies need to be comforting, either. An unnerved "what the hell?" can be just as fondly recollected as recalling eating a sheet of Oreos during a buddy-dope movie. Part of getting high can be getting out of your comfort zone, and nothing might do that quite like going to a matinee screening of Tim Burton's iteration of Dumbo. The idea first came when I saw culture writer and podcaster Ira Madison tweet out, "Getting stoned and seeing Dumbo let the world burn baby" at the beginning of the month. And honestly, in a time of garishly cartoonish realities, why wouldn't you? Seth Sommerfeld asked in his Inlander review of the Disney remake who in the world the movie could be for. An unsettling CGI elephant sharing screen time with Danny DeVito and Colin Farrell seems about as jarring as I could hope for. The aptly-named Elephant sativa will be a perfect heady high that will leave you boisterous and preoccupied rather than focusing on "why do we need a sadder Dumbo movie?" In theaters.
Inherent Vice
Accompanying Strain: Blue Magoo
Until my dying breath I will defend Inherent Vice as the pinnacle of film adaptations and part of the subgenre of stoner movies. Paul Thomas Anderson perfectly channels the incoherence of Thomas Pynchon's novel of stoner private investigator Doc Sportello looking into the seedy underbelly of the Los Angeles crime networks. We're given the unreliable perspective of Sportello (Joaquin Phoenix) as he interprets whatever clues (many times perceived or tangential) to solve a case that doesn't seem all too related to his original call to action. Stoned or sober, the movie exquisitely captures the gambit of high emotions, be it joy, paranoia or confoundment. Hitting the hybrid strain Blue Magoo will have you pacing after the film to try and decode it. Or maybe it'll send you on your own euphoric and puzzled case. Available to rent on iTunes, Amazon and YouTube.
Kung Fu Hustle
Accompanying Strain: Harmony
A gem of a stoned movie experience is one that both incorporates a heavy dosage of laughs and captivating visuals, and Stephen Chow's Kung Fu Hustle is a treasure that expert foggy moviegoers keep going back to. The film superbly combines Chinese action with black comedy, as a lowly thief tries to bluff his way into the upper echelon of a murderous gang. What makes Kung Fu Hustle and many of Chow's other films so wonderful is his use of absurdism; the hyper-violent, CGI-aided action is never perceived as anything that can happen off of the screen. As you're sitting couch-locked and heavy, you'll be witness to gravity-defying fight scenes that will give you the best sort of butterflies. Adding the hybrid Harmony will only amp up your excitement and leave you gushing about how great and fun this new classic continues to be. Streaming on Netflix. ♦