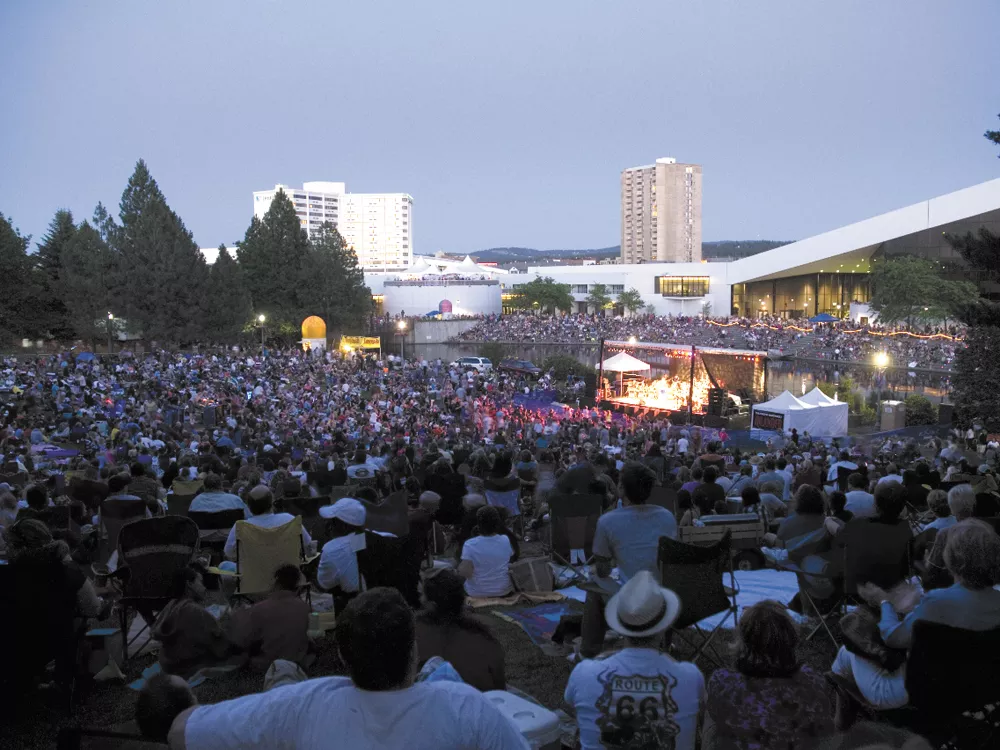 Kids' Parade
In the words of the late, great Whitney Houston: "The children are our future." So start your holiday off right with the annual kids' parade in Coeur d'Alene. The parade starts downtown and will end at Independence Point. This year's theme, "America the Beautiful," will feature adorable costumes, pets, floats and bicyclists. Eat your heart out, America.
July 3 at 10 am • 10th Avenue and Sherman, Coeur d'Alene • cdadowntown.com

Fireworks Displays
• Riverfront Park
• Downtown Coeur d'Alene
• Downtown Sandpoint
• Silverwood Theme Park, Athol
• Silver Mountain, Kellogg
• Downtown Harrison Idaho
• Northeast Washington Fairgrounds, Colville
• Downtown Priest River
• Coeur d'Alene Casino, Worley
• Diamond Lake, Newport
• Sunnyside Park, Pullman
• City Beach, Sandpoint
• Kalispel Reservation, Cusick
Fourth of July Festival
The Lion's Club will host down-home festivities in the idyllic town of Sandpoint. Start your day with the kid's parade at 9 am followed by a community parade at 10 am. Families will gather from 2-4 pm at City Beach for kids games, free ice cream, musical stages and the Army Natural Guard Band from 4-8 pm. Fireworks and happily ever-afters begin at dusk.
July 4 from 9 am-dusk • Downtown Sandpoint, Idaho • sandpointlions.org • (208) 263-4118
Independence Day Festival
The folks at Riverfront Park know what red-blooded, apple-pie loving Americans want: beer, food, music and fireworks. And this year, you can celebrate the heartland over the course of two days. Head to Riverfront Park on July 3 at 6 pm for beer gardens, the sultry music of 6 Foot Swing and the patriotic sounds of the Air National Guard Band of the Northwest. Finish your evening with a bang (fireworks) at 10 pm.
Once you've recovered from the hangover and smell of sulfur head back to the park on July 4 at 11 am for children's events, food vendors, two music stages and yet again, beer gardens. The Spokane Jazz Orchestra headlines the party from 8-10 pm followed by a fireworks display at dusk.
July 3 at 6 pm, July 4 at 11 am • Riverfront Park • 808 W. Spokane Falls Blvd. • spokaneriverfrontpark.com • 625-6601
Festival of Fire
Lake cities know how to party, and Coeur d'Alene offers all the fireworks and spectacles you and your Americalovin' family desire. Festivities begin downtown at 11 am with the hero's parade followed by live music, food vendors and family games in Coeur d'Alene City Park. Then kick back in a lawn chair or pull up at boat at dusk for the booming fireworks display over Lake Coeur d'Alene.
July 4 from 11 am-dusk • Coeur d'Alene City Park • 115 NW Blvd., Coeur d'Alene • coeurdalene.org • (208) 292-1635
Fireworks Extravaganza
Give in to your kids. Take them to Silverwood Theme Park for rollicking roller coasters. Feed them cotton candy. Take them to the magic show. Swim with them in the wave pool at Boulder Beach. Then, around dusk, when they've grown tired from the day's extra spectacular activities, sit on a blanket with them. Listen to patriotic music and watch the fireworks.
July 4 from 11am-10 pm • $21.99-$42.99 • Silverwood Theme Park • 27843 U. S. 95, Athol, Idaho • silverwoodthemepark.com • (208) 683-3400