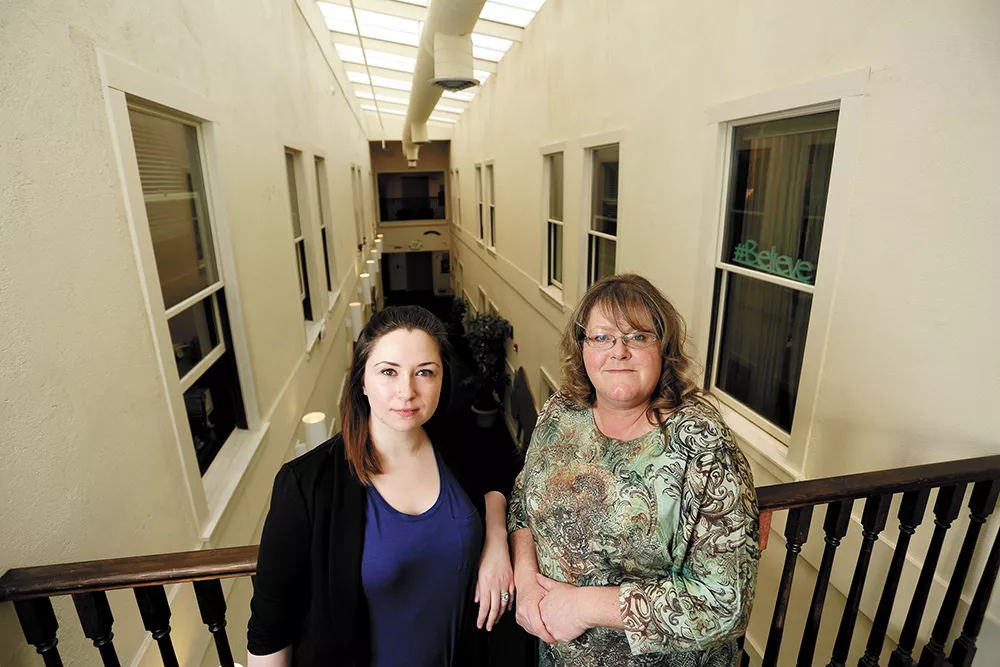 Mary couldn't believe it was happening. She didn't want to believe that her adult son, whom she had raised as a single mother and still lived with her, would abuse her.
He destroyed their house in Spokane, throwing plates around and smashing everything in sight, Mary says. He wrote "hateful" messages on the wall. He poured scalding hot water on her. When she changed the locks of the house, her son, in his early 20s at the time, tried to kick down the door before smashing through the front window, says Mary, who asked to be identified only by her middle name.
"I thought I fell into a bad movie," Mary tells the Inlander. "And someone told me, 'No, you fell into a horror movie.'"
When she finally wanted to report the abuse two years ago, Mary found herself facing a legal system she didn't know how to navigate. She wasn't quite old enough for the state's Adult Protective Services to step in. And since her abuse wasn't from an intimate partner, but from her son, she couldn't get domestic violence services from the YWCA.
Eventually, she found Lutheran Community Services (LCS). Her experience, and others like hers, served as the catalyst for the recent expansion of Lutheran Community Services' Elder Justice Project, which assists vulnerable adults through the criminal justice process. Kristina Hammond, who now leads the project, says LCS has seen a spike in reported abuse of vulnerable adults in recent years. And with the older population rising in Spokane County, she hopes the project's expansion can lead to greater understanding of how to serve older abuse victims not abused by an intimate partner.
"We're trying to fill gaps that are already in the system," Hammond says. "And right now we're the only ones filling this gap."
The physical abuse Mary says she suffered from her son is only part of the story. There was verbal and financial abuse, too, she says.
"It was just untenable," she says. "I didn't raise him to be that way."
It's a situation not uncommon in cases of elder abuse, says Ligeia DeVleming, the victim advocate at LCS for Mary. Situations like that typically involve a cycle of power and control, and it can include financial exploitation, psychological and emotional abuse. Without assistance, older adults can be lost when it comes to connecting with counseling or legal services, especially if they're not old enough to qualify for help from Adult Protective Services.
"They don't know where else to go," says DeVleming. "We petitioned for this grant because we noticed that not only people later in life, but people with disabilities or vulnerable populations aren't able to have a direct contact to services and we wanted to fix that."
It's difficult to get a handle on how prevalent abuse of older adults is locally. And that's a problem, says Spokane County District Court Judge Patti Walker. The court system doesn't keep statistics that separate intimate partner violence from other types of domestic abuse like what Mary experienced.
The state's Gender & Justice Commission, which Walker is part of, has asked state lawmakers to collect data about domestic violence cases and distinguish between intimate partners and other family relationships.
"[We would like] to get a valid number so that we know what resources we need to provide to those individuals," Walker says.
Overall, however, the data does seem to indicate that elder abuse is on the rise in Washington. Reports made to Adult Protective Services have tripled in the last decade, in part due to an aging baby boomer population. In Spokane County, the population of those 65 and older has increased by roughly 20,000 since 2012, according to the state Office of Financial Management.
That has coincided with victim advocates at Lutheran Community Services seeing a rise in vulnerable adults who have experienced abuse. In the span of just a few years, Hammond says the number of elderly or vulnerable adults she had jumped from roughly 20 percent of her caseload to, last year, 80 percent. Hammond typically handles dozens of clients per year.
The $250,000 grant LCS received from the Washington Office of Crime Victim Advocacy will give the Spokane community two more dedicated victim advocates to increase services to elder abuse victims. Walker says having more advocates is extremely valuable because the court relies on advocates for safety planning and to provide access to resources.
"When [victims] are suffering from trauma, it can be overwhelming and scary," Walker says. "Having advocates there is tremendous."
LCS will be able to meet elder abuse survivors at first appearances in courts and assist with civil orders of protection.
But helping victims navigate through complex systems is just one part of the Elder Justice Project. The other? Finding ways to improve the system itself.
When Mary reported being assaulted to the police, she didn't want to get a no-contact order to protect herself.
"It was my son, and I felt like that was punishing him," Mary says.
But it can be hard to get that sort of protection even when people do want it. Prosecutors in district court last year started to drop the domestic violence label from cases if they didn't involve an intimate partner like a spouse or significant other, according to the minutes of a November meeting of the Spokane Regional Domestic Violence Coalition. Removing that label could prevent those victims from getting a criminal no-contact order. When victim advocates complained, prosecutors agreed to keep the DV labels but moved those cases out of the specialized DV courtroom.
Mary's assault case was filed in municipal court in 2017, and the DV tag wasn't taken off. Justin Bingham, Spokane city prosecutor, says the DV tag is dropped only "in very particular situations" and is done on a case-by-case basis.
The Elder Justice Task Force, started last August, tries to address other issues that may impact victims as well. Already, Hammond says they identified a communication issue with Adult Protective Services and local law enforcement.
"Having all those people every month at the table to discuss emerging issues and gaps is really wonderful," Walker says.
Mary says she's doing better than she was two years ago. She isn't in contact with her son, who has moved away from the state and has a warrant out for his arrest. She credits the help she got from LCS.
"I had to be safe," she says. "And what this agency did was restore my confidence in being safe." ♦