To find the Gonzaga Bulldogs' talisman in the 2023 season, one only needs to look at two games versus Loyola Marymount.
In the second meeting this season the Zags won huge, 108-65 at LMU. Junior wing Julian Strawther led the game in scoring with 28 points, hit 64% of his shots and went an impressive 6-8 from downtown. It was one of the most impactful and efficient games of his career. Analytics website KenPom.com named Strawther the game's most valuable player, one of five such honors this season.
Strawther's MVP performances this season have all come in big games — typically against quality opposition. They've also come in games in which the Zags have looked like the true national championship contender they were projected to be entering the season.
That game at Loyola Marymount on Feb. 16 qualifies as both of those. The Lions are good, as they showed when they beat GU and Saint Mary's, but Gonzaga looked great in the rematch.
The first meeting, though... not so much. Gonzaga was held to just 67 points. At home, no less. And Strawther had his worst game of the season, with just 6 points on 1-8 shooting.
The sometimes-streaky scorer averages 15.1 points per game this season, second on the team. In the team's five losses, he's averaging just 8.6 points. For Gonzaga to make a deep run in the NCAA Tournament, they'll need the high-scoring version of Strawther. The question is — will they get it?
"I never really shy away from the moment or the bright lights, and when we need a big shot I'll step up," says Strawther. "I just really enjoy those types of big moments. As a basketball player those are the type of games and moments you just want to be in."
Fortunately for the Zags, from here on out, every game will require those big moments.
Strawther's Gonzaga career has been equal parts old-school Zag tradition and new-school glitz and glamor.
As a high school prospect at Liberty High School in Las Vegas, Strawther was projected to be a high-level college player with NBA potential (he's projected as a potential first-round NBA draft pick if he were to leave Gonzaga after this season). A Top 100 recruit nationally in the class of 2020, Strawther received a four-star rating from recruiting service 247Sports.
Strawther came to Gonzaga as a part of the so-called "Tricky Trio" recruiting class along with five-star recruit Jalen Suggs and fellow four-star recruit Dominick Harris. Together, they formed what 247Sports rated as one of the top ten recruiting classes in the sport that season, at the time the highest-rated class in Gonzaga history.
Despite the accolades, Strawther initially had to bide his time on the bench. As a freshman, he averaged just 7.4 minutes per game. He was one of the 10 highest-rated recruits in program history, but he spent his first season in Spokane outside the rotation, just like so many who had come before him.
As a sophomore, Strawther found himself in the starting lineup, replacing the graduated Corey Kispert on the wing. His minutes increased to 27 per game, and his scoring shot up to just under 12 points per contest. Strawther was starting to show the promise of his talent that season, but on a loaded roster, he wasn't asked to be a consistent go-to option.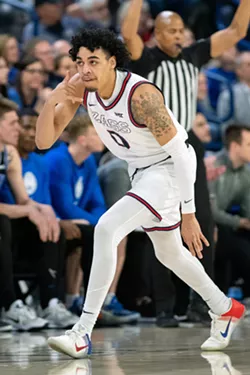 Now, in his junior season, Strawther has evolved into a key cog in Gonzaga's play on both sides of the ball.
"With the expanded role [this season] and more on my shoulders I've been able to show more of my game and how I can really fill it up as a scorer," says Strawther.
His ability to score from all three levels keeps opposing defenses honest. Whether it's the 72 3-pointers he's made this season — at a quite good 42.6 percent clip — or the deft touch closer to the basket, Strawther has become a player that defenses can't afford to leave alone anywhere on the court. His floater in particular has become a frequent and potent part of Gonzaga's scoring attack.
"It's something I've always worked on, ever since I was in middle school. When I got here my freshman year, coach [Brian Michaelson] made sure that I kept working on it. It just so happens that with more opportunities this year, I'm in more ball screens and more downhill actions, and the floater has been there for me," says Strawther. "It's my baby."
On the other end of the court, Strawther has become a magnet for rebounds thanks to his instinctual defensive positioning. He's also got some God-given talents working in his favor.
"The coaches are always hard on me because I'm 6-foot-7, so I gotta act like I'm 6-foot-7. They're constantly in my ear about using my frame and my athletic gifts to go up and get [rebounds]," Strawther says.
He's used those athletic gifts quite effectively on the defensive end, where he's pulled down 170 rebounds this season, nearly 20 percent of the team's total in that category, and more than he totaled in his first two seasons combined. He ranks first on the team and second in the West Coast Conference in defensive rebounds this season.
Strawther has proven adept at ending possessions on the defensive glass, and down the stretch run this season he's shown an ability to end them before teams can get into their offense to begin with.
The Zags have been employing a 1-2-2, three-quarter court press more and more as the season has worn on — it was a near-constant presence in the two wins over Saint Mary's. Strawther often finds himself as the "1" in the 1-2-2 press, defending the opposing team's ball handler 75-plus feet from the basket.
Strawther's offensive contributions are the most seen and scrutinized, but what he's brought on defense has been critical as Gonzaga's dialed up its game on that end of the court.
No matter how much or how little he's played during his career, Strawther's upbeat and engaged personality has never wavered. He's always carried himself in a way that makes him both a fan favorite and a great teammate.
Strawther regularly stops to sign autographs for kids after games, even when he's supposed to be making his way to a postgame radio interview. On social media he lets his sense of humor shine, like when earlier this season he took to Twitter for a playful jab at "Nolan Hickman haters" in which he noted their increasing silence regarding his sophomore teammate.
An enduring memory of Strawther's personality came as a freshman, after the WCC Tournament Championship Game. Strawther didn't play a single minute that night, but he wasn't down or dejected about his role. Instead, after the game, he posted a candid video to Instagram in which he asked a clearly confused Mark Few, "What you got to say to them, coach?"
The often reserved Few wanted to know who Strawther was talking to but couldn't keep from grinning as he flashed a peace sign at the camera.
"The people," Strawther replied.
He may not have been able to deliver an on-court performance for the people that night, but he made sure he delivered for the people however he could, as he has his entire career. The only difference now is that he's delivering for the people on the court as well. ♦