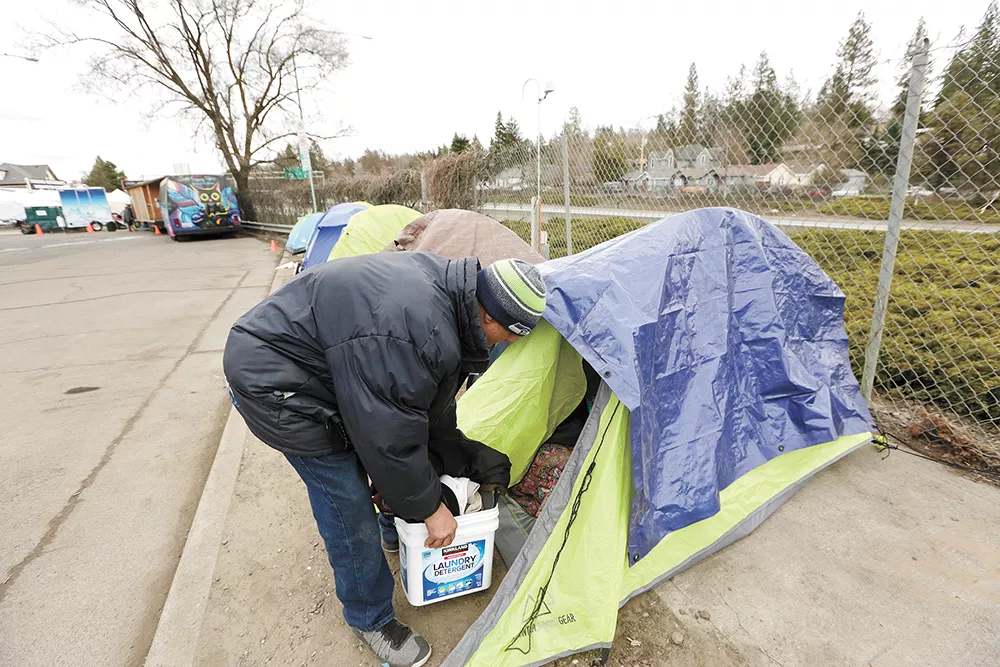 When the coronavirus hit Spokane, Anjanette and Daniel Wright were given a tent, a sleeping bag and a choice. They could set up near a shelter, where there's access to services but crowds of other people. Or they could go somewhere else, away from people.
The couple, married almost 16 years, has been homeless since December. When shelter operator Jewels Helping Hands had to reduce its capacity by half to maintain social distancing, it left the Wrights — and dozens of others — to sleep outdoors, with many choosing to camp right outside the shelter's doors.
The Wrights were conflicted. Anjanette is immunocompromised, but wanted to stay. Her husband wasn't so sure.
"She likes it here, but I don't care for it," says Daniel Wright. "I'd rather be cold underneath a bridge, where I know for a fact that nobody's going to touch me or anything like that."
It's a critical vulnerability amid the coronavirus pandemic: Those without homes can't isolate themselves from others. And easy access to services — shelter, food and showers — can come with the trade-off of congregating in one place where a virus can easily spread.
City and health officials in the Inland Northwest are doing their best to navigate this challenge. The city of Spokane turned the downtown public library into a temporary shelter, open to those forced out of other shelters due to social-distancing measures. In Coeur d'Alene, groups working with the homeless population are likewise attempting to open more shelter space.
In opening the library Monday, Spokane Mayor Nadine Woodward says it's better to have people without a home in shelter. That way, the city can provide isolation rooms and then have them tested or sent to the hospital if needed.
"Those are things that they couldn't do on their own," Woodward tells the Inlander. "So it really is better that they have a place to go."
TO STAY OR GO?
Outside the Jewels Helping Hands warming center last week, a line of blue and green tents extends down the block. It's cloudy, windy and cold. A group of people crowd around outdoor heaters. A staff member wearing a bandana over his face patrols the area for needles and foil.
"We're around a bunch of people," Anjanette Wright says. "But we try to stay a safe distance away."
They're not always successful. Even as she speaks, a guy walks up and offers them a smoke, and coughs a few times in their direction. The Wrights retreat — "Keep walking! Go!" Anjanette snaps.
Kylie Kingsbury, homeless outreach coordinator for the Spokane Regional Health District, has been working with shelter providers to give guidance on social distancing. The guidance from the health district includes having beds or mats six feet apart, rearranging meal tables and ways to avoid long lines for food. And places like the Cannon warming center say they're monitoring everyone for a fever and other symptoms upon check-in.
But education, too, is crucial.
"If people are sharing cigarettes or drinks with friends, the measures that the larger systems take won't do as much good," Kingsbury says.
It's why some shelter operators are delivering this message: Go wherever you feel safe.
Julie Garcia, who runs Jewels Helping Hands, says the usual capacity of the warming center on Cannon Street was reduced by half, to 46, based on the health district's guidelines. Until the library opened space this week, they handed out tents and sleeping bags to the rest.
Union Gospel Mission is no longer holding chapel services and has put limits on how many people can be in rooms. It shrunk its capacity at the men's shelter from around 185 down to 150, with a goal of reaching 120, says Joel Brown, director of ministries. It's not by kicking people out, but by not replacing those who leave.
Brown says they're telling people that if they have a safe place to go, they should. If COVID-19 gets in one shelter, he fears, it could spread to every shelter.

"We understand if something were to come into one of the homeless shelters, that would be a bad situation," Brown says. "It would spread fairly easily."

While so far there are no confirmed COVID-19 cases among the homeless population in the region, Kingsbury, with the health district, maintains that it's a vulnerable population where disease can spread easily.
For proof, just look to Hepatitis A. The health district has been trying to stop the spread of it since last year — and three people have died from it — but there were still new cases in Spokane as of last week, Kingsbury says. Hepatitis A, which can be prevented through a vaccine, is transmitted when a person ingests something contaminated with feces of an infected person.
Kingsbury says more places to shower and wash hands can help combat both COVID-19 and Hepatitis A. But outdoor hand-washing stations can freeze in winter, and with businesses closed there are few public bathrooms. That's one reason to concentrate the homeless population in shelters — there, at least, they have easy access to bathrooms, which can reduce the spread of COVID-19.
There may be "some benefit" to separating from shelters and having more space between you and other people, Kingsbury says. But it may not outweigh the drawbacks.
"The further they go out, the further they go from medical help and assistance," Kingsbury says.
Outside of Spokane, some cities have gone a different route. In Puyallup, a homeless shelter completely closed down because having people sleep in such close proximity would inevitably spread the virus.
In Coeur d'Alene, nonprofit St. Vincent De Paul is trying to rally the community to add more shelter space during the pandemic. St. Vincent De Paul provides a couple dozen emergency shelter beds, but that's nowhere close to meeting the needs of what Executive Director Larry Riley says is a homeless population of a few hundred. As other daytime services shut down, he says, that population needs help.
"We cannot scale to the needs right now," Riley says.
So far, the city of Coeur d'Alene has let the nonprofit take the lead on finding space. But TJ Byrne, the former outreach director for Heritage Health in Coeur d'Alene, says elected officials should step up and find somewhere to add shelter space.
"We need the help of the city and county to ensure that we have a safe place to do this," Byrne says.
LESSONS LEARNED
Outside the downtown library in Spokane on Monday, Christina Bonilla waits for the doors to open, with blankets tucked under her arms and a rolling suitcase by her side. Mayor Woodward has just finished a press tour of the temporary shelter at the library, and in an hour, it'll be open with 100 more places to sleep.
Bonilla is among the first in line. She was previously staying at Hope House and doesn't want to be left outside.
"I don't want to be on the street. It's a little scary doing that," Bonilla says.
In Spokane, the approach is simple: Provide ample bed space, follow public health guidelines for social distancing, and use the shelters to triage services.
Woodward, who less than a year ago threw out the idea of banning homeless people from the library, now proudly says the library shelter will provide homeless services for the "entire region."
Adequate shelter space, under the law, is necessary to enforce laws prohibiting camping in public spaces. For now, it appears Spokane might relax on that, too. When asked this week about enforcing those laws, Woodward says it's not a priority.
"We could, I mean, because we've provided enough spaces," Woodward says. "But that's not something we're looking at right now."
The library will take overflow from both Hope House and the Jewels Helping Hands warming center. Ready for Bonilla inside, black mats a few inches thick sprawl across the floor. Workers stock the shelves with toilet paper and disinfectants. What used to be conference rooms are now called isolation rooms, in case someone is sick.
Tija Danzig, senior manager with the city's Community, Housing and Human Services Department, says they realized additional shelter space would be needed nearly a month ago. The city looked at King County and incorporated those lessons before health officials said it was necessary. The temporary shelter was paid for through a grant from the state Department of Commerce, where recent congressional candidate Lisa Brown is now director.
As she gets ready to walk through the library doors, Bonilla says coronavirus isn't something she thinks about too much. In fact, she thinks the response right now is a little ridiculous.

"I'm not worried about it," Bonilla says. "Until I see people dying next to me."

She has other things to worry about, like staying sober and finding a place to live, she says.
Coronavirus doesn't make that list. Not yet. ♦