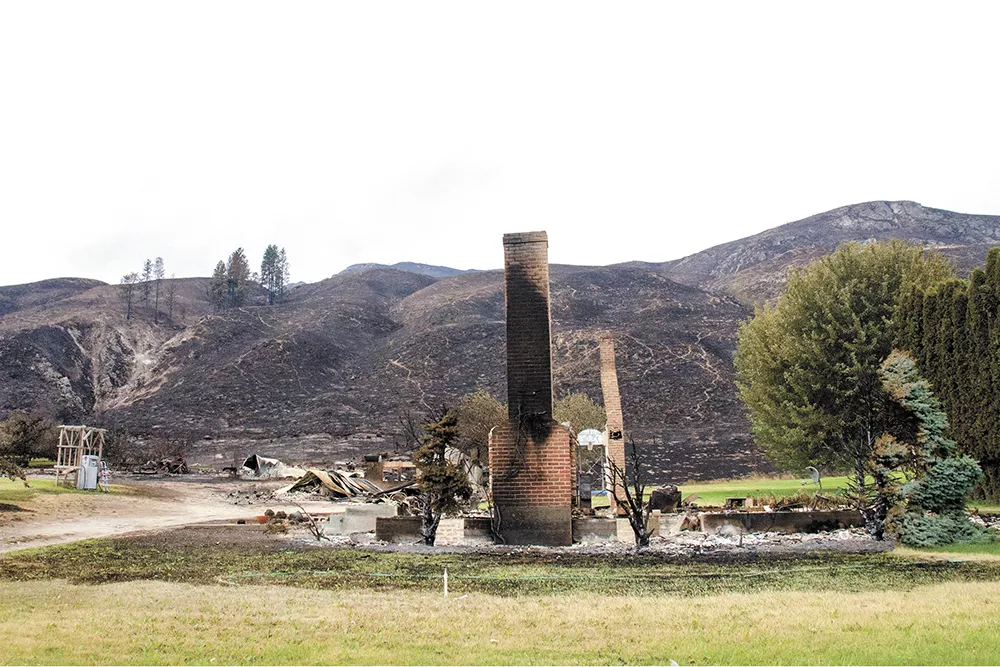 If recent wildfires and other natural disasters have made anything clear to insurance providers, it's that they can no longer look to the past to guess what risks the future holds — not with climate change influencing the frequency and severity of costly disasters.
Globally, the world saw its largest year for natural disaster insurance payouts in 2017. And in 2018, it saw the single most expensive natural disaster it has known: The expansive Camp Fire in Northern California killed 85 people, destroyed the town of Paradise, and caused an estimated $16.5 billion in damages. It also was cited in the bankruptcy filing in January this year by Northern California's Pacific Gas and Electric company (PG&E), whose faulty transmission line sparked the fire. The utility said in its filing it could be expecting billions of dollars in liabilities from wildfires.
Events once considered rare have been happening regularly the past few years, meaning the pot of money insurance companies set aside for the scarce huge payout might be dwindling faster than expected. More payouts means higher costs, and insurers around the world are now warning that rates for things like homeowner's insurance could quickly get out of hand for average people.
That's why state insurance regulators like Washington State Insurance Commissioner Mike Kreidler say that insurers need to examine how climate change is, in many cases, throwing old methods of basing future decisions off historical factors out the window.
"Insurance looks in the rearview mirror — the actuaries do — they look and say, 'OK, what's happened in the past?' and they come up with 500-year storms, and what you can predict for flooding and what history we have with fire in a particular geographic area," Kreidler says. "We're seeing 500-year floods happen almost back-to-back years. ... Things are changing. Why are they changing? Because the climate is getting warmer and having a very distinct and devastating impact."
To stay affordable, insurers need to change their thinking when it comes to managing risks, he says.
"So you're taking into account the changes that you'd have to be deaf, blind and stupid not to figure out were taking place a long time ago, which has not been recognized by [the Trump] administration," Kreidler says.
Secondly, the country's roughly 6,000 insurance companies don't just sit on their money, but invest it, to the tune of "literally $5.5 trillion," Kreidler notes. Insurance regulators like him are also tasked with ensuring that investing isn't done in an overly risky manner so insurance companies remain solvent. In today's world, accounting for climate change on the investment side is absolutely necessary, too, he says.
"It's a brave new world out there for insurance companies, both from the standpoint of risk and where they're going to insure, and where they're going to put their investments," Kreidler says.
As insurance companies adapt, the question is how state regulators like Kreidler will encourage and enforce the affordability and availability of plans in areas that are most at risk, especially as some states are already seeing insurers drop coverage in areas that have been hit hardest by disaster.
The threat of having to pay out large sums of money after climate-influenced disasters isn't just impacting insurance, as residents in Northern California can attest.
Since mid-October, PG&E has been conducting intentional rolling blackouts affecting up to 2 million customers in what it says is an attempt to avoid starting more wildfires, prompting backlash from customers who were given little notice. Residents have scrambled to keep food from perishing and businesses have had to shut down, sometimes for days. Meanwhile the company had no plans to reimburse customers (other than a modest bill credit in some cases) for what some estimates put at $1 billion or more in losses, the San Francisco Chronicle reported.
In the Spokane area, the risk of having "public safety power shutoffs" to reduce the likelihood of wildfires is low at the moment, with Avista saying its plans don't currently include shutoffs to avoid fire liability. Instead, Avista regularly trims vegetation along its power lines, with a program to identify trees that become a problem faster than their scheduled maintenance; the utility also is switching to more steel power poles instead of wood, says Heather Rosentrater, Avista's senior vice president of energy delivery.
"Another process we have is dryland mode, where seasonally, based on the wildfire risk, we change the protection settings on our circuits to be more sensitive and not close back in when they experience an outage," Rosentrater says.
Meanwhile, Avista's internal teams are assessing their wildfire and climate change resiliency plans, and watching what's happening in California to see what lessons they learn there, she says.
On the insurance side of things, there are major lessons to be learned from the Camp Fire and the devastation at Paradise, says Kreidler, who visited after the fire.
"The devastation there was one that left me speechless. I mean, it was apocalyptic," Kreidler says. "These were lower income individuals, this wasn't people from the tech industry."
Understanding that some of the lower income residents there only had liability coverage for their homes, and no coverage for the fire, left Kreidler worried for what could happen in Washington. With one-third of the state population tied up in King County, and housing prices pushing people further away from city centers and closer to forested areas prone to fire, risks are increasing for those under economic pressure, he says.
"[With Paradise] you all of a sudden said, 'Wow, how did this happen and could it happen in Washington?'" Kreidler says. "The answer is yes it could ... given the changes taking place with climate."
Kreidler, the longest serving insurance commissioner in the country, chairs the National Association of Insurance Commissioners Climate Risk and Resilience Working Group, which works to identify climate-related issues and help protect the insurance-buying public.
Since 2010, his office has also partnered with other states to require insurers that offer more than $100 million of premiums in the state (reduced from a $500 million minimum in early years), to answer a yearly survey outlining their practices related to climate risks. Generally, it shows insurance companies are taking climate change more seriously now, Kreidler says.
"Society is telling the insurance companies, 'You better be sensitive to these climate change issues if you want me to be your policy holder,'" Kreidler says. "I can see it in the survey results."
Almost 80 percent of the 1,256 companies that responded to the 2018 survey said they have a process for identifying climate change-related risks and assessing the degree that could affect their finances and the way they do business. That's up from the 72 percent who said they assessed climate change risks in 2014, with the percentage holding steady around 80 percent the last three years or so.
While there's buzz in the insurance community that the industry could soon stop offering standard coverage for events tied to climate change — requiring separate plans for that or letting some natural disaster coverage go the same way as flood insurance — Kreidler says he wouldn't expect that to happen any time soon.
What's more pressing are potential changes to specific types of coverage, such as for wildfire, and whether insurers might consider dropping coverage in high-risk areas.
That's partly why this year Kreidler put out a mandatory survey to collect fire coverage information from insurance companies that operate in Washington state. He wants to know things like where they were already providing coverage in wildfire prone areas and whether they have plans not to renew coverage in certain areas.
"Not that I expect to see any major openings right now where people are having problems finding insurance — right now we're not aware of that being an issue," Kreidler says.
California's Department of Insurance, meanwhile, put out a report in August that found insurers were dropping coverage for homeowners in the areas most prone to wildfires from 2015 to 2018, with a 10 percent increase in insurer-initiated "non-renewals," or dropping of policies.
In some states, Kreidler says, insurance commissioners have the ability to prevent an insurer from dropping coverage in a riskier area by saying they can't provide coverage in the rest of the state if they do so. But that's not a power Kreidler says he wants at this point.
"I'd much rather work with the industry to establish appropriate standards so everybody is playing by the same rules," he says. "Part of that is local zoning and building codes and things that can have a very distinct influence."
Working with companies, Kreidler hopes to make sure Washington customers won't face huge spikes in their monthly payments or see insurers who are willing to offer a cheaper, riskier plan with their eyes set on leaving at the first whiff of trouble.
"You can't just be somebody that comes in to make a buck today and then leave the market," he says. "You've got to look at what's it going to be like 10 or 20 years from now, so you're appropriately pricing and reserving for your potential losses." ♦