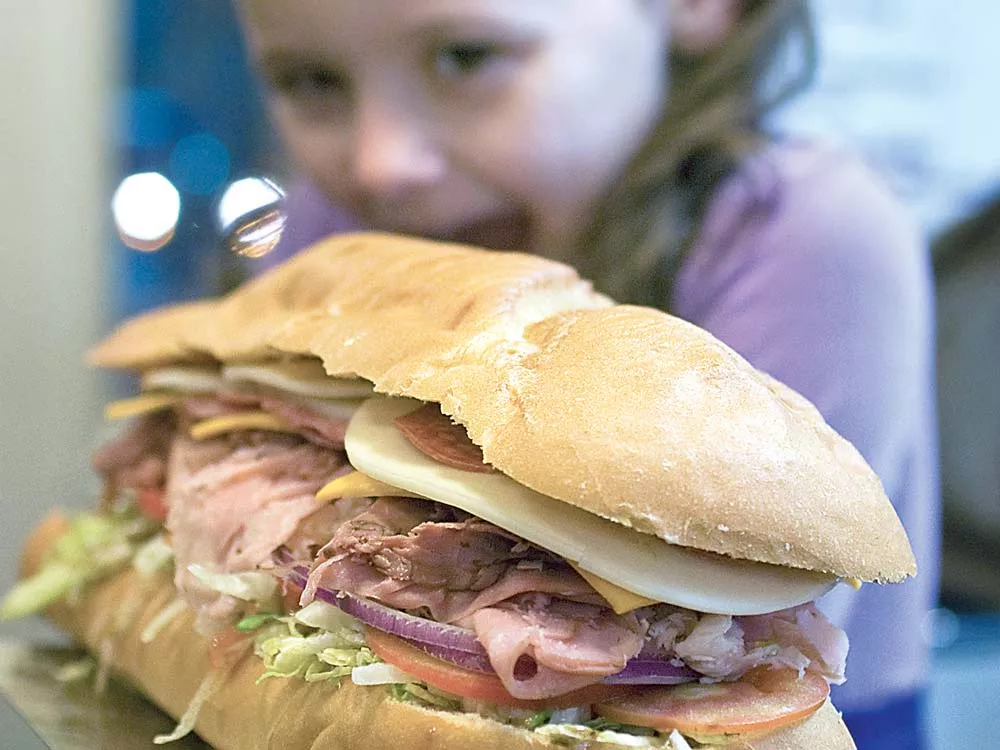 On the phone, a customer is ordering a pizza and … a pack of cigarettes. Pall Mall Ultra Lights. For delivery. And Rich Grow, the charismatic owner of DADDY'S BELLY DELI, has every intention of providing the goods.
Although the deli has only been open since mid- June of last year, Grow and his family have quickly gained a reputation for taking customer service to the next level — once making sandwiches for customers who showed up to his house at 2:30 in the morning. The goal of Daddy's Belly Deli, he says, is to treat everyone who walks into the shop like family.
"You feel special and that's what we want you to feel," says Grow, who knows the names of every single one of his customers.
Most of the items on Grow's menu of sandwiches, burgers and hot dogs are inspired and named after his family, friends and customers. Everything is made from scratch — including the bread, which Grow bakes daily.
Trying to pick just one item off the menu at Daddy's is heartbreaking. Upon first bite into one of Daddy's signature hot sandwiches, The Punisher ($7.99) — slow-roasted pork, pit ham, melted Swiss cheese and Grow's special (neon-green) mustard — it seems as though there is never a need to eat any other kind of food ever again. This is perfection. His most popular sandwich is the epic Big Fat Daddy (half $6.99, whole $11.99), which is piled unnaturally high with 14 toppings.
Seated in front of the counter, Klaire and Jeremy Prosser each make their way through a Lava Flow Burger, which has cheese cooked into the center of the gigantic patty. This is their second visit today. Sometimes, they say, they even get a babysitter just to make a trip to Daddy's.
This is the kind of thing Grow is aiming for: building relationships with the people he serves, making his community a better place not only through his food, but through outreach as well. He says he holds toy drives, food drives and even shovels neighborhood sidewalks for free.
"That's what keeps you going," says Grow. "If it starts with me, it might be a domino effect." (Tiffany Harms)
Daddy's Belly Deli • 3818 N. Nevada St. • Daily, 11 am-8 pm • 474-9364
---
Equal Eats ... Redux
Janice Raschko wrote her mission statement on the wall of ONE WORLD CAFÉ so she wouldn't forget it again. She brought back the treasure box — the sparkly, multi-colored box covered in hearts and yin-yangs, where customers deposit a donation for their meals. She turned the kitchen into a volunteer space for dummies, with everything labeled to make helping out as easy as possible.
Raschko and her husband, who opened One World Café two and a half years ago, reopened it again last Tuesday after three months of remodeling the space and refining operations to cut costs and refocus on the mission.
Raschko is heading the kitchen this time around. She wants to ensure that her mission is always being met: "I'm not a chef, I'm a cook," Raschko says, "but I'm a good cook."
One World went through a few chefs in its first years, and Raschko admits that it's been a difficult environment for a perfectionist chef to work in. As a community kitchen, it isn't only about putting out a beautiful dish. It's about being flexible in using the available ingredients and working closely with local farmers. Some of the chefs, although very talented, didn't work out and Raschko felt the cafe was straying from its goals of creating a comfortable and welcoming space for anyone to enjoy healthy and sustainable food.
After attending a community kitchens summit where she found inspiration from other like-minded restaurant owners, Raschko decided to get back to basics. The menu, which only includes lunch, will feature dishes that are easy to make with what they have: soup, pizza and salad. Each day the choices will vary. They'll be set at the beginning of each week and will go up on their website. The first week's menu, for instance, includes cream of pumpkin soup, crimini mushroom garlic pizza, Thai noodle salad and Russian green bean and potato soup.
Raschko postponed the re-opening day to make sure everything was ready. But when we talked to her before opening, she said she would feed anyone who came by. She'll never deny someone who's hungry. (Chelsea Finger)
One World Café • 1804 E. Sprague Ave. • Open Monday – Friday, 11 am – 2 pm, Second Saturday of each month from 11 am – 2 pm • oneworldspokane.com • 270-1608