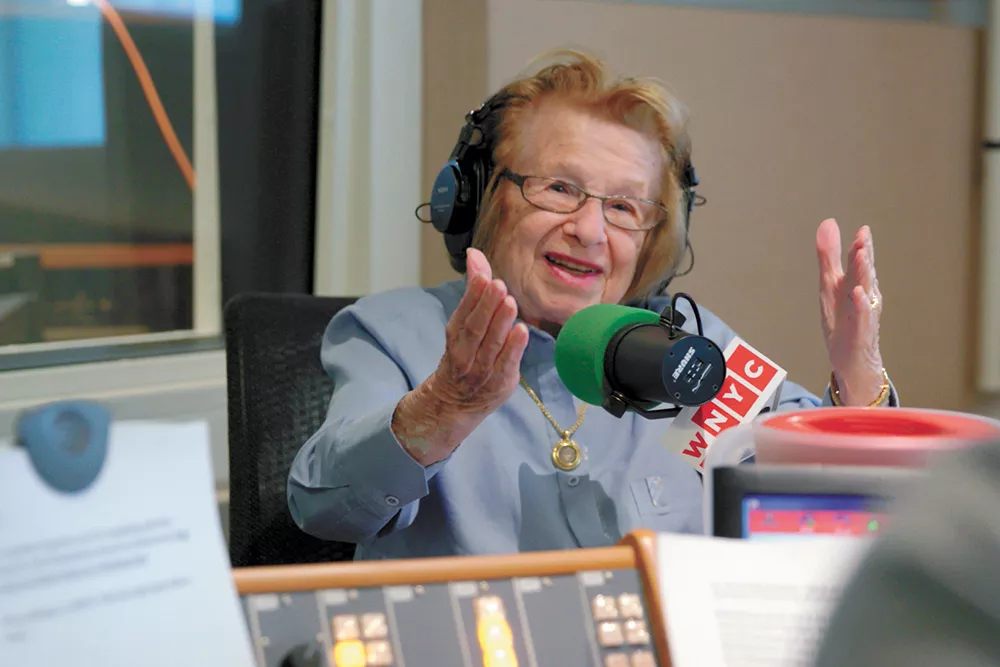 Sex might still be something of a taboo subject for casual conversation, but a new documentary argues that a 4-foot-7 German immigrant made it less of a no-no. Dr. Ruth Westheimer has been popping up on American television for decades, having frank, explicit discussions of human sexuality in a genial, approachable fashion, causing the press to dub her "Grandmother Freud."
It might be difficult to remember just how culturally ubiquitous Westheimer was in the '80s and '90s, and the film Ask Dr. Ruth is a straightforward primer on her life and career. She gained national attention first as a radio personality, then as the host of a weekly television show. She had her own board game, she made amusing cameos in movies and she even starred in a sitcom pilot.
Westheimer is now 90 years old, and she maintains the blithe spirit that made her a household name. She's lived in the same Washington Heights apartment for more than 50 years. She's still teaching college courses, writing books and columns, and making TV and radio appearances. Everyone in her orbit — from her former TV producers, to her kids and grandkids, to her childhood boyfriend — seems enchanted by her, and speaks to her tireless work ethic.
We've all seen clips of Dr. Ruth on late-night talk shows, making Johnny Carson and Conan O'Brien blush. She's an unbelievably charming presence, to be sure; it's no wonder why she became such a huge star. But her sunny demeanor is belied by her dark past, which is rendered in animated interludes in this film.
Westheimer was born into an orthodox Jewish family in Frankfurt, Germany, and she still remembers watching her father being carted away to a concentration camp at the height of WWII. She was soon sent to a children's home in Switzerland, which saved her life, but she never saw her parents again.
Her life contains more remarkable details. After the war, she trained as a sniper (!) in Palestine, although she never (by her own admission) killed anybody, and she nearly lost her legs in an air strike explosion. She would later earn her doctorate in psychology, and after a stint at a Harlem Planned Parenthood she became fascinated with sex education, and her eventual call-in radio show became appointment listening in the early '80s. It sounds like the stuff of a John Irving novel.
Ask Dr. Ruth was directed by Ryan White, whose previous films include The Case Against 8, about the legalization of gay marriage in California, and the chilling Netflix miniseries The Keepers. He has also made portraits of fascinating cultural figures, including tennis star Serena Williams and the Beatles' longtime secretary Freda Kelly, and Ask Dr. Ruth falls into that latter camp. Like recent documentary smashes RBG and Won't You Be My Neighbor?, this film aims to pay tribute to and shed new light on a public figure we all know, but maybe don't know much about.
It's also, like those other films, pretty soft, essentially a fawning infomercial for Westheimer's legacy. If the movie gets anywhere near incendiary material, it's in Westheimer's refusal to talk politics, at least on a superficial "who I voted for" level. But surely sex is political, and Westheimer has always been a vocal supporter of legal abortion, accessible contraception and gay rights, and she was one of the first TV personalities to talk openly and empathetically about the AIDS crisis.
But this is mostly a breezy portrait of an influential, singularly focused woman who seems like a truly wonderful person. You might walk into the theater thinking of Dr. Ruth as something of a caricature. You'll come out with different feelings. ♦