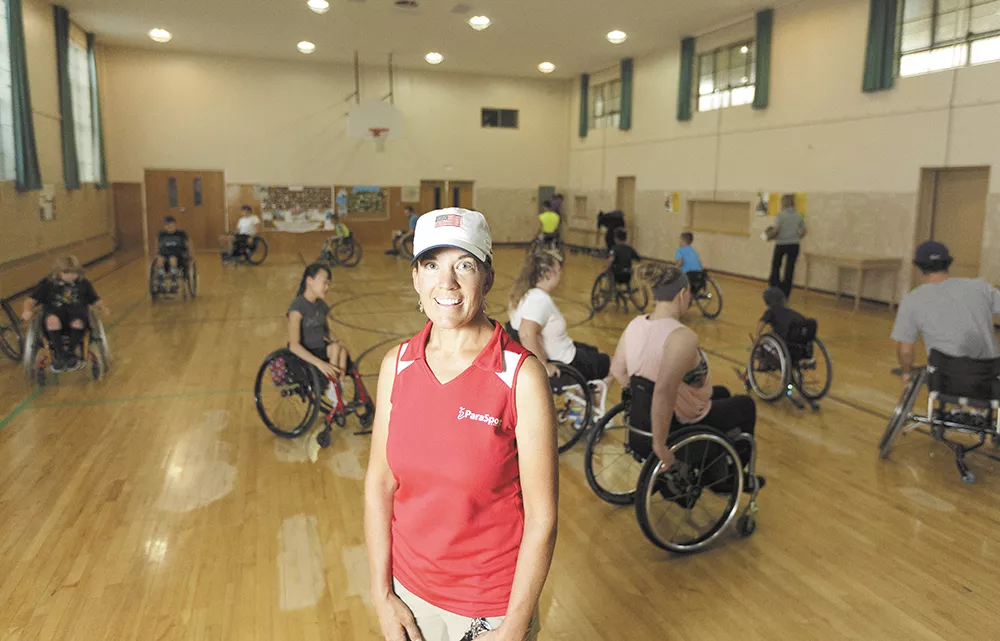 Five years ago, everything changed for Rachael Morrison. Her body betrayed her and began attacking itself. At just 23 years old, Morrison found herself battling ankylosing spondylitis, an inflammatory autoimmune disorder that left her unable to use the muscles in her trunk and legs and also affected her arms and hands. For the next few years, she relied on her family for assistance with even the smallest daily activities.
Nine months ago, everything changed for Morrison again. In January, the 28-year-old packed up her bags and headed hundreds of miles west from her hometown in Michigan to Spokane. She came to train with ParaSport Spokane, as a para-athlete in track-and-field throwing events. There wasn't a program back home that could offer her the same level of specialized, competitive training she could get in Spokane.
Today, Morrison is not only training as an athlete with coach Teresa Skinner, co-founder of ParaSport Spokane, she's also living independently for the first time since her illness began.
"I have learned so much," she reflects a day after she and two other ParaSport athletes were named to the para-athletic division of the USA Track and Field Team for the 2015 World Championships being held in Doha, Qatar, this October. Morrison will compete in the discus and the club throw; the latter is a para-athletic throwing event that consists of lobbing a wooden implement across the field.
"It's been a really great experience. It sounds cheesy, but it's true. I've had to learn things, but Teresa and the program have been hugely instrumental," Morrison says. "Now I say, 'Hey, I want to do that!' and Teresa is a very, very good teacher."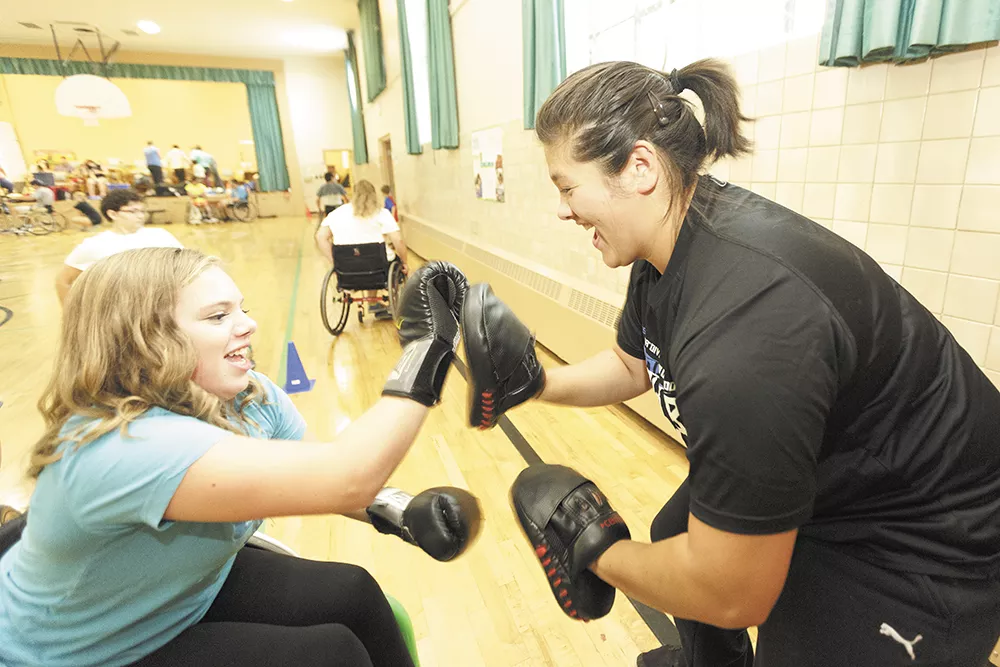 Inside a small office near the Sacred Heart Medical Center campus, Skinner is surrounded by shiny, colorful equipment: green- and pink-framed road racing wheelchairs, a tiny, child-sized basketball wheelchair and other specialized equipment used by the local athletes she trains. Skinner, an occupational therapist, and her husband, David Greig, founded the nonprofit two years ago. Already, demand for their services is nearly outpacing capacity.
That's a good problem to have, the couple says. Currently, they're training more than 80 athletes — about two-thirds are under age 18 — from around the Inland Northwest. Two years ago, there were just 23 athletes. They have reason to believe that at least 100 more people in the region could be benefiting from ParaSport's training. Run by an all-volunteer coaching staff of five, plus Skinner, ParaSport Spokane assists athletes who have many different physical challenges.
"It can be anyone with any type of physical disability that doesn't allow them to play stand-up or contact sports," Skinner elaborates. "Some could potentially do some able-bodied sports, but they aren't going to be as successful as they would be within the para-athletic system."
Coaching para-athletes isn't new for Skinner. As an occupational therapist at St. Luke's Rehabilitation Institute, she started Spokane's first wheelchair rugby program back in 1995, and began coaching two-time Bloomsday women's wheelchair division champion Susannah Scaroni, now 23, when the racer was just 9 years old.
Over her 20-year coaching career, Skinner says she's witnessed dozens of remarkable transformations. "There are a lot of athletes who never saw themselves going to college, and that's something we really push with our athletes," Skinner says. "We have some adults who are coming back into being active in sports and never saw themselves as being contributing members of society. They thought they'd live off disability and would never be able to do anything."
Back in 2012 when she traveled to London as a track-and-field coach with the U.S. Paralympic Team, Skinner was stunned to see the Olympic Stadium sold out for 12 straight days. To be clear, the spectators' cacophonous roar over those 12 days took place two weeks after the 2012 Summer Olympic Games' closing ceremonies. The tens of thousands of people filling the stadium were there solely to cheer on the paralympic athletes, something Skinner had never witnessed in the United States.
"I wish the rest of the U.S. knew about these athletes," she says, noting it is nearly impossible to find a TV broadcast of a paralympic event. "We don't do a good job in the U.S. of showing that this is possible. We do a lot of feel-good, one-off stories, but there is not a lot of consistent messaging ... There is no reason they can't do anything they want to do." ♦