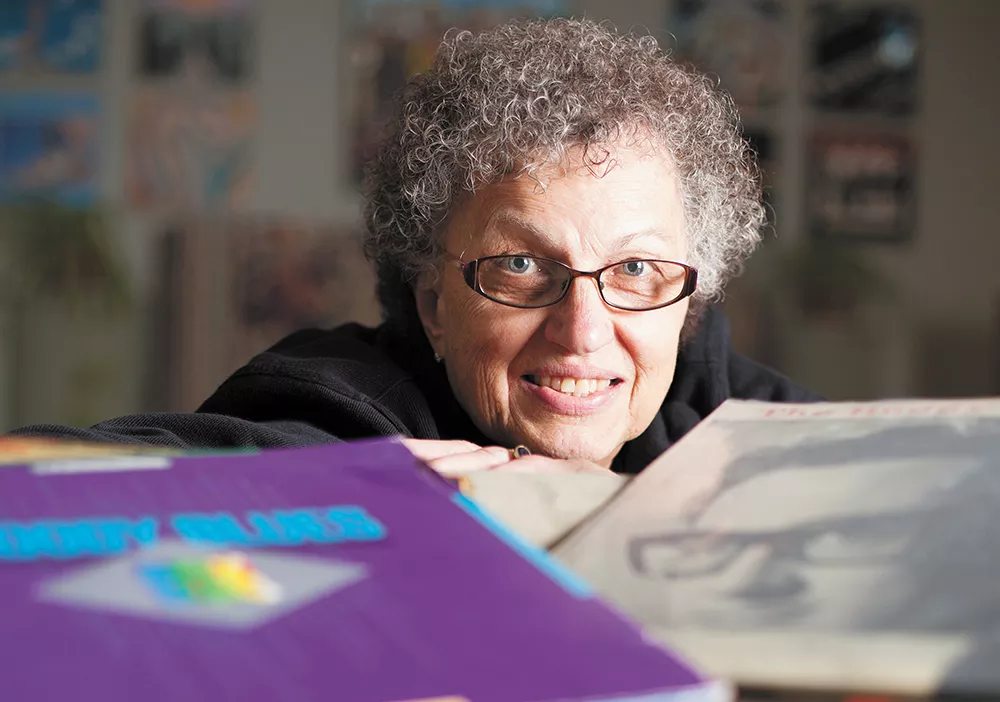 I'm told to sit in the center of the mint-green couch, where the listening experience is optimal. Fleetwood Mac's Rumours kicks up over the sound system. The music soon engulfs everything, swirling through the room into the sound absorption panels on the walls and ceiling.
Listening to records in Laura Skaer's gleaming white, vaulted-ceiling audio room is almost like being in the sound booth where the album was first recorded. That's exactly the way she envisioned it.
"I had my designer design around where I wanted the speakers to be," says Skaer of the space she added on to her house a few years ago. "The sound came first."
The 66-year-old executive director of the American Exploration & Mining Association has more than 2,000 records in her collection, alphabetized by genre on tall, wooden bookshelves lined against the room's back wall. The shelves are also home to CDs, live concert DVDs, music biographies and posters. For her, there is something spiritual about listening to a record.
"It's the ritual of it all," she says. "Pulling it out of the sleeve and placing it on the record player. But it's the sound I like best. It's more natural. We speak analog, that's how we should hear music too."
Skaer is not alone in her sentiment. Thanks to the growing popularity of vinyl records, Saturday's Record Store Day has the potential to be the biggest ever.
It's no secret that the CD no longer reigns supreme as the music consumer's medium of choice. Last year, according to Nielsen SoundScan, CD sales dropped 14.5 percent while vinyl sales grew 32 percent, from 4.5 million units bought in 2012 to 6 million in 2013. Vinyl sales took off in 2007, the same year that Record Store Day was conceived.
For Bob Gallagher, the owner of 4,000 Holes in Spokane who has been in business for 25 years, there's no question that Record Store Day saved his business; because of it, he's able to pay the bills and stay open.
He says that last year the line to get into his store on Record Store Day wrapped around the corner. "I've never seen more people in my store at one time," says Gallagher.
The serious collectors, though, the ones who never gave up on the format, seemingly aren't bothered in the least that collecting records is cool again. Local vinyl collector Tim Bacheller says the more people involved with Record Store Day, the better. Bacheller, who caught the audiophile bug seven years ago — "it happens to a lot of guys" — says he wants everyone to enjoy what he views as the superior listening format. He's bought many one-of-a-kind items at Record Store Day and plans to do so this year.
"Anyone can do this," says Bacheller, who mostly buys classic rock. "It's important to continue supporting record stores."
Skaer got her first record at 11 — a well-worn Buddy Holly album she still owns — but it was at the University of Missouri in the late 1960s, first as an undergrad and later in law school, that she started a collection. Back then, she says, she didn't take care of records the way she does now.
"See here, my name on this," she says pointing to the front of an album. "In the dorm, I wouldn't have ever seen it again if I didn't do that."
Throughout the '70s and '80s, Skaer says she was a diligent collector, but then she bought in to the "perfect sound forever lie" that compact discs promised. When she became a widow in the early aughts, Skaer picked up her vinyl habit once more "to occupy time and space."
As to why more men collect records than women, Skaer says she doesn't have an answer, but that in the past decade she's seen more women at record shows than ever before.
For Record Store Day, she says she plans to purchase a couple of limited edition records. While many record collectors believe in keeping rare items sealed to maintain value, Skaer doesn't subscribe to that philosophy. She pulls out a limited edition U2 record as evidence.
"It ain't sealed anymore!" she says. "If I'm going to buy it, I'm going to listen to it." ♦
---
Record Store Day takes place at the following stores during business hours on Saturday, April 19. Check out recordstoreday.com for the full list of RSD2014 exclusives.
Spokane
4,000 Holes, 1610 N. Monroe, 325-1914: Live music by the Camaros and Brian Young. Special limited edition RSD poster available.
Recorded Memories, 1902 N. Hamilton, 483-4753: Open early at 10 am.
The Bachelor Pad (formerly Unified Groove Merchants), 2607 N. Monroe, 326-4842: No RSD exclusives; large sidewalk sale with 30 percent off items and a BBQ. Store opens early at 10 am.
North Idaho
Deadbeat Records, 114½ E. Third St., Moscow, 865-DEADBEAT: Every record in-store (except RSD releases) is buy one, get one free. Opens early at 10 am.
The Long Ear, 2405 N. Fourth St., Coeur d'Alene, 208-765-3472