August 2
Dick Frost — Magic!
Dick Frost has a way with sleight of hand, and his family-friendly tricks — illusions, rather — are sure to entertain the school-aged kids who are starting to hit the midsummer doldrums. Between July 26 and August 5, he'll be doing the Spokane library circuit: East Side (7/26), Indian Trail (7/27), Shadle (8/2), South Hill (8/3), Hillyard (8/4) and Downtown (8/5). Showtimes fall between 2 pm and 3:30 pm, with two performances on Aug. 2-3. Visit spokanelibrary.org or call 444-5331. And, yes, Frost is in good standing with the Magicians' Alliance.
August 4
Festival at Sandpoint
The Festival at Sandpoint (Aug. 4-14) kicks off its 29th year of bringing big-name artists to a small-town venue tonight, with performances by Rickie Lee Jones, as well as Lavay Smith and Her Red Hot Skillet Lickers. The rest of the weekend features Brandi Carlile, Chris Isaak, Lukas Nelson and the Spokane Youth Orchestra performing "A Disney Symphantasy." (There's even more the following weekend.) For more information, check out festivalatsandpoint.com. (Kaitlin Gillespie)
August 5
Day With the Daughter

If you've got a squirrelly 10-year-old daughter at home who's anxious for summer to end by August, this might be the day for her to get out of the house for some quality time with Mommy or Daddy.

For your quiet and maybe even shy daughter, check out the historical Garland Theater's showing of Ramona and Beezus, the movie adaptation of Beverly Cleary's popular children's books. The screening, part of the theater's summer kids shows, starts at 9:30 am. Other than the cost of snacks, which are already cheaper than normal theaters, the movie is free.

"Mainly we're just trying to do something for the community and bring people to the theater," says Tana Brunson, general manager for the Garland.

If your little one prefers to get her hands dirty, check out the "Super Science Girls!: Itty Bitty Science!" day camp at Mobius Children's Museum in downtown Spokane. The camp is only $25 for members of Mobius, $35 for non-members, and starts at 10:30 am. Your little tyke will have the opportunity to check out basic cell structure and take home her very own skrinky dink charm bracelet representing different single cells and cell structures — great for the mini-Marie Curie in your house.

"Many of our science classes are predominantly attended by boys, and we wanted to provide more opportunities for girls in science," says Catherine Peterson, education coordinator for Mobius Kids.

As usual at Mobius, parents are welcome to join in the fun.

And of course, a day in Spokane with the daughter is not complete without a trip to Riverfront Park for snow cones, a romp in the fountain and a couple go-arounds on the carrousel. (Kaitlin Gillespie)

August 6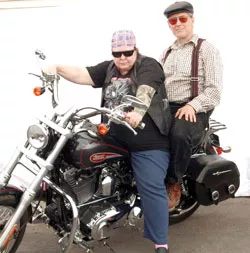 Hogfest in Moscow
The second annual Moscow Hogfest will be fighting cancer with a silent auction, a charity motorcycle show and, what else, BBQ ribs. The event was founded by Jill Wagner after she lost her father to pancreatic cancer. Hogfest will take place on the corner of Highway 95 South and East Palouse River Drive, and all proceeds from the day's event will benefit the Cancer Resource Center in Moscow. (Kaitlin Gillespie)
August 6
Party in Coeur d'Alene
The first weekend of August is the time to visit Coeur D'Alene. Northern Idaho will welcome the return of the Downtown Street Fair, A Taste of Coeur D'Alene and Art on the Green, with something to offer the kids, the gastronomes and the artists in your family. Admission is free, with a shuttle traveling between the three festivals throughout the day. (Kaitlin Gillespie)
August 6
Spike and Dig
Did you know Spokane hosts the largest co-ed outdoor six-on-six volleyball tournament in the United States? No surprise — Spokane loves doing amateur sports tournaments bigger and better. With adult, high school and junior high divisions, the Spike and Dig tournament (Aug. 6-7) is billed as a weekend that's fun for the family. At $175 for an adult team and $150 for a senior or junior high team, the cost is pretty manageable when split between seven players who may not be vertically inclined enough for Spike and Dig's basketball counterpart. Registration runs through July 27. Visit spikeanddig.com. (Kaitlin Gillespie)
August 7
Double Berry Blast

If you like berries, you're in for a delicious conundrum today, as both the Huckleberry and Raspberry Festivals are celebrating the harvest season.
Schweitzer Mountain's Huckleberry Festival will feature family-friendly booths, local vendors, barbecue and a huckleberry pancake breakfast, which is pretty much the same itinerary as the town of Cottonwood, Idaho's Raspberry Festival.
"We try to time it when it's the prime picking season for the huckleberries," Brandon Peterson, events manager for Schweitzer, says of the scheduling coincidence.
If you just can't choose between the two festivals — both of which start serving up their respective pancake recipes at 8 am — consider, for a minute, the berries themselves.
According to fitday.com, the raspberry trumps the huckleberry in calories, Vitamin C and fiber, and one cup's worth provides a whopping 33 percent of your daily value of fiber, compared to 16 percent for huckleberries.
But the International Wild Huckleberry Association (which may have a slight bias) bills huckleberries as "our planet's most delicious and nutritious wild berry" (though the website doesn't really explain its rationale).
Your decision is made even more difficult by the fact that Cottonwood and Schweitzer are about 200 miles apart. If you're from around Spokane or Coeur d'Alene, you're probably going to want to check out the Huckleberry Festival. If you're from the Pullman-Moscow area, raspberries are going to be your fruit of choice today.
But who knows? Peterson says the pancakes don't stop at Schweitzer until 1 pm. Drive fast enough from Cottonwood and you could get both in one day. (Kaitlin Gillespie)
August 7
Troika Triathlon
It's not too late to register for the 31st annual Troika Triathlon. After the starting shot is fired in Medical Lake, participants face a 1.2-mile swim, a 56-mile bike ride, and a 13.1-mile run into downtown Spokane. Early registration runs through June 30, at $175 for individual racers and $210 for teams — and you even get a sweatshirt for finishing! Visit troikatriahlon.com. (Kaitlin Gillespie)
August 6-7
Highland Games
If nothing gets you in the mood for sunshine like men in kilts, the Spokane Highland Games (Aug. 6-7) is the summer festival for you. The games take over the Spokane County Fair & Expo Center every year with Scottish-themed booths, a clan parade, haggis tasting and "heavy athletics." Yikes. Watch out for flying hammers. (Kaitlin Gillespie)

August 12
SpoCon
Put on your furry cat costume, or glue on your Darth Maul prickly face applicants, and check out SpoCon at the DoubleTree Hotel in downtown Spokane (322 North Spokane Falls Ct.). The sci-fi fantasy convention (Aug. 12-14) will feature weapons performances, illustrators, best-selling fantasy authors, masquerade competitions, forums, gaming competitions and more. It's a playground for adults. A Mecca for the ultra-nerdy. And the one place in Spokane where "dungeon master" looks good on a resumé. (Jordy Byrd)
August 12
Blue Waters Bluegrass Festival
The idea of listening to banjo music in the woods of the rural Inland Northwest may seem a little Deliverance, but give it a try anyway at this festival in Medical Lake (Aug. 12-14). The line-up features a combination of award-winning artists, like John Reischman and the Jaybirds and up-and-coming Seattle youngsters Cahalen Morrison and Eli West. Find details at bluewatersbluegrass.org. (Jordy Byrd)
August 13
Garland Street Fair
Let's say there's more to it. Let's say that The Wizard of Oz isn't just a heartfelt tale about a little girl who's a long, long way from home. Perhaps it's about the gold standard? Reptile people? The Great Depression?
All the more reason to celebrate the classic 1939 Technicolor film, which will be the centerpiece of the Garland Street Fair (Aug. 11-17). For the event, the neighborhood blocks off traffic from Monroe to Howard Street and pays tribute to all things Oz and Judy Garland.
"It's really just a way to get people to come see us [in the district] and know that we're here," says organizer Stacey Takaoka-Stanfield. Last year, some 20,000 people attended the fair, transforming the district that Stanfield says was once Spokane's little secret.
Fair activities include Dorothy and Toto lookalike competitions, live music, a yellow brick road, a showing of the movie at the Garland Theater, kids activities, vendors, performances by the Christian Youth Theater, a classic car show and more.
"The feel here is just wonderful," Stanfield says. "It's more of an old-fashion street fair." Although mostly for fun, the fair also raises money for the Guild School, a treatment center for children with developmental delays.
"Last year, we raised $1,500 for the foundation," Stanfield says. "It's amazing how this fair has more than doubled in size. It's really taken on an identity of its own." So whether you consider yourself a conspiracy theorist, a philanthropist, a film buff or you simply have a soft spot for women in ruby-red slippers, this fair is for you. (Jordy Byrd)
August 13
DIY Pub Ride
Beer bellies look cute on a bicycle. That extra little sag that hangs in the middle, just inches above the top tube, makes a statement far greater than words. It says you love bicycles but not at the expense of your love for beer. This summer, combine your two great loves with the perfect day. One bike, one beer, one bar. It's a bar hop on bicycles and it's as simple as it sounds.
Pick an area with a high concentration of bars. Downtown corridors work perfectly, and Spokane, Coeur d'Alene and Sandpoint are based on simple-enough grids that even a drunkie on a bike can navigate her way home. Put on a helmet (maybe leave it on all night, in case things get rough at the bar), put some water in your bottle, bring a front light (required by state law) and a rear red blinker just in case. Then roll slowly, safely, around town. Remember: This is not a race. No need to burn precious calories.
The road is your oyster. Beer is your friend. Let that belly bounce. (Jordy Byrd)
August 14
Expedition Idaho
Marathon runners are crazy. Ultra-marathoners are even crazier. And those triathletes — especially the ones with the little Iron Man tattoos — should be locked up. But then there are adventure racers. The badasses among badasses, these athletes use maps, compasses and their own wits to navigate their way through unmarked terrain by mountain biking, rafting, paddling, trekking, orienteering, trail running and using fixed ropes. And you can witness the spectacle at Silver Mountain. Athletes at the Expedition Idaho adventure race (Aug. 14-20) will orientate their way through the wilderness, in the dark, over the course of an entire week, carrying their food and supplies across more than 373 miles. The race itself has taken more than four years to create, and organizers guarantee the course will be hell. So go watch them. Help wipe the sweat off their faces and bask in the glory of an accomplishment you will never achieve. (Jordy Byrd)
August 15
Stay at a Fire Lookout
Campgrounds are easy and convenient. They've got showers, water spigots and cute little spaces for you to put your tent. And in most campgrounds, electrical hook-ups ensure that your neighbor next door can still watch television in his giant, apartment-sized motor home. But if you want to get away from all that, rent a fire lookout. The lookouts scattered around the Inland Northwest were designed (largely by the Forest Service) to be manned year-round in an effort to scout out forest fires, but today you can reserve them for your viewing pleasure. And man, are the views and landscapes spectacular. You have to be up for the trek, though, as most lookouts have no road access and provide little to nothing to keep you comfortable. Some provide fire and water. Others do not. For a trip that's close to home (but makes you feel farthest from it) check out the Mount Spokane, Bald Mountain and Castle Butte lookouts. For details visit recreation.gov. (Jordy Byrd)
August 17
Splash Pad Pool Party
You don't need a pool, money or even swimming ability, so long as you have access to a splash pad. Sure, these miniature water parks on pavement were designed for tiny tots, with their colorful buckets, squirt guns and rainbow arches that spray water, but to reiterate, it's free, and it's fun. Pack a lunch, hide your booze and play nice with the kiddies. For a complete list of Spokane splash pads visit spokaneparks.org. (Jordy Byrd)

August 18
Shakespeare at the Movies
I know what you're thinking. "Ugh. Shakespeare. Who can understand that gobbledy-thou-and-thee-gook anyway?" Well, fair reader, I can. And I triple-dog dare you to try it on the big screen.
This is High Culture, but experienced the same way you watched Cowboys vs. Aliens: slumped in your seat while slurping a 32-ounce Diet Pepsi and munching on a mountain of popcorn. Best of all, the production is being beamed direct from the Globe Theatre in London — as in an exact replica of the theater that Shakespeare himself helped build 400 years ago. It's all happening on Thursday, Aug. 18, at 6:30 pm at the Regal NorthTown Mall Stadium 12 Cinemas. Call 489-0570.
You're thinking it'll be boring, but I tell you, the second of Shakespeare's Henry IV plays is full of London lowlifes, prostitutes, young men disappointing their fathers, death, and victory. Plus it completely sets you up for watching Kenneth Branagh's Henry V, which is based on what is arguably one of Shakespeare's best history plays.
Here's what you can expect: Falstaff — the fat, drunken knight — will steal the show. Since this is a sequel, you'll be slightly confused at the start. You won't see the title character until an hour into the show. Bonus points if you can remember who says this play's most famous line: "Uneasy lies the head that wears a crown." Look at you. All cultured and whatnot. (Mary Stover)
August 18
Jonny Lang
Jonny Lang started playing guitar at the tender age of 12. Now 30, the blues singer sounds like a 50-year-old who's had the roughest of lives. His guitar solos are comparable to those of Stevie Ray Vaughn. He's incredibly attractive, has a near-perfect blues voice, and could show other, older musicians a thing or two about plucking the strings. He's played with B.B. King, the Rolling Stones, Blues Traveler, Buddy Guy, Sting and more. Now's your chance to see him live. Do not miss this show. At the Knitting Factory on Aug. 18 at 8 pm. Tickets: $30. (Mary Stover)
August 18
Toby Keith "Locked and Loaded" Tour

Toby Keith has sung his way across the country and on USO tours, into the Billboard Top 200 and through multiple nominations from the Academy of Country Music. He's the two-time winner of ACM's Entertainer of the Year award, and he's known for his patriotic country flair. This year, he'll "country-rock" one of Northern Quest Casino's outdoor concerts. I bet he gets a full house. But don't worry, cowfolk — if you miss Keith at the Casino, you can still catch him at the Gorge on Aug. 20. (Mary Stover)

August 19

Bonner County Fair and Rodeo

County fairs offer varied fun. Hot tub and John Deere salesmen. Energy bracelets and campaign pushers. Psychics and carnies. And you can't beat fair food: giant corn dogs, funnel cakes, corn on the cob, deep-fried Twinkies, curly fries, root beer, frozen lemonade, elephant ears, pulled pork, cotton candy. Add barrel racing, team roping, steer wrestling, bull riding, and bareback bronc-riding, and now you've got yourself a party. Will he stay on the bull? Will he be gored by the bull? The mysteries of the rodeo ...

After the rodeo at the Bonner County Fairgrounds on Aug. 20 at 7 pm, stay for the dance. (Pick your favorite country song about being a cowboy, saving a horse and riding a cowboy, or not letting your baby grow up to be a cowboy, then come on down and get your boot-scootin' boogie on.) Square dancers welcome, too! (Mary Stover)

August 20

His-and-Her Races

Women wading in water, men wallowing in filth: You've got your choice of athletic events here. On Aug. 20 at 8 am at Medical Lake, the West Plains WunderWoman Triathlon offers a sprint-distance triathlon: a quarter-mile swim, then a 10-mile ride around Clear Lake, followed by a three-mile run around Medical Lake. (You'll never run closer to a state mental institute.)

An hour later on the same day, over in Riverside State Park, the Dirty Dash 10K offers a messy activity to take grown men back to their childhoods. The Dirty Dash is a 10-kilometer (6.2-mile) race and obstacle course that's run through muddy, filthy, slippery, disgusting terrain. Racing officials promise that "the Dirty Dash will be benefiting your cardiovascular system, body image, and the Spokane YMCA. … All races will also have a Hog Wash where you can purchase balloons to throw at the participants." Multiple sports or multiple forms of filth — it's your choice. (Mary Stover)

August 22

Wiley E. Waters Whitewater Rafting

If you've wanted to try whitewater rafting but aren't sure it's safe, or perhaps that your kids wouldn't be properly secure in the boat, you have to try Wiley E Waters Spokane River Scenic Float Trip. The staff ensures that you'll relax and enjoy the beautiful Spokane River. Tickets: $40; $35, children 12 and younger. Call (888) 502-1900. (Mary Stover)

August 23

Rockin B Ranch Rockin Bluegrass

Come check out some fine bluegrass at the Rockin B Ranch. While country music and barbecue are their mainstays, the Rockin B occasionally treats their audience to an all-bluegrass night. The banjo, fiddle, bass, guitar, and harmonica will get you going as you fill up on pizza, burritos, salad, desserts, beer, and wine from the ranch's concession stand. Food at 6:15 pm; the concert (just $7.50, and free for kids) begins at 7 pm. Visit rockinbranch.com. (Mary Stover)


August 25

Dodge Boredom

Situation: You're in the mood for something epic.

Solution: Hurl Balls of Fury while you bounce and battle inside Sky High at 1322 E. Front Ave. Drop in for a pickup game or register for the dodgeball tournament, scheduled for Aug. 25 from 6-9 pm. Call 321-5867. Game on. (Blair Tellers)

August 27

North Cascades Old-Time Fiddlers Contest

Take a pastoral road trip 3.5 miles northwest past the Grand Coulee Dam, into the scenic Methow Valley. When your car has seemingly driven onto the set of an old Western flick, you're in Winthrop — a frontier town with false-fronted wooden buildings and hitching posts. This nostalgic burg hosts the Old-Time Fiddlers Contest, a "celebration of living American folk art" with a boisterous turnout of whiskered talent and youngster prodigies playing old-time acoustic tunes by ear. The contest begins on Aug. 27 at 9 am, with festival events kicking off Friday night and lasting through Sunday. Be sure visit Winthrop's niche Old School Brewery for a cold pint of that award-winning Ruud Awakening IPA. Visit winthropfiddle.org. (Blair Tellers)


August 27

A Date With Your Mini-Me

Saturday, Aug. 27, will be peachy for frolicking about the South Hill with your kids. There's a letterboxing activity from 9 am-1 pm in Manito Park, which combines artistic ability with treasure hunting, code cracking and following written clues ($17; register at spokaneparks.org). Your munchkins might also enjoy perusing perennials and other verdant wonders at the Friends of Manito Fall Plant Sale from 10 am-4 pm near Gaiser Conservatory. (Visit thefriendsofmanito.org.) Cool down at the Southside Family Aquatic Facility at 3724 E. 61st Ave. (open until 5:30 pm), where your little ones can slide down the 200-foot water slide and shoot sun-basking parents with water cannons. A pit stop at one of the South Hill's beloved nosh nooks for kid-pleasing treats, naturally, is a must. The Rockwood Bakery has chocolate croissants and bins of toys for visiting children, The Scoop has a kid's corner along with locally made root beer ice cream, and Huckleberries has marzipan penguins. (Blair Tellers)

August 28

Fancy a Fair?

There's a grab bag of festivals, fairs and rodeos of interest happening this week. Two examples: the youth-oriented Operation Kill Boredom in Newport, Wash., on Aug. 28 (live music, skate competition, stunt motorcycle crew, regional artist spotlight, basketball shootout), and the Walla Walla Fair and Frontier Days on Aug. 31-Sept. 4 (rodeo, carnival rides, exhibits, horseracing, demolition derby). (Blair Tellers)

August 29

Outdoor Entertainment

Summer nights in Spokane are magnificent, and we damn well deserve it for putting up with dirty snow burms in March and blistering daytime heat waves in July. Take advantage of entertainment under the stars: On Aug. 29, the South Perry Summer Theater is showing Smokey and the Bandit at dusk in the Shop's parking lot at 924 S. Perry St. Tired of movies? Kick back in your lawn chair, sip a crisp sauvignon blanc and enjoy a panoramic view of the Spokane Valley while you listen to live music at Arbor Crest Wine Cellars. Aug. 25 brings the last of the Thursdays on the Patio with artist Linda Christine and musical guest Mon Cheri; Aug. 28 is part of their Sunday Concert Series and will feature Tuxedo Junction playing big-band jazz. (Visit arborcrest.com). Feel like chilling outside downtown? Listen to classic rock by the Blisterz from 6-8 pm on Aug. 25 at Coeur d'Alene Park, part of the Browne's Addition Summer Concert Series. Call 218-9398. (Blair Tellers)

August 31

Pig Out in the Park Scavenger Hunt

Not that funnel cakes, gyros and a beer garden in close proximity isn't already a near-perfect thing. Add a twist of tomfoolery to this sacred event of culinary indulgence Aug. 31-Sept. 5 for an extra yield of memory magic.

Your checklist: Friends. Video camera. Shots beforehand? Optional.

You must capture:
Someone throwing up. Tip: Hang around the pavilion amusement rides in the heart of Riverfront Park.
Someone with a noticeable food stain down his or her shirt. Tip: Hang out around the Longhorn Barbecue stand.
A member of your team cramming an elephant ear pastry in his mouth as fast as humanly possible.
A toddler wearing a backpack leash. Extra points if the kid is no longer attached the leash and the person on the other end hasn't noticed yet.
Someone with a dog standing near a "No Pets Allowed" sign.
A biker roaming around the park in his or her leather motorcycle threads even though it's a thousand degrees out.
Someone wearing a Hoopfest T-shirt. Kudos: If the sleeves haven't been cut off. Extra kudos: If it's been turned into a belly shirt.
One of your team members riding the Looff Carousel.
Someone busting slick moves on the dance floor near the main stage area. If nothing pans out, one of your team members needs to get out there and own the Chicken Dance.
Two of your team members going head-to-head in a shaved ice eating race (even better, convince two random people).
A person with a tribal armband tattoo.
Walk up to a stranger and challenge her to a duel with your skewer of Shiskaberrys.
There's a group of interesting locals who practice "Freegan" dining — an anti-consumerist mentality realized in dumpster-diving for discarded comestibles — at events such as Hoopfest, Pig Out and Bloomsday. Can you find a Freegan? (Blair Tellers)

September 2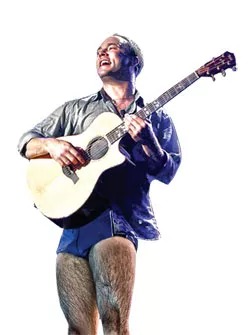 Worship Dave Matthews

Dear Legion of Followers,

It's me, Dave Matthews (of the Dave Matthews Band), your God. I have a quick question for you: How much do you love me? I mean really love me. Many of you say you love me a lot, and there's some objective evidence to support this. You drive to a sun-baked basalt plateau in the middle of Washington state every single year at the end of summer (the Band and I call it the Autumnal Dave-quinox) to spend three days in orgiastic ritual flapping, 'shrooming and copulating. Then, miles from a hospital, and in order to stay in the game, you attempt to cure everything from heatstroke to sprained limbs with folk remedies like $11 Bud Lights. (Mortals!)

So that's a pretty good demonstration of affection. But my earthly advisors at the Church of Dave Matthews think it's time to take it a step further, and I'm inclined to agree. Instead of three days, how about we extend this late summer rite to 10?

The Dave Matthews Band Caravan is playing a three-day weekend of gigs on Governor's Island in New York from Aug. 26-28. I'm thinking, maybe, you fly to that, hippy dance until you need an IV drip, buy a VW vanagon from someone in Williamsburg, road trip 2,714 miles back to central Washington, and then totally do our usual thing there Sept. 2-4.

Sound exhausting? Borderline unsurvivable? Come on, be fun.

Sorry. That sounded like a guilt trip. That's Jesus' thing, not mine. It's 100 percent up to you. I just want you to think about all the joy I've given you over the last 20 years, and get back to me.

Yours truly in eternal Dave-ness,

Dave Matthews (of the Dave Matthews Band)

(Luke Baumgarten)

September 2

Rodeo Roadtrip

If you want to roadtrip, just not to the Dave Matthews Band, we suggest heading a bit further down the road, to beautiful, arid Ellensburg, Wash. They have a rodeo (Sept. 2-5). It's the last stop on the pro rodeo circuit's "Xtreme Bulls Tour Championship" and will host the finals. Big doin's. If you're the rodeo type, you probably already have your tickets. Bonus: Plug your nose and stop by the stockyards! (Luke Baumgarten)

September 3

See A Jam Band

If you want to see a jam band, but can't stand the thought of camping at the Gorge for a weekend, here's something a little closer to home: The Gateway Bar and Grill in Coeur d'Alene is hosting the Jam Band on both Sept. 2 and 3. (Luke Baumgarten)

September 3

Hug a Miner

Despite the obvious dangers of working in the coal industry, mines and mining are, in some parts of the world, a beloved and respected piece of history to be exploited for tourist dollars in SmallTownDays! fashion. Visit the adorably quaint eastern Cascades town of Roslyn for its Coal Miner Days, Sept. 3-4. (Luke Baumgarten)

September 3

Tumbleweed Music Festival

Folkies! In the tangle of intersecting rivers and interstates that is the sun-scorched city of Richland, Wash., there is an oasis lying along the banks of Lake Wallula (which is really just a wide bend in the dammed up Columbia). This oasis is called Howard Amon Park. Every year for the last 13, the Three Rivers Folklife Society has hosted its (aptly named) Tumbleweed Music Festival. Details as to actual bands are still nonexistent, but if you're into folk, you're into folk. Be there Sept. 3-4. (Luke Baumgarten)

September 4

Ride a (Vintage) Bike

If the F---ing Bike Club had a baby with classic car enthusiasts, it would look a little like the Elk Drug Dropouts Vintage and Cruiser Bicycle Club. Shine up your old bike. Meet at the Elk. Go from there. (Luke Baumgarten)

September 5

Camp at Priest Lake

One of the easier places to slough off civilization just happens to be one of the most unspoiled, picuresque lakes in the region. You owe it to yourself to go Grizzly Adams this summer. (We'd even settle for Ansel Adams.)

First, drive to either Lion Head Campground on the northeastern-most point of Priest Lake or to the Beaver Creek recreation area on Priest's northwestern tip. Arrive on a weekend. Both sites will be full — they're always full — so flaking out won't be an option. Park in trailhead parking or campground overflow.

If you have a canoe: Load your gear, put in, paddle to the western edge of Mosquito Bay, locate the thoroughfare (looks like a small river, but there's no current) and paddle up it. On the right bank, after a leisurely 2.6 miles, you'll see Geisingers campground. If it's full, keep paddling, there are three more ringing the lake.

If you're on foot: Affix backpacks, mount trailhead and hike. From the east, you'll reach Geisingers in about 2 (sometimes boggy) miles. Another two and you'll reach Trapper Creek CG. From the west you'll hit Plowboy CG in about 3 miles. Another 2.5 miles on and you'll hit Navigation CG, probably the remotest of the four. Both hikes have minimal elevation gain, making it doable adventure for an intrepid family. (Luke Baumgarten)

Earl doesn't get out much, usually. He prefers woodworking to windsurfing. Fiestaware to festivals. And direct sunlight turns his pale skin into chicken dinner.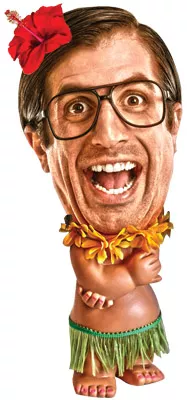 But this summer is different for Earl. Thanks to a fresh divorce and a five-gallon tub of SPF 90, he has a new lease on life, and he's vowed to turn lemons into lemon drops and frowns into Frisbee golf.
So this summer, Earl is exploring his wild side: downhill ice-blocking, nude cycling, camping, canoeing, even spelunking in Cold War bunkers. He'll be front and center at minor-league baseball games, and up in the smoking section at Dave Matthews shows.
Follow along as Mr. Excitement himself discovers the wonderful things about summer in the Inland Northwest with a week-by-week schedule filled with cool events and random activities. (Did we mention nude bicycling?)
Earl is ready. Are you?
Summer Guide Editor: Jacob H. Fries Art Director: Chris Bovey Writers: Luke Baumgarten, Jordy Byrd, Nicholas Deshais, Kaitlin Gillespie, Joseph Haeger, Tiffany Harms, E.J. Iannelli, Jordan Satterfield, Joel Smith, Mary Stover, Kevin Taylor, Blair Tellers, Daniel Walters Calendar Editor: Jordy Byrd