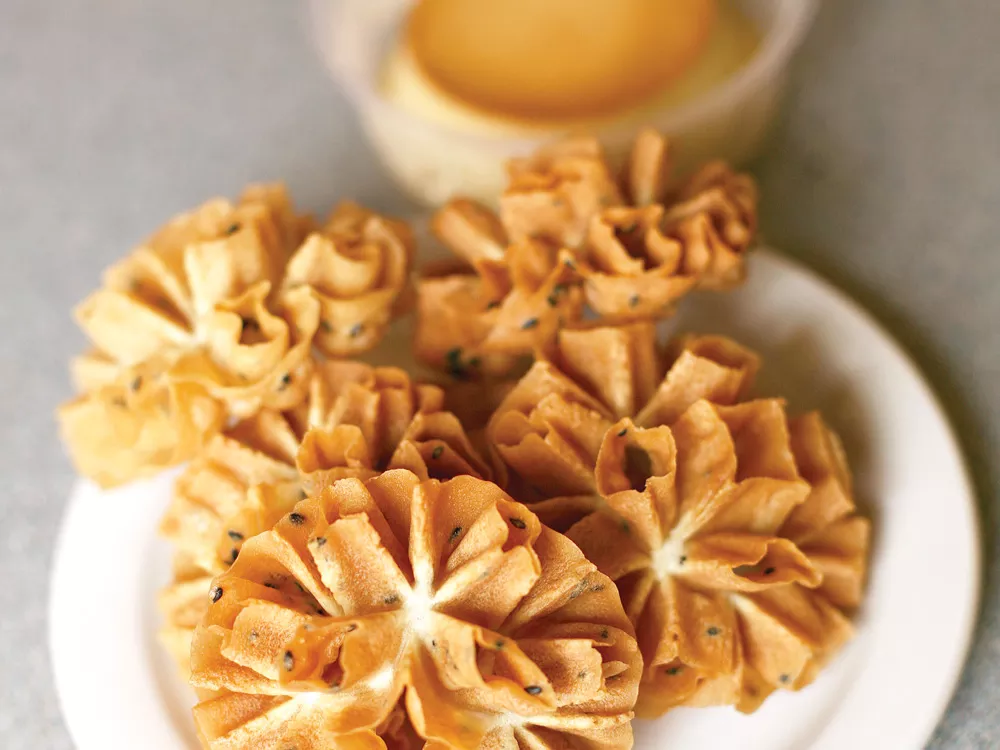 A small crowd gathered around a table recently at Main Market in downtown Spokane, waiting for free samples of Somkhit's Authentic Thai yellow curry, water lily flowers and coconut flan. "The flan is great — I could eat it for breakfast," says Main Market employee Adam Brown. "I love the curry. You can tell there are a lot of essentials mixed in just right."
Balancing sweet, sour, salty and spicy flavors is Somkhit Buerger's specialty. The Thai native has been teaching others her secrets over the last nine years in cooking classes offered through Spokane Community College.
"When people come to my classes, they are looking for something different. They already know how to cook," she says. "The important thing is to use your mind, not just follow the recipe."
An ambassador of sorts, Buerger travels to Thailand frequently to stay up-to-date on the latest developments in Thai food. "I am in a government program to promote Thai cuisine abroad — to help their economy," she explains. She studies with expert Thai instructors in classes in Bangkok and then shares her knowledge when she returns.
"Don't follow the Americans — use the authentic Thai taste," Buerger's Bangkok mentors urge. "That's easy there — not here," she says. The first time Buerger went to a Thai restaurant in America, she thought it was awful. "The ingredients — curry paste and coconut milk — are completely different here." But she's adapted, and has learned to adjust her style to the ingredients found in our area.
After her last trip to Thailand, nine months ago, Buerger was inspired to launch her line of prepared Thai food. "For the first time, I thought, 'I can do this business. I am ready,'" she says.
Her first product, water lily flowers, was well-received.
"It's a real work of art," remarks Craig Grossman, president of Evergreen Fancy Foods, who was on hand for the recent sampling at Main Market. The palm-sized crunchy crackers are delicately shaped into flowers and flecked with black sesame seeds. "We have them like a snack everywhere in Thailand," explains Buerger who sells the sweet and savory crackers in packages of five ($4). "They make a nice gift."
Buerger's other products include yellow, red and green curry pastes ($6). Just add meat or vegetables, heat, and you've got dinner for two.
If you're not into spicy food, don't worry, "It's not all spicy," Buerger promises. She's devised a unique "choose your heat" feature for her products.
Each container of curry paste comes with four chili peppers. Just like at a restaurant, you can choose how many stars you want by breaking open one or more chilies. "Leave the chilies whole, and the curry is not spicy. Break them apart and the dish will be spicy," explains Buerger.
All of Buerger's products are free from MSG, preservatives, and artificial flavors, and the curries are gluten-free.
You'll find the silky-smooth coconut flan in the deli at Main Market. Look for a Tom Kha coconut soup — flavored with lime leaves, lemongrass and tamarind — to hit the shelves soon. As for the future? Buerger hints at pad thai or some kind of stir-fry dish. "I'm always experimenting," says Buerger. "It's exciting." 
Somkhit's Authentic Thai food products are available at Main Market Co-op (44 W. Main Ave.) and Huckleberry's (926 S. Monroe St.)
CHEWY-CRISPY COCONUT COOKIES
Courtesy of Somkhit Buerger

INGREDIENTS
1/2 cup butter
1 egg
1 cup brown sugar
1 cup powdered sugar
1 teaspoon vanilla extract
1/2 teaspoon salt
1 cup glutinous rice flour (available at Asian markets)
2 cups flaked coconut

Preheat the oven to 350 degrees. Mix the butter, egg, brown sugar, powdered sugar, vanilla, and salt in a large bowl until smooth and creamy. Add the glutinous rice flour and flaked coconut, and mix until all of the ingredients are combined.
Drop the dough, by the tablespoon, onto a cookie sheet. Bake for 10 to 12 minutes, or until cookies are light brown around the edges and on the bottom. Remove the cookies from the baking sheet and allow them to cool on wire racks. Yield: about 20 cookies