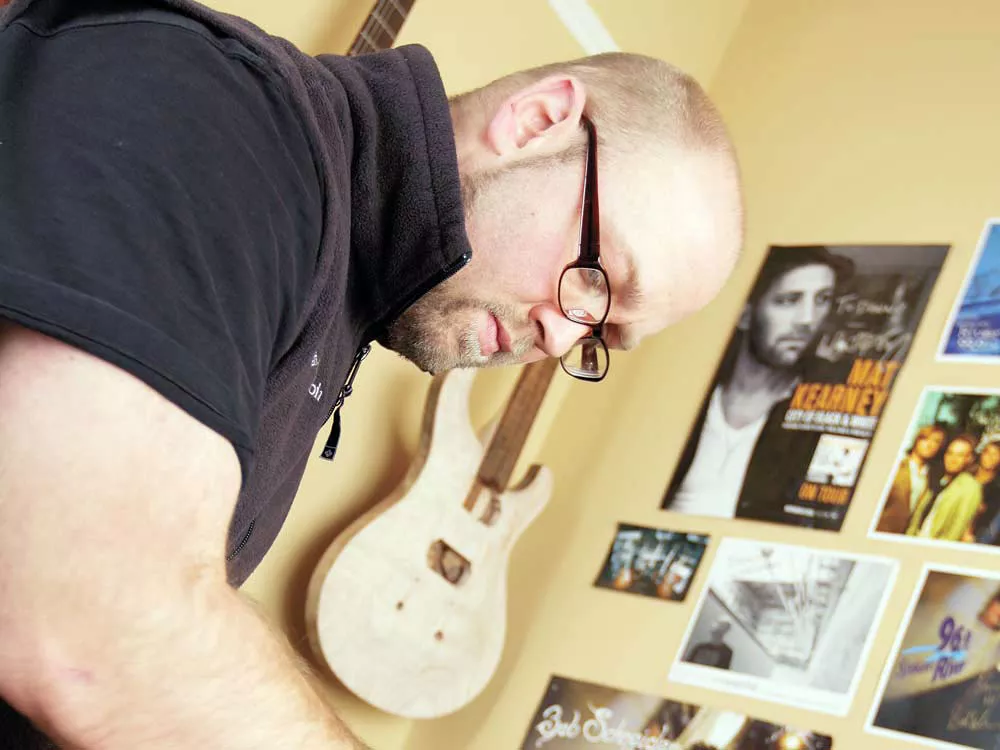 Some folks spend their entire lives searching for their true calling. Others find signs waiting for them in places so conspicuous it seems like destiny.

Danny Songhurst, who cuts, carves and assembles premium guitars in the garage behind his Spokane home, didn't have to look any further than his surname.

"It was hard not to notice," he laughs. "I get asked a lot if I changed it."

Naturally, it helped that Songhurst had been exposed to skilled craftsmanship from childhood. Alongside his stepfather, he built or restored everything from classic cars to garden gazebos.

The thrill of the music scene and his uncle's guitar shop on Garland Avenue were powerful forces, though, and he soon turned his tools toward the art of guitar making.

It was under the mentorship of veteran cello maker Dan Adams that Songhurst began developing his personal technique.

"My carves are all cello-style. They're a bit swoopier than any of the Gibsons or Gretsches," he says. "It's a sexier look."

A guitar, however sexy, has to be about more than just looks. The Songhurst sound won converts early on. Mike Frederick, recently selected as the lead guitarist for Blue Steel, the Air Force Academy pop band, has been playing a Songhurst since the two of them roomed together years ago.

"Mike was the very first person I built a guitar for other than myself. He's actually just ordered another one," Songhurst says.

After several years of private builds, Songhurst crafted a vintage hollow body for Spokane-bred songsmith Tyrone Wells. Wells became the first nationally renowned musician to endorse Songhurst. Onstage, the primarily acoustic player has been known to plug the name right when he plugs in — and that praise immediately led to more requests for Songhurst guitars (including one from Wells' own lead guitarist, Mike Kopulos).

"Everything roots back to Tyrone Wells. He was the first guy who endorsed me," he says. Both Wells and Kopulos now have signature models with Songhurst.

Since then, word of mouth alone has put Songhurst guitars in the hands of musicians all over the country. He has the air of a proud father as he tallies his guitars' concert appearances with Wells, NeedToBreathe, Stephen Kellogg and the Sixers, Lelia Broussard, and Keaton Simons. Back in January, a Songhurst had its first TV cameo when Ingrid Michaelson performed on Ellen.

A potentially even bigger break came more recently when a friend put Songhurst in touch with Dave Keuning of the Killers.

"I have the opportunity to build Dave Keuning a guitar," he says. "It's a really lucky spot for me. If he likes it, he'll give me an endorsement on it. It won't be a signature model, but it'd be another guitar in his collection." Not to mention another feather in the Songhurst cap.

At the moment his is a boutique operation. By day, Songhurst continues to foot his personal and professional bills as a coffee roaster.

But with his namesake guitars gathering prestige in Spokane and beyond, he has plans to expand along the lines of Gibson and Fender: a dedicated custom shop for handcrafted collectors' and signature models, complemented by a more affordable production wing.

Ambitions aside, Songhurst says he's still compelled by a visceral love of the instrument itself.

"I always wanted to be in bands. I always thought I would make it," he says. "Most musicians do. So this has been a really good avenue for me to stay connected with the professional music scene in a way that I never thought I could."