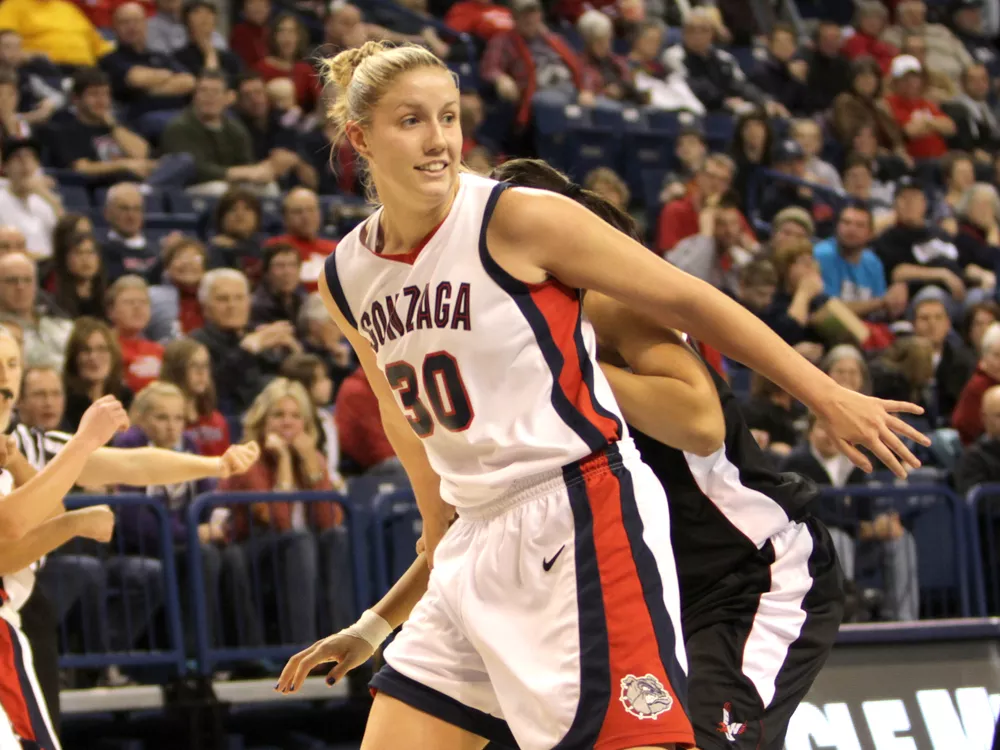 If 2011-2012 could be considered the "After Courtney" season for the Lady Zags, the upcoming 2012-2013 season might be labeled the "After All" season.

The "All" being Gonzaga's entire front line: All-WCC star players Kayla Standish and Katelan Redmon, along with Kelly Bowen, graduated. With the graduation of these three, plus popular bench player, Shannon Reader, GU lost almost 40 percent of the team's total scoring, along with more than half of its rebounding.

Last season, coach Kelly Graves' veteran front line, supported by two transfer guards, Haiden Palmer (from Oregon State) and Taelor Karr (from Kansas State), aided by the indefatigable Jazmine Redmon, rose to the challenge and won another league title. A much tougher slog, but they did it, and from there played right into the Sweet 16, with impressive wins over Rutgers and the highly touted Miami team, before losing to Kentucky.

Other than the Zag's steller front line, these three provided most of rest of the offense and rebounding, and by far the most assists; they will be critical to GU's success this season. Palmer is a player who can take over a game. If she plays up to her capability, she could well find herself in the running for conference MVP. She is that good. Taelor Karr, who hadn't played point guard since high school, led the nation in assists to turnover ratio. And Jazmine Redmon? Her shooting continues to improve, she plays solid defense and most of all "Jazzy" comes to play.

About the hole that must be filled---the loss of Standish, Redmon and Bowen---Graves and his coaches are hoping for a big year from their junior, 6-3 Stephanie Golden and a breakout year from sophomore, 6-4 Sunny Greinacher, all the while they are working hard at developing redshirt freshman Shelby Cheslek who stands at 6-5 and is showing remarkable progress.

As for the bench, sophomore Keani Albanez has impressed all fall with her athleticism, quickness and improved shooting. If there were the Rugby scrum equivalent in basketball, Albanez would be at the bottom of every push. Three, or maybe four, other players can also expect to get significant playing time. Its actually a deeper team than last year's.

The Gonzaga women began their official season on a high note last weekend on the road, beating UC Riverside 60-53 and USC 63-52. The stars of both games were junior Palmer, who scored 14 points against UC Riverside and 13 points against USC, and sophomore, Albanez, who scored 17 points in each game.

The Zag's success during these past few years has had a positive effect on recruiting. Gonzaga's program now attracts high school players who, prior to the Courtney Vandersloot days, might have passed GU by.

"Oh, we still get the occasional, 'but Gonzaga isn't a Pac 12 school' response from some high school coaches," says Graves, "but not nearly like we used to."

Consider this year's three freshmen recruits: Kiara Kudron, from New Boston, Mich., passed on offers from several major schools including Michigan. She was a four-time all-state honoree and one-time regional player of the year, averaging 21.4 points a game her senior year, to go with just under 12 rebounds. She is listed at 6 feet 2 inches but gives every impression of being able to play taller than that. Elle Tinkle hails from Missoula. She passed on offers from several Pac 12 schools, including Oregon State and Colorado. She was first team all-state for both her final two years in high school, averaging 16.9 points a game and 10.2 rebounds. Another newcomer is Chelsea Walters, who played both at Moscow and at Lewiston high schools, winning two straight Class 5A titles at the latter. All three of these women could immediately contribute.

Still, as Graves reminds us, this is a very young team. Of the 15 players suiting up, only four are upperclassmen. So, despite the talent, expect some growing pains. With a very tough preseason looming, surely one challenge will be to find the right combinations. Maybe even more important will be an intangible; the need for leadership to emerge.

Many observers are predicting BYU, last year's tournament winner, will beat out 2011 conference champion Gonzaga for league honors this season. Gonzaga and BYU have split the six games they have played. In addition, St. Mary's and Loyola Marymount are going to be tougher teams. So to win again it's going to be even more of a slog than last season.

First off, however, Graves' very young team must play through GU's toughest ever preseason schedule. Fans will see nine games in McCarthy Athletic Center during November and December. Reflective of Gonzaga's successes, for the first time McCarthy will host two Big 10 teams: Wisconsin, in the Lady Zags' first home game on Nov. 16, then Ohio State on Dec. 17. As if this wasn't enough excitement, Stanford heads to the Kennel on Dec. 2.