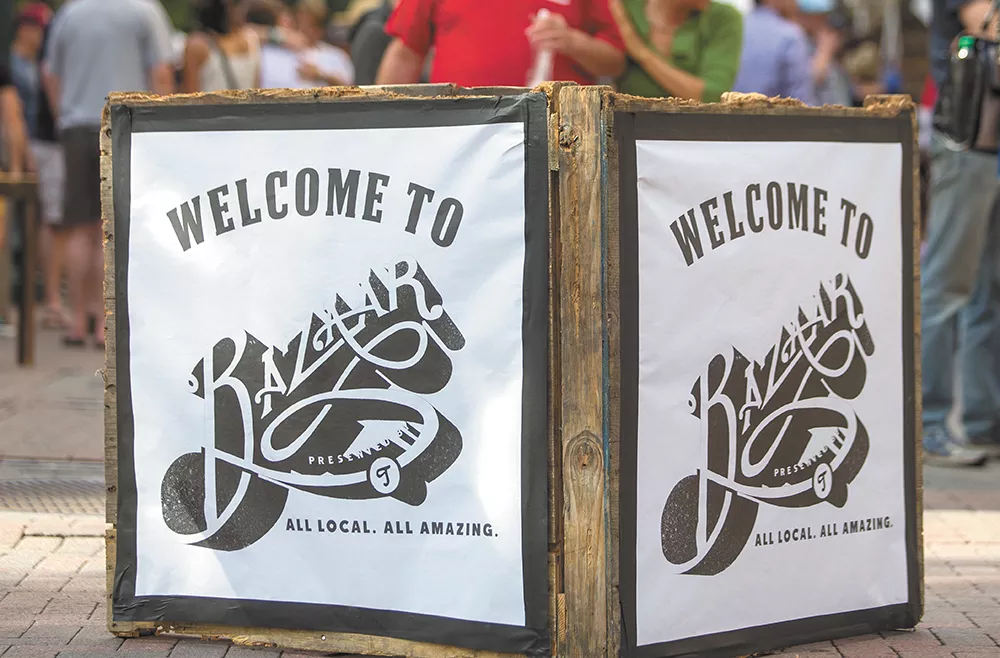 Just hours in, some of the booths were nearly bare.
By any expectations, the inaugural Bazaar — a one-day arts market spun off from its sister event, Terrain — was an unprecedented success. During its 11-hour span last June, an estimated 8,000 people poured nearly $36,000 into the local arts economy, buying handmade goods from close to 50 artisans who showcased their work in stalls built from rustic, recycled shipping pallets.
Bazaar makes its anticipated return this Saturday, with 56 vendors coming together for a street art fair on a strip of North Post Street between Riverfront Park and Spokane City Hall. After its initial success, organizers are introducing many new features, including family-geared live entertainment on a second stage in addition to the all-day live music, and more artist vendors at an improved downtown location. There's a beer garden near City Hall, and a few local food trucks will partner for "Brunch at Bazaar" from 11 am to 2 pm.
While many of its first-year artists are back for more, Bazaar organizer/co-founder Ginger Ewing says more than two-thirds of the artists selling their work are new to the event.
"Last year was a pilot and we were going to see if this event works," Ewing says. "If not, we thought we might not do it again, but it worked so well we have no choice, which is great."
For many of the regional artists who sold at the debut event, like jewelry and metal artist Alycia Staggs, there was no hesitation to apply again.
"It definitely exceeded my expectations," Staggs says, adding that she sold as much jewelry during Bazaar's one day as she usually does online in the month leading up to Christmas.
From the popular clothing and accessories of The Great PNW to the sassy pop-culture prints and greeting cards of Black Sheep Paper Co., Bazaar's 2015 vendor catalogue on Facebook offers a preview of the diverse mix of goods and art styles to be found.
"We had no idea the following that we had, and the impact we did make — it was unbelievable," notes local artist/graphic designer Aaron Abolofia, who runs the local arts venture Tiny Mammoth with fellow designer Jon Merrell. "All of our T-shirts sold out and the popular prints were all gone."
It helped that Tiny Mammoth's art prints, printed from hand-carved reliefs in wood or linoleum, were priced from $5 to $10. Keeping with that price point, Abolofia says the plan this year is to make sure their inventory is deeper.
"Everyone should be able to own a piece of art," he says, adding that many of Tiny Mammoth's patrons last year were first-time art buyers. "One of them was a newlywed couple who had just purchased a home, and they bought dozens of prints because they were able to. They were able to fill the walls of their new home at a reasonable price."
Offering an accessible, low-pressure environment for both artists and arts supporters to acquire handmade goods from local producers is the founders' primary focus for Bazaar. All participants in the juried event are required to price at least 50 percent of their work at $100 or less.
"We want to create that link between the community of artists and art buyers, and create infrastructure where artists can start to think about making a living doing what they love," Ewing says. "So for me, if we have sales just as much or hopefully more than last year, I'll feel really good about that."
Beyond tallying sales totals from each of the event's artists, some of Bazaar's other goals are a little harder to track, like how much, on average, each person who comes through is spending at the event. Social media response to the event at least offered a glimpse of buyers' reactions, Ewing recalls.
"The thing I tracked last year was monetary goals [people shared], like, 'I gave myself $100 to spend and look at all the amazing stuff I got,'" she says. ♦
Bazaar 2015 • Sat, June 20, from 11 am-10 pm • Free to attend • 300 N. Post St. (Post and Spokane Falls Blvd.) • bit.ly/Bazaar2015Festivities
---
THE MUSIC OF BAZAAR
With an all-new location, Bazaar promises a heightened musical lineup that rivals its sister event Terrain. Bringing in acts from all over Washington, many of these crowd-pleasing groups should sound familiar to those who've attended Volume or a show at the Bartlett in the last couple of years. Starting off with a jolt of hip-hop infusion, the music ranges from passionate singer-songwriters to indie rock. The night closes with local folk favorites Mama Doll (those disappointed by the band's canceled Volume set should be glad to see them for free here) coming on right before the rambunctious, funky Down North. Out of Seattle, this four-piece is the sort of band that brings a serious party vibe. While lead singer Anthony Briscoe does his best James Brown dance moves, the band plays some of the most insane rhythms and guitar licks you've heard in a while. — LAURA JOHNSON
Here's the whole lineup:
11 am: DB Record Selector (Spokane)
12:30 pm: DJ Breezy Brown (Spokane)
2 pm: Silver Torches (Seattle)
3 pm: ORPHANS. (Bellingham)
4 pm: City Hall (Bellingham)
5 pm: Scott Ryan (Spokane)
6 pm: Wild Wants (Seattle)
7 pm: Friends of Mine (Spokane)
8 pm: Mama Doll (Spokane)
9 pm: Down North (Seattle)