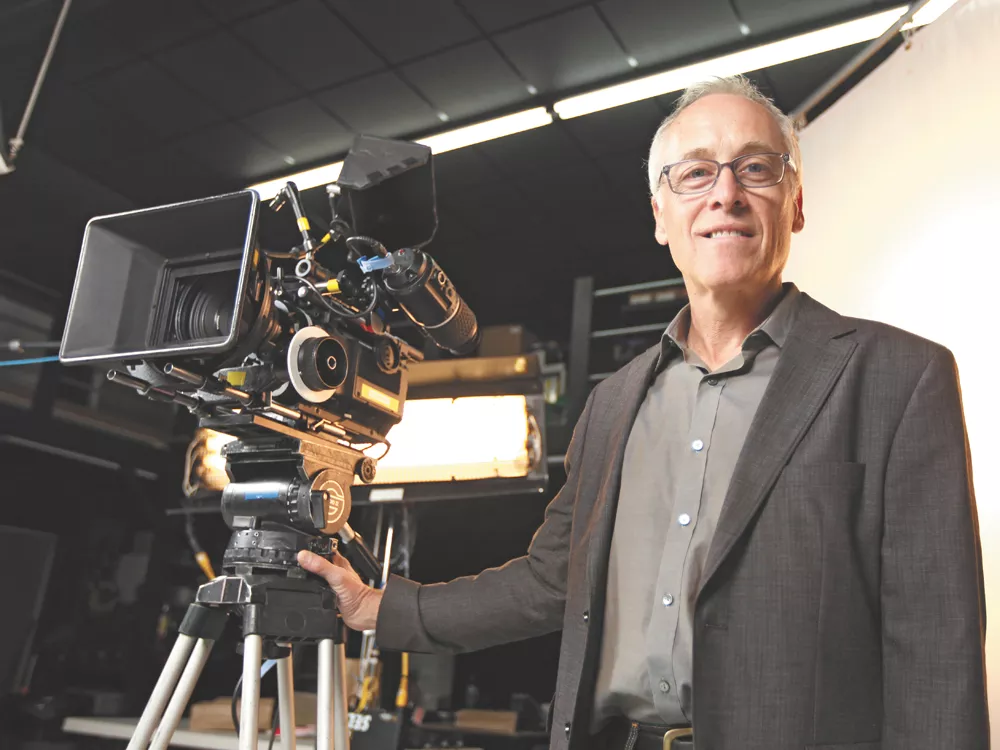 When we caught up with the new CEO of North by Northwest Productions, he was doing the same thing he's been doing for 22 years now. David Tanner was on the road, shooting a documentary film for "a big frozen food company in Oregon."
He says things have changed, but not a lot. He's been a partner in the company since its founding. "We kind of run our company cooperatively. It's teamwork."
His scope of view now, though, is quite a bit larger. Tanner had run the nonfiction division of the company, which does documentary-style storytelling for a variety of clients like governmental organizations, nonprofits and universities. When he took over in March for former CEO Rich Cowan, who left to challenge Cathy McMorris Rodgers for Congress, Tanner found himself having to focus on everything. It's a bigger job because it's a bigger job, Tanner says, but also because, "I see it as an opportunity to move the company forward in exciting ways."
Just weeks after he took over, Washington re-upped a film-industry tax incentive program that had expired in 2011. The program allows film productions in Washington to get rebates of up to 30 percent of their business and occupation burdens within the state as a way of attracting Hollywood projects.
It essentially restarted their entertainment division. "Without the incentive, it's nearly impossible to get movies here," Tanner says. They go to Oregon or B.C., which both have robust incentive programs. "It's the difference between making movies and not making movies."
Tanner says North by Northwest has always aimed to shoot three to four films a year and doesn't expect that number to shoot up dramatically now that the incentive is back on. "There are limits to how many we can do a year. It's not like we could do 10 films a year — and the incentive has a limit as well."
That 30 percent rebate is capped at $3.5 million per year and, with other production companies working around the state, that well dries up quickly.
The program is now funded through 2018, so that gives NxNW a nice six-year cushion. Tanner says this allows them to once again "bring independent filmmakers to Spokane and show them what we're capable of."
And since January of 2011, what NxNW is capable of is the Internet. The company created an interactive division by "a kind of merger that developed into a full-on partnership" with a team of web developers.
It's allowing the company to take a lot of the existing film and video services they've offered clients for years and bundle it with interactive components like purpose-built web pages. "These clients are all disseminating the content we produce for them on the Internet," Tanner says. "It's just a natural thing for a company like us."
The company has already filmed one feature since the tax credit was reinstated, a "sweet romantic" film starring Andy Garcia and Vera Farmiga. Tanner is hoping for "one, maybe two" more by year's end. And, in the future, Tanner would like his stamp on NxNW to be increased collaboration between the various divisions.
"In the past I think we've been in our own corners," he says. "I'd really like to see us all come together and gray those lines to have us all work together to look for new opportunities that didn't used to exist."