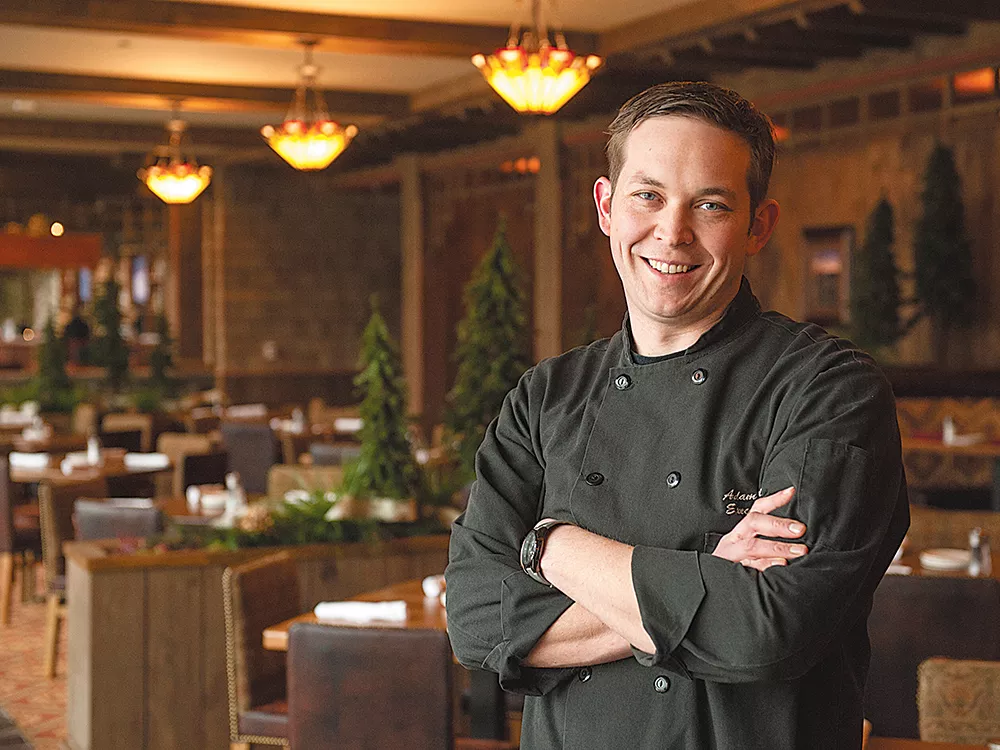 In a few ways, Worley, Idaho is a little like Las Vegas, Nevada. Both are in the middle of nowhere and have had to establish themselves as destination resorts — using fine dining and other amenities to attract non-gambling guests and families. The differences are fairly obvious. Las Vegas is a symbol for all that is decadent, superficial and transitory. Worley is … well, Worley.
In 1993, the same year that Las Vegans lined The Strip to watch the Dunes implode, the Coeur d'Alene tribe opened a 30,000-square-foot, steel-structure bingo hall in the middle of a wheat field along South Nukwalqw Road in Worley. There were no lavish buffets. No chocolate fountains. Guests were served sandwiches and chili.
Five years later, bingo games were accompanied by a sports book that featured, among other events, horse and mule racing. Guests began to stay longer and get hungrier, prompting the tribe to hire food and beverage director Kurt Gomer, who started a sit-down dining establishment that was quickly abandoned for the more cost-effective buffet-style dining. Food choices were limited. Cooks only had access to hard water, with propane tanks serving as the lone fuel for stoves and burners. A deli was added and gamblers consumed sandwiches, hot dogs and other quick snacks.
In 2003, the state of Idaho capped the number of machines at 1,800 (still the number of machines on the premises today) and Coeur d'Alene Casino management had to get creative and adaptable.
Casino CEO David Matheson is said to joke that real estate agents like to emphasize location, location, location. He pauses for the punch line: we don't have one.
So they made one.
After seven extensions, including the Circling Raven Golf Course and the new 98-room Spa Towers, employees joke that the wheat field on South Nukwalqw Road has become the world's most hospitable construction site.
The site may seem to be in the middle of nowhere, but a closer look at old maps, trails and oral histories reveal that the Schitsu'umsh (now known as the Coeur d'Alene) homeland extended for 5 million acres across the Idaho panhandle, east into Montana and west into Washington. The French gave the Schitsu'umsh the nickname Coeur d'Alene, meaning "heart of the awl," due to their shrewd trading skills. Their lands held abundant foodstuffs and resources suited for healthy trade.
Much has changed since then. The land has been whittled to 345,000 acres, but the resources and heart for trade remain. The evidence of this can be found on any of the plates on any of the tables at any of the Coeur d'Alene Casino's six dining establishments. And not just on the plates, but in the glasses too.
Spokane's Arbor Crest winery developed a signature red wine for the casino's Chinook Steak, Pasta and Spirits restaurant. Sandpoint's Laughing Dog Brewery created Uprooted Amber, a slightly hoppy full-textured brew, for the casino's Red Tail Bar & Grill. At the Red Tail, servers prepare huckleberry soda at your table, mixing the fizzing soda water with fresh syrup. And thick, crisp chunks of warm fry bread are available for slathering with honey and butter.
The Chinook serves elk stew — the main ingredient arriving from Montana, and slow-braised with root vegetables and herbs. Other locally sourced dishes include Idaho trout served with Washington apples and pine nut butter — a sweet and savory entrée, and one that can only be found fresh in the panhandle.
Adam Hegsted, who became executive chef of the Coeur d'Alene Casino in 2008, says he "didn't have set parameters or vision of what casino food should be," but he knew the intent was to create a world-class destination. He gathers the ingredients for that destination on-site, frequently foraging the area for nettles, pine, mushrooms and other native flora which find their way into dishes that surprise the tongue. The nettle olive oil, made from blanched and crushed nettles and parsley, is brighter than any pesto sauce and smells like a springtime field. When combined with wild mushroom ravioli it is difficult to imagine why anyone would settle for pesto's more sedate tones.
The problematic propane tanks have been replaced with wood ovens fueled by either mesquite charcoal or dry applewood. Applewood grilled clams are served with a spray of pine needles, brown butter vinaigrette and pinot gris butter.
If you look at a map of Las Vegas you'll notice that the center of town is the airport. Practically everything is imported. Fish, vegetables, meat, even the diners themselves, are all flown in and flown out. Hegsted's goal, aside from creating a world-class destination, is to create a menu that, he says, "keeps food honest." And that honest food is local food.