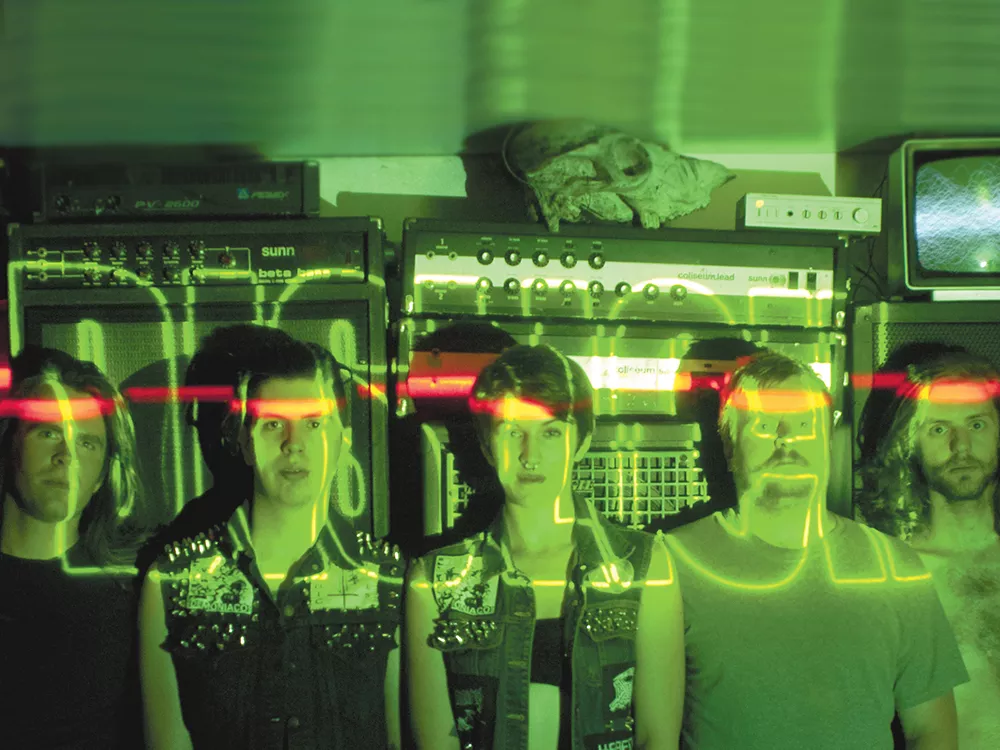 To some, Dislich will be the loudest thing they'll ever want to hear.
Which is funny, because what's happening behind the scenes in the band is hardly a bunch of macho dudes playing riffs and swilling cheap beer. There's some of that, but according to drummer Ryan Beitz, Dislich is actually very consciously trying to break the typical stereotypes of heavy music. This is a group whose members talk about feminism and their philosophical stance on the phallus at band practice.
"We play kind of meatheadish music and it's all by people who have degrees," he says. Currently, Beitz is in the process of applying for doctoral programs in philosophy. "I guess we're a weird bunch. We intellectualize about it all, but the sound is still meathead."
It has that going for it — but still, Dislich has something more than the average mic-barking hardcore band. The Moscow group makes a fierce brand of hardcore, frenetic and anxious, shrill and chest-tightening and dotted with moments of almost overwhelming technicality. It's hardcore that upends the rules, challenging traditional takes on the style.
A big part of that has to do with singer Melissa Finley, a waif of a woman who doesn't yell or scream into the microphone, but actually shrieks — almost like she's exorcising demons from her own depths. It's an intense thing to hear and watch, especially since Finley makes no efforts to overtly feminize herself as she performs.
"I was involved in a lot of symphonic and orchestral music in high school, and I danced a lot. I wanted to incorporate my previous music experiences with modern dance and being really free onstage," she says. "One thing that's really important for me, being the frontwoman, is to be really bombastic and exciting. I think it's fun to be violent and explore how people react to it."
She says that people love what she's doing. "They're not used to seeing a woman in a band, but also a woman who will push you into the mosh pit."
The rest of Dislich are men, and Beitz says he also thinks about gender in the songwriting process. Where another metal band might make music that's driving and overly phallic, Dislich tries to balance that out with sounds they feel are more feminine.
"I've tried to think of it that we're trying to be a little more feminist in genre," Beitz says, chuckling. "And the only way that I, as a man, can apply feminine music, to me, is to not bore the girls that get dragged along to the show."
Dislich plays with Lord Dying, Losing Skin and Hooves • Fri, Sept. 6 at 8 pm • Carr's Corner • 230 S. Washington St. • $7 • 21+ • 474-1731