The state of health care reform in America feels like a failed marriage, only in this case it's the coverage of 24 million beneficiaries that is caught in the ensuing custody battle. On the eastern side of Washington's room in this troubled home, Congresswoman Cathy McMorris Rodgers has surreptitiously made her bed with congressional Republicans' repeal plan. Should it come to pass, she'll be made to lie in it.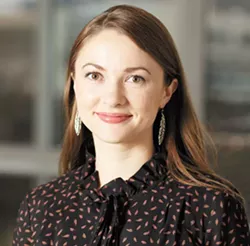 This Thursday marks the seven-year anniversary of the Patient Protection and Affordable Care Act. Thanks to this hard-won legislation, the percentage of people without insurance in our area has been cut in half. "Because the ACA allowed us to access health care, my husband and I were able to open our brewery six years ago, and we now employ 16 people today," says Sheila Evans, co-owner of Iron Goat Brewing in downtown Spokane.
Where the Affordable Care Act fell short, it was due to not making those who are able to chip in contribute adequately. Instead, it relied too much on cost sharing among middle-income Americans as a way to work around the vested interests of insurance companies and other health care industry profiteers. Trumpcare would obliterate this carefully crafted compromise in favor of $7 million in annual tax breaks for each of the 400 richest individuals in America. According to the Center on Budget and Policy Priorities, this yearly $2.8 billion tax giveaway would be equivalent to the premium health care tax credits for the 20 smallest states and the District of Columbia combined.
"Getting rid of the ACA without a comparable replacement will hurt the most vulnerable and ruin our nonprofit health care providers," says Amelia Jay, a local physical therapist. Since the ACA's passage, the Community Health Association of Spokane (CHAS) has been able to open new clinics, hire 150 new employees and serve 50 percent more patients, and has seen the percentage of uncovered patients drop from 40 percent down to 8 percent.
Broadly available health care does more for our economy than just hiring health care workers. "The ACA has enabled an entire generation of young entrepreneurs to start businesses and bring economic growth to Eastern Washington," explained Alan Chatham, a partner at Fellow Coworking. "Repealing the ACA will drive innovators out of our region in search of the more traditional salaries needed to afford reliable health care."
A committee report from the U.S. House of Representatives calculated that 76,300 people in Eastern Washington are at risk of losing coverage if the Republican Congress eventually eliminates Medicaid expansion funding. These are cuts our state could never hope to make up. "My daughter is disabled and needs Medicaid expansion waivers to live in her own home," says Karen Blaine of Spokane. "Health care is foundational to life. We must save it for everyone."
A house so divided against itself cannot stand. Let's demand that it be made of more than cheap political cards. ♦
Mariah McKay is a fourth-generation daughter of Spokane and a community organizer campaigning for racial, social and economic justice. She has worked in biotech and government and currently serves as a public health advocate.