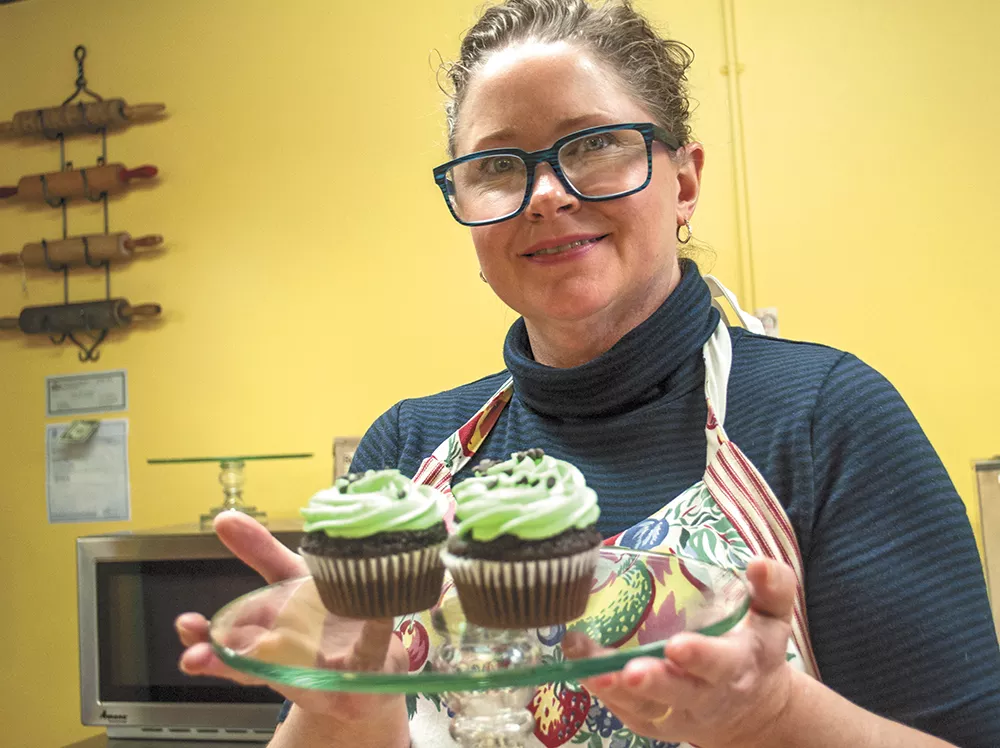 As a 12-year-old, Robie Calcaterra liked to hang around the Northside bakery where her sister worked. Once she had kids, Calcaterra made them birthday cakes and other treats and baked for charity events. She always loved baking.
"I just wanted to do this for a living," she says. "This is just me."
So after 30 years of working in the banking and medical fields, and most recently as an insurance analyst, Calcaterra decided her heart wasn't in it anymore. She got her baking certification, took her business plan to the bank and opened her bakery — along with her husband, Wayne — in the Shadle Park area at the beginning of this month.
The display case inside Alberta Bake Shop houses a simple selection of muffins ($2.75), cookies ($1), brownies ($2) and cake slices ($3). Cookies range from snickerdoodles to double chocolate mint cookies to colorful frosted cookies in the shape of Volkswagens, purple cows and wiener dogs.
Stacked in the middle are apple cake slices, dense like bread pudding, and fudge oat bars ($2). The latter, though they may look stiff and crumbly, are moist and chewy with soft oatmeal and pits of chocolate to savor.
Many of the recipes Calcaterra uses were passed down from aunts in her grandma's generation. Everything is scratch-made and simple. "You can count on your hand the ingredients that are in our products," she says.
Calcaterra also tries to keep everything as local as possible, buying flour from Shepherd's Grain in Portland, milk from Spokane's Family Farm and coffee from Roast House. She plans to have seasonally changing items and to bring in savory lunch items, too.
"I'm busting at the seams, I'm so happy," Calcaterra says. "I was really good at what I was doing for a living, but I wasn't making people happy. This makes people happy."
Among those she makes happy are the kids who can draw on the floor when they come in. Yes, the floor is a chalkboard. So don't be surprised if you come into Alberta Bake Shop and find your feet scuffing over sprawling happy faces and flowers.♦
Alberta Bake Shop • 5511 N. Alberta • Open Tue-Fri, 9 am-6 pm; Sat, 9 am–3 pm • facebook.com/AlbertaBakeShop • 241-3361