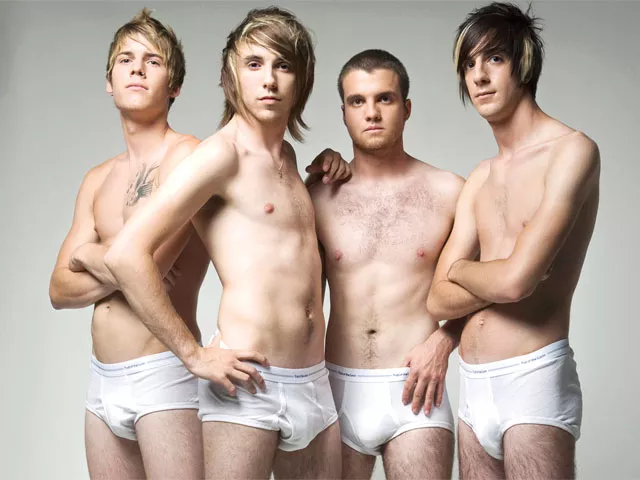 By most standards, All Time Low is doing wonderfully
. The band's latest studio effort, Nothing Personal, debuted at No. 4 on the Billboard charts (No. 1 among alternative, rock and independent releases) in July. For years, they've worn grooves in highways across America, touring constantly and steadily building a loyal fan base of screaming young fans. Last holiday season the Baltimore, Md., quartet were immortalized in a four-piece vinyl-toy gift pack.
Yet for All Time Low, the lauded kings of modern pop punk, one thing holds them back: They're a pop-punk band.
"It's the nature of the style of music. Anything that has 'pop' in its name, a lot of the time, gets a bad rap," says vocalist Alex Gaskarth.
Their music is the genre's ideally concocted brew of hooky guitar melodies, infectious lyrics that appeal to almost any high schooler, and fun-loving, down-for-anything spirit. And while the group was named Alternative Press's Band of the Year in 2008, Gaskarth says that sort of acclaim is not what the band was ever about.
"We've always played music for fun — just to show people how to have a good time and for us to have a good time," he says. "We don't sweat whether someone gives a shit about our style of writing or reshaping the music world. It's less about what people write about us and how many stars we get in a magazine; it's more about how many people are coming to our shows and buying or downloading our music."
He continues, "It's definitely weird to become a commodity. I don't think anyone really wants to feel that way, but at the same time it's flattering."
Yet no matter how many units the band moves, the badmouthing of their style persists. Some claim that it's far too image driven, focusing as much on selling swoop haircuts and designer tees as it is about making quality songs.

Instead of putting up a huge fight against the haters, All Time Low accepts the reality of the group's situation. Gaskarth says marketing is all part of the business and that the people who harp on his genre for its stylistic tendencies are often overlooking music's past.
"The truth is, with this genre of music, it's certainly not just about the music all the time to a lot of the people who are listening," he says. "[The importance of style] spawned with Elvis and the Beatles; you can trace that back for decades. It's just the way that pop-rock genres have always existed."
For now, the members of All Time Low are content: It's easy to drown out petty jabs from cynics when a legion of fans is screeching loudly and singing along with every word. The only thing All Time Low is concerned with is finding even more fans.
"We would love to be a household name. The ultimate goal for this band is to sort of
transcend the genre as it were. I'd love to become more of a Green Day, or a Weezer, or a Foo Fighters, or something of that nature where it starts out in its niche and then blossoms into something that appeals to the majority," Gaskarth says, laughing. "Whether it will work or not, I have no idea."
All Time Low plays with We The Kings, Hey Monday and Friday Night Boys at the Knitting Factory on Sunday, Nov. 15, at 7 pm. Tickets: $18; $20 door. Visit: www.ticketswest. com or call 325-SEAT.