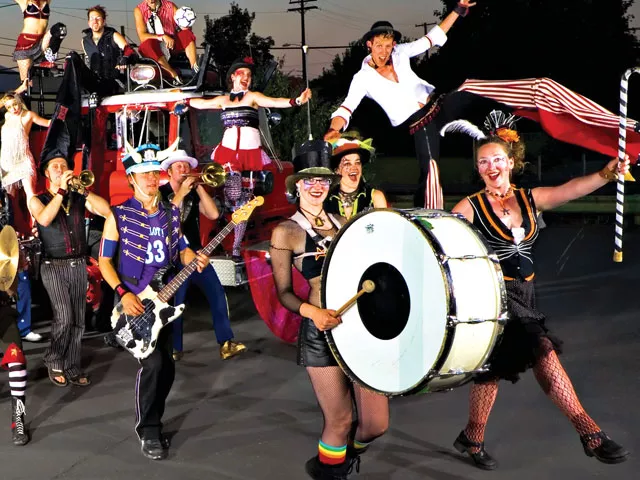 "We're really a bunch of regular dorks from next door who like to dress up like superheroes and pretend that we're playing on top of a volcano in front of millions of screaming fans."
John Averill is describing his band, March Fourth Marching Band: a 34-person explosion of lights and colors and horns and dancers and clanging drums. They're a band of fearless performers in cast-off, mismatched marching-band uniforms that makes being a band geek look like one hell of a good time.
March Fourth hatched on March Fourth — Fat Tuesday — seven years ago. The Portland band is the product of a great Mardi Gras party, one at which Averill and a ragtag bunch of free-spirited performers from his neighborhood marched around playing Fela Kuti and Fleetwood Mac covers. There was no "master plan" in place that day, Averill says — no goal to carry the band beyond that party.
"We picked people who, one, knew how to play; two, were really fun and charismatic; and three, were not afraid to dress up in costume and parade down the street," he says.
And after the band got a great reaction at that party, that's simply what March Fourth would do: dress up and parade through festivals like MusicfestNW, Portland's Waterfront Blues Festival and the TBA Festival. Or the band would simply march the streets of southeast Portland (where they'd practice), stop, jam for a bit in one spot, sing at the top of their lungs and blow fire into the air before, as usual, marching on.
Soon March Fourth was a Portland symbol: the embodiment of everything playfully weird that Portlanders aspire to preserve about their city. In 2004, they were named Best Local Band in Willamette Week's Best of Portland poll by the paper's readers.
"What I love about this band is that we cast a wide net that includes kids and grandparents," Averill says.
Over the years, the band kept adding more musicians. More dancers. And as the numbers grew, its aspirations and goals shifted. They started getting national attention, landing opening spots for bands like No Doubt, Blink-182, Pink Martini and KISS.
"We evolved from being a 'New Orleans-style' marching band into a mobile big band that writes its own music and releases records," he says.
Today, Averill says, the band is "two-thirds musicians, one-third performers," weighing in with 13 brass players, 11 drummers, a bassist and an entourage of nine dancing, stilt-walking, unicycling, hula-hooping performance artists. With more musicians, March Fourth's own original material became a focus. They wanted to capture the band's spirit and energy in the studio.
"When we go into the studio, the goal is to create a piece of music that stands on its own," Averill says. "When we play live, it's just another animal altogether. What maybe gets lost on record is the magnitude of energy, because energy is created by the feedback between the band and the audience."
Averill says the band has no plans of stopping — that they hope to continue spreading their gospel of playful weirdness for years to come. They're touring in support of their second studio album, Rise Up, and they're looking to take their sideshow international — "to bring people together and create a vital community model for celebrating life," he says.
"The dream is big, but we're a big band, so I don't see any other option. Thinking small won't work in our case, so I guess we'll see what happens."
March Fourth Marching Band with Flowmotion at the Knitting Factory on Saturday, April 10, at 7:30 pm. Tickets: $15-$20. Visit www.ticketswest.com or call (800) 325-SEAT.