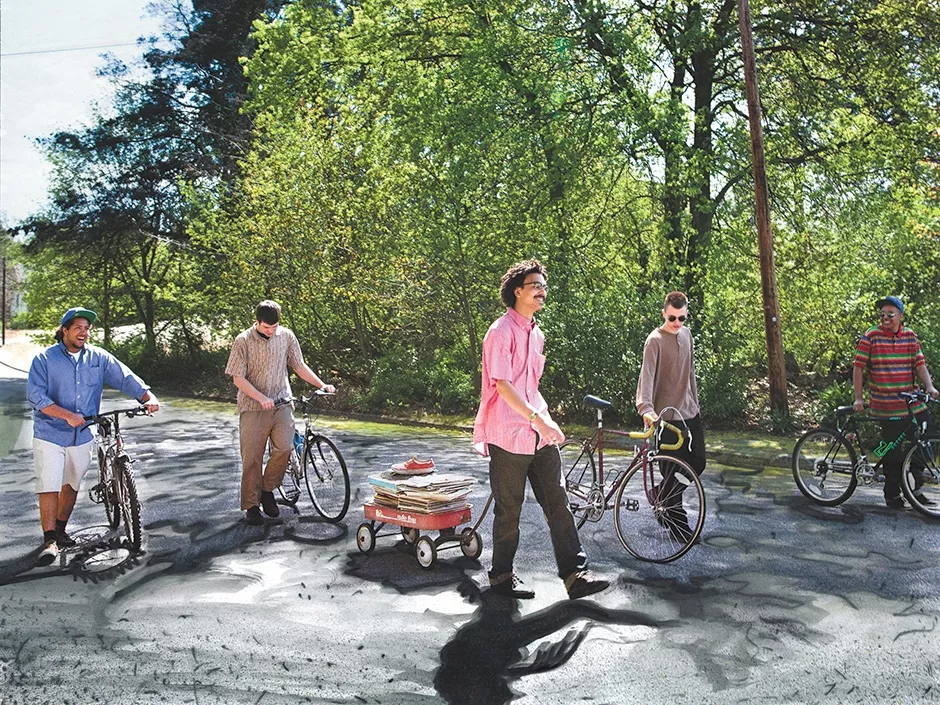 After being told they'd been named an Inlander Band to Watch, the guys of Lilac Linguistics didn't know what exactly to think. They're not even a band, really. The five DJs and rappers are low key and more a gathering of individual artists than a musical group. Everything about them is loose. It's chill. They're so chill, in fact, that you can't tell if they give a damn. But if you ask them if they give a damn, they're quick to say that they do.
"This is definitely the biggest bit of recognition we've gotten," says Roman Keyes, a 21-year-old emcee who goes by the name of Red King. Looking through Ray-Ban prescription glasses at the rest of his collective, Keyes gets a united nod going.
"Is it like choosing a pope?" asks Milton Armstrong with a giggle.
Yes, it turns out, they give a damn, even if that damn comes with a joke. And Spokane's hip-hop fans are starting to give a damn about this act, which has pumped out a deluge of new music this year and has more on the way.
True to their freewheeling nature, Lilac Linguistics show up in shifts to a downtown Spokane fast food Mexican restaurant they're known to frequent.
They've come from school (Isaiah Armstrong, aka DocZay, is still in high school, and Keyes is studying at SFCC) and jobs as dishwashers, sandwich makers, fast food fry cooks and dollar store employees. Corban Couey, who raps and produces beats under the name Kave Dwella, sits down and shows off a cellphone photo of the pile of vintage stereo receivers, speakers and other audio equipment he just came across. Some he'll use for his music, the rest he'll resell. Kyle Luders, aka Harrow Marks, is the last to arrive and when he does, he brings a burger from a different fast food establishment.
At first glance, they look like the Bad News Bears of hip-hop music. You just can't imagine these five guys laying down rap music.
But then you listen to the jazzy beats and high-minded rhymes Lilac Linguistics cranks out. There's nothing rag-tag about them. Their habit of scouring thrift store record bins for oddball samples has given them an arsenal of quirky sound bites. They create the tracks individually, or in pairs, so it's tough to say that this is necessarily the Lilac Linguistics "sound," but there is a collective feel to the music these five young voices produce.
One uniting aspect is the fact that they talk about Spokane in their rhymes. They do this a lot because they love it here. They're known to spend hours on hikes together where they'll wax poetic about music and sometimes even create music. In some ways, Spokane has influenced the way they make hip-hop.
"The culture in Spokane is really different than a lot of cities where you'd expect hip-hop to be coming from, and that influences our music," says Keyes. "We don't have an East Coast influence or a West Coast influence, there's really a Northwest vibe to what we're doing."
Even uninitiated audiences can cling to the prideful hometown boasts that Lilac lays down because, well, you just don't hear a lot of rappers rhyme about Spokane. Their ambitions, however, aren't restricted to the 509 area code.
"I'd like to see how people who aren't from our hometown like our music," says Keyes.
Milton Armstrong laughs as he adjusts his vintage Seahawks hat.
"Yeah, maybe people are only excited because we say Spokane 40 times in every track."
Lilac Linguistics play Volume on Friday, May 31, at 10:15 pm at Red Room Lounge • 521 W. Sprague Ave. • 21+