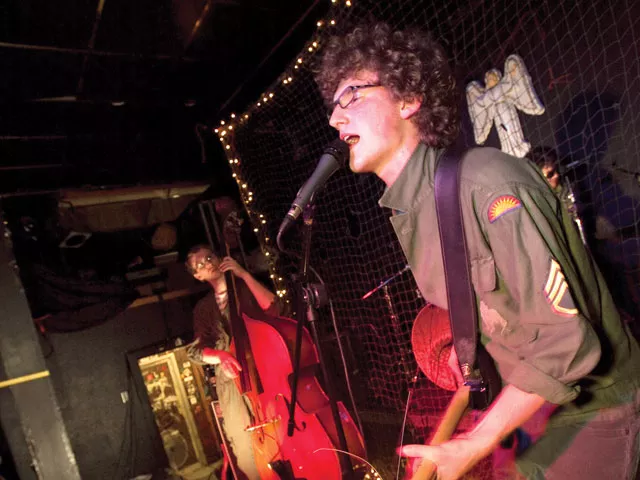 Standing over the crowd, arms spread wide, cymbals poised for crashing, Drake Wilcox chants, "I hear the storm comin'/ I hear the guns, baby!" into the mic again and again and again, each time with greater conviction and chutzpah than the time before. Wilcox loses himself. This Drake Wilcox you're seeing onstage is not actually Drake Wilcox.
"We take on characters when we play," he says.
"We're very much about, like, leaving ourselves when we play. I don't want to be Drake Wilcox onstage."
For a band just nine months old, the men of Space Opera 77 don't chat like a young band — there's little talk of touring or recording, album art or merch to sell. No, these men talk of spiritual connections. Of Armageddon and alien invasions. Space Opera 77, for them, is a musical exploration of "what if?" As in: What if we play onstage with 500 balloons? What if we play onstage naked? What if we were aliens from the sun?
"[It's] this post-apocalyptic look at everything. Just thinking of songwriting like this may be our last chance. This may be the last thing we were ever able to write — so we better go balls out. It's an in-the-moment kind of thing," Wilcox, 20, says. "What if we write this song and no one ever heard it? Would it still have importance?
"It's thinking of songs in more of a spiritual sense than just a product," he says.
It's a start in explaining the band's nontraditional approach to their live show. Before playing a set in late April at Empyrean, the band zips themselves into army-green flight suits and laces up golden spray-painted shoes. They hang a cargo net and twinkly white lights, sectioning off the drummer's kit from the rest of the band. They top off the stage by hanging a plastic angel on the wall behind them.
"We find people appreciate the music more when they can pay attention to the visual," drummer Andrew Lewis, 26, says. "When there are a lot of visual elements to it, it actually helps them connect with the music better, which is ultimately an awesome thing for everybody involved.
"Fifty percent of the time it works," he says, "and sometimes it's just a failure."
As the band has grown in front of Spokane audiences with their rigorous local show schedule, they've become more confident — sometimes adding a second drummer to pound beside Lewis or an extra guitarist to give room for Wilcox to sing and command attention up front.
All of what Space Opera 77 is doing — the scene, the costume, the bombastic front-man, the upright bass, the double drummers, the whirl of psychedelic keys — has some people throwing around comparisons to Queen and David Bowie. That's a tad premature. But if what they mean is that Space Opera is an odd duck — one with enough balls to test out their it's-crazy-but-it-just-might-work ideas, then yeah. Sure. Space Opera is our Ziggy Stardust.