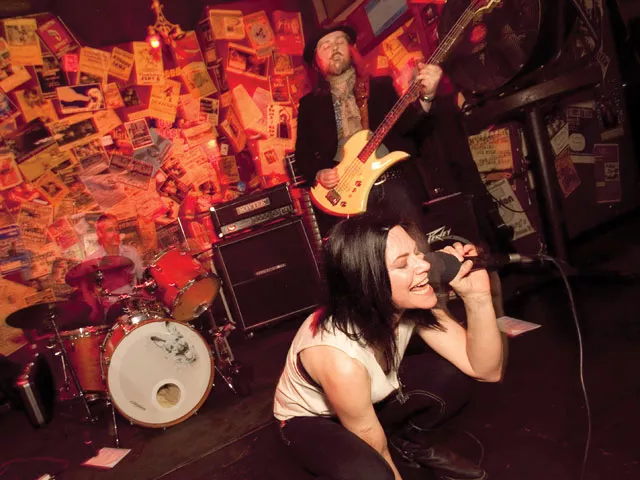 Somewhere in the world, at some point in history, an artist had a vision of Jesus. And that vision looked like Jon Swanstrom.
In a path that reads like a low-budget Thomas Crown Affair (it includes one thrift store and a friend-of-a-friend), the portrait the artist painted of the Christ passed through many hands before finding repose on a high shelf in the home Swanstrom shares with his wife, Heather.
Swanstrom is as good a model for Messiah as any. The man has witnessed enough band births, deaths and resurrections to make John the Evangelist blush. Roughly 11, if he remembers correctly. Ze Krau makes 12.
The other members of the band — Heather is the vocalist, James Hunt plays guitar and Tim Absalonson plays bass — add another 11 bands combined, not including the ones they've been in with Jon.
So maybe he's less Jesus than Dr. Frankenstein. Ze Krau represents the gleanings of nearly two dozen prior projects, but it's clear the band thinks they've salvaged nothing but the filets mignon. And if find you must stitch together an abomination unto the Lord, it might as well have Heather Swanstrom's vocal chords.
Andrea Williams of checkitoutmusic.com called her "Karen-O meets Iggy Pop," and we can't beat that characterization. Johnny Rotten meets Brody Dalle, maybe. Either way, Swanstrom's a wailing, unhinged dervish of suspicion and magnetism, perfect whether she's vamping up a bad relationship ("Sheba") or enfleshing a nameless paranoia ("Horror Show").
Jon has a quiet, blithe air of world-weariness — and when combined with Heather's political dissatisfaction and Hunt's general distaste with everything else, it's no wonder the band has apocalyptic overtones. (Absalonson betrays no real angst, but dude has Edgar Allan Poe tattooed on his forearm, so we kinda assume ...)
"We're all of an age — I might be a little older ... but we all came of age during a time of upheaval," Heather says, speaking of the late '70s and early '80s. "There was a lot of shit going on. And you can say the same about today, but I don't see the same unrest and angst and pure, unadulterated rage in today's youth. I think people our age still feel that. It never goes away. It's imprinted."
There's as much humor at the shitty state of things as there is solemn worry. Ze Krau (which can be spelled with an umlaut or without, according to your preference) wields a power to unsettle.
And that, finally, is the reason Ze Krau doesn't qualify as a nostalgia act. Its members aren't seeking to recapture a gauzy idyll of childhood of rebellion, nor are they trying to foment the new revolution. They're expressing themselves in a way that feels as authentic to them as anything they've ever done.
It's a serious band who is disdainful of serious answers. Or at least simple ones.
"People get really complacent with the types of music that they listen to and the things they support and I think that's really boring," James says. "The more uncomfortable I can make people ... with my music, the happier I am."
"We didn't think [the world and America's place in it] could get worse," Heather says. "And then it did."
Download Ze Krau's song "Wooly" here.