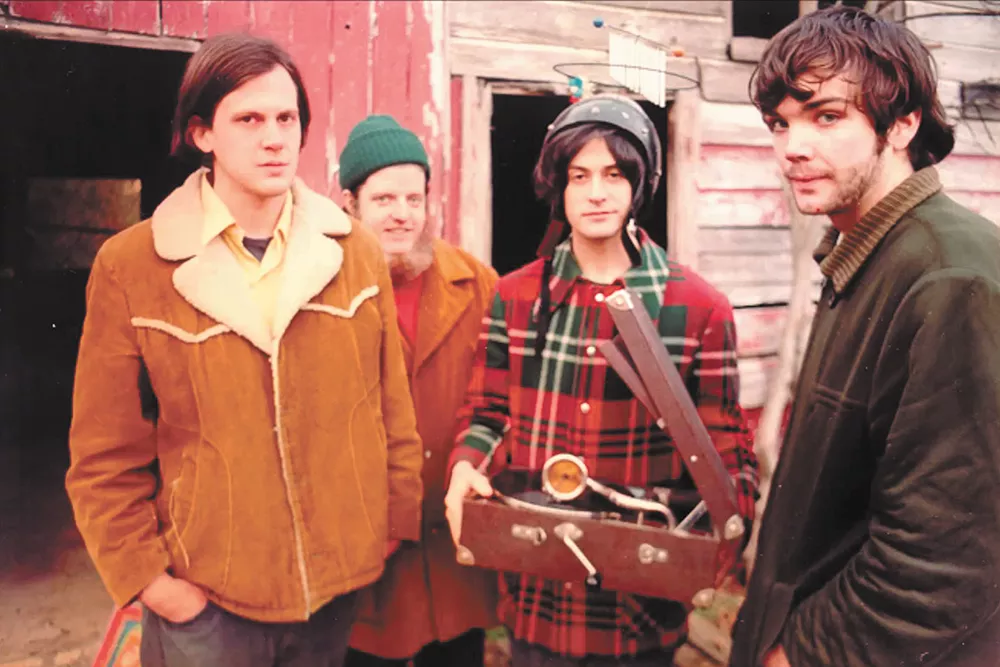 The singing began in whispered tones. Eventually giving way to full voices, the crowd fiercely sang along with every word out of singer-songwriter Jeff Mangum's mouth.
"The movements were beautiful, all in your ovaries / All of them milking with green fleshy flowers / While powerful pistons were sugary sweet machines / Smelling of semen all under the garden" — the bizarre lyrics from Neutral Milk Hotel's "Oh Comely" and more songs triumphantly filled the Boston Conservatory auditorium in 2011.
Fans cried and laughed and sang, recalling all the memories with each fleeting tune that the stringy-haired, never-smiling guitar player produced. At the time, it was one of the very few solo shows the reclusive Mangum (who doesn't give interviews or allow photography at gigs) had done since his band all but disappeared around the turn of the century.
Since 2013, Neutral Milk Hotel, no doubt assured of the heavy revenue stream it would generate and with Mangum's frame of mind now stable, has tentatively reformed for a few tours. Like that Boston show, no matter if the Ruston, Louisiana, act plays a high-profile music festival or not, its cult-like following shows up in droves to belt out every one of NMH's strange lyrics and relive another time when this experimental fuzz-folk band made their adolescent lives a little more palatable.
It doesn't exactly make sense that people took a liking to the band in the first place. From the beginning, when it was just Mangum on his guitar in the late '80s, the act's often uncomfortable lyrics, paired with simple but eclectic instrumentation and Mangum's nasally/reedy vocals, made for a hard sell. Flesh-licking ladies, two-headed boys, Anne Frank — these are all subjects explored in Neutral Milk Hotel's second and likely final album, In the Aeroplane Over the Sea. But in music critic circles, the indie act is often ranked among the best bands of the 1990s, up there with Pavement and Radiohead.
This Friday, Mangum (a co-founder of the Elephant 6 Recording Company), along with his original Neutral Milk Hotel cohorts, make a stop at the Knitting Factory for what could be their final Spokane show.
Earlier this year, they announced the following on their website: "Dear friends, we love you but it's time to say goodbye for the never ending now to announce that spring 2015 will be our last tour for the foreseeable future."
These words don't necessarily indicate an indefinite farewell — the 20th anniversary of Aeroplane is just three years away, after all — but for now, this is it. Friday night, the sing-along will just have to be that much louder. ♦
Neutral Milk Hotel with Robert Schneider • Fri, June 5, at 8 pm • $32 • All-ages • Knitting Factory • 919 W. Sprague • sp.knittingfactory.com • 244-3279