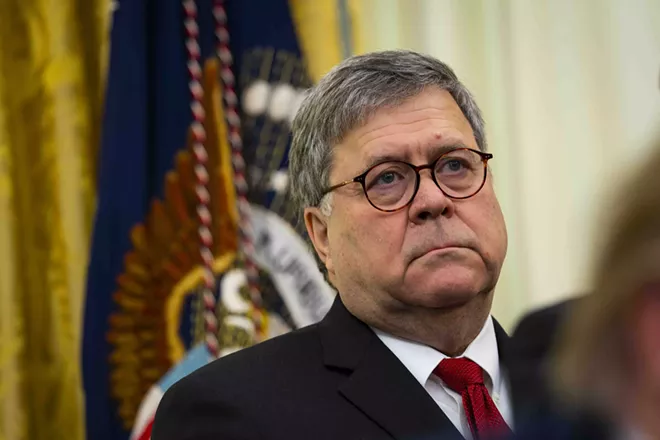 By Katie Benner
The New York Times Company

W
ASHINGTON —
Attorney General Wiliam Barr warned that communities and critics of policing must display more deference or risk losing protection, a stark admonition that underscored the Trump administration's support for law enforcement amid an ongoing national conversation about police brutality against minorities.
"They have to start showing, more than they do, the respect and support that law enforcement deserves," Barr said Tuesday afternoon in comments at an awards ceremony for policing. "And if communities don't give that support and respect, they may find themselves without the police protection they need."
The speech immediately sparked criticisms that Barr was conflating protests of police misconduct with a disrespect for police and that he was advocating lawlessness as a potential reprisal.
"The idea that the attorney general of the United States, the nation's chief law enforcement officer, is recommending abandoning communities as retribution for pushing for police reform or criticizing policing practices, is profoundly dangerous and irresponsible," said Vanita Gupta, president and chief executive of the Leadership Conference on Civil and Human Rights and the former head of the Justice Department's civil rights division.
Barr's stance amounted to a call to support police officers even when they abuse their power, another critic said. Barr "fails to understand police are not a protection racket," Andrew Stroehlein of Human Rights Watch said on Twitter.
At the ceremony, Barr likened criticisms of police to the abuse that Vietnam War veterans — many of whom were drafted and had to fight — endured when they returned home. Those troops sometimes "bore the brunt of people who were opposed to the war," Barr said.
"The respect and gratitude owed them was not given," he said. "It took decades for the American people to finally realize that."
Barr's remarks reflected his calls earlier this year for zero tolerance for resisting police and served as a reminder of his history as an ardent backer of aggressive law enforcement.
During his first stint as attorney general, in the early 1990s during the George Bush administration, Barr supported tough-on-crime policies that furthered the incarceration of millions of Americans. Under his watch, the Justice Department issued a memo titled "The Case for More Incarceration."