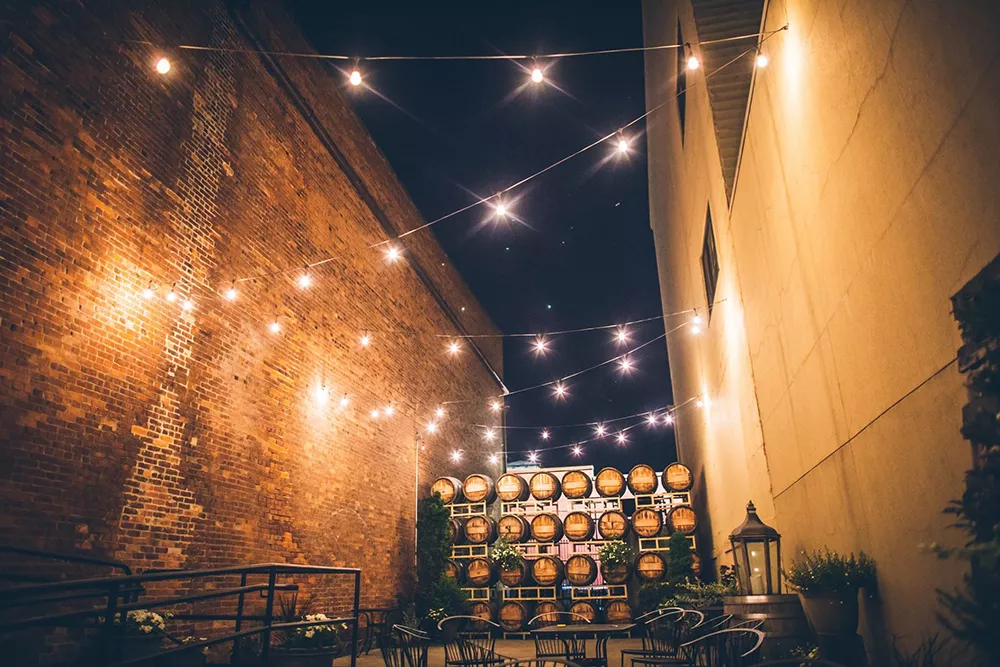 If you've ever taken a stroll around downtown Spokane's west side, you may have come across Barrister Winery, tucked into a historic brick and timber building alongside the railroad tracks at 1213 Railroad Ave.
The winery was founded in 2001 by lawyers Greg Lipsker and Michael White, who chose its name from the British word for their profession.
"We've been best friends and wine drinking buddies," says Lipsker. "In 1997, our families were vacationing together in British Columbia when we came across a winemaking kit. We tried it out, and that's what sparked our interest."
The two spent several years making wine at home and in 2000, they entered four wines into the Indy International Wine Competition, winning three gold medals and one silver.
"We started to think maybe we were doing something right," White says. "So in 2001 we jumped in and became a bonded winery."
The two purchased the Railroad Avenue building, which had previously served as an auto parts facility, tire recap business, and last a warehouse, in 2004.
"This building was formerly connected to the railroad by a bridge, which allowed automobiles to be brought in and cleaned before their sale at dealerships," says White.
The space underwent renovations including roof repair, removal of interior walls, and restoring the floors down to the original wood planks, and then officially opened in May 2004.
The 21,600-square-foot space includes three floors which now consist of a tasting room, event space, production and storage areas, and a basement barrel room.
Although they didn't realize it in the beginning, the winemakers say being so near the railroad provides an unexpected benefit to their wine production process.
"We're probably the only winery in the state with a barrel room beneath the railroad tracks, above which about 25,000 trains pass annually," says Lipsker. "We've had experts verify that as trains pass they gently vibrate the barrels, which settles the solids and contributes to the soft mouthfeel of our wines."
Barrister's basement barrel storage houses about 650 barrels of wine, and the business also leases about 5,000 square feet in the building next door for case goods storage, which includes about 6,500 cases this year.
In 2009, Lipsker and White brought on Tyler Walters as an assistant, teaching him about the winemaking process. By 2015, Barrister had added a smaller, downtown tasting room at 203 N. Washington St., and the next year, Walters became an official third partner in the business.
The three owners say their roles have evolved over the years, with Walters taking on more of the physical tasks involved in production of the wine, while Lipsker and White handle most other business operations, marketing and relationships.
While Barrister makes predominantly red wines, it does offer one white wine, a sauvignon blanc. As the winery has grown, its wines have continued to win awards, particularly the cabernet franc, which won "Best of Show" at the Los Angeles Wines of the World competition.
"We enjoy participating in competitions, because for us it's like having an outside critic confirm our product is good quality," says Walters. "It also can be useful in marketing."
White says the winemakers take inspiration for new wines from others they've tasted, and new grape varieties they're excited to try.
"We're always looking for opportunities to expand into new grape varietals or improve the quality of fruit we already have," he says.
Barrister sources its grapes from 10 different vineyards, including several in Walla Walla, Red Mountain, Pasco and Vantage. Although the winery is probably best known for its cabernet franc, Lipsker says each of its wines shares a distinct style.
"I'd describe our style as fruit-forward, soft mouthfeel, and gentle tannins, with a long, rich finish," he says. "If that's a style you like, you'll definitely find that across the board in all of our wines."
When it comes to customer favorites, White says there is one wine most people seem to enjoy.
"Individuals have their favorites, but we've noticed in particular more people really enjoy 'Rough Justice,'" he says. "It's a blended wine of between four and seven different varietals from several different years."
For pairing suggestions, Lipsker says Barrister's Cabernet Franc pairs beautifully with lamb, and many of the winery's red wines seem to work well with grilled meats.
"We also enjoy making wine-based sauces to complement our wines such as beef tenderloin with a rosemary cabernet sauce," he says. "And if you like dessert with your wine, our merlot and syrah both pair well with chocolate."
White adds that the winery offers many informational wine pairing classes, and offers its wine club members special releases that often include a pairing recipe prepared by a local chef.
In addition to award-winning wines, Barrister is also known for using its venue to promote visual arts and music through various events including the First Friday Art Walk, and Wednesday at the Winery concerts, as well as hosting many concerts throughout the year for the Northwest BachFest.
"Our wines are consistently good and enjoyed by all," White says. "But the bigger picture for us has always been to create an experience, offering the public and our wine club members exposure to educational and informative presentations of wine, art and music."
"Winemaking itself is an art, so for us, hosting other artists in this space is in harmony with our own work," Walters adds.