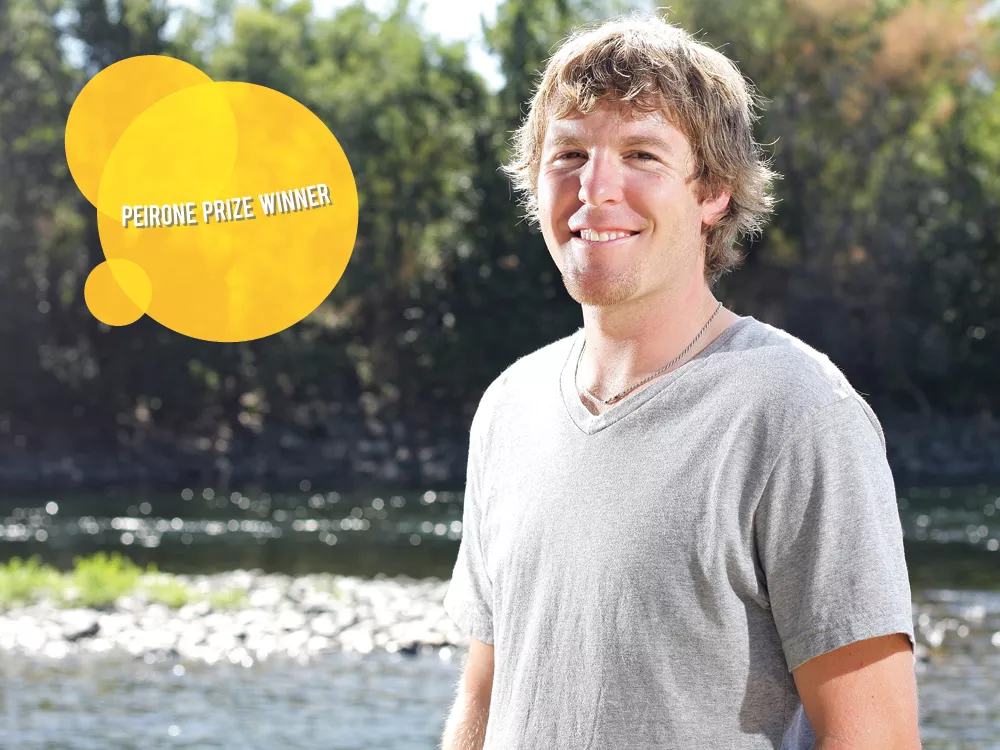 If you are what you eat, and you eat a fish from the Spokane River, then you're flame-retardant. Or you're Viagra. Or some cancer-causing compound, or any of a host of other nauseating things.
As it stands now, you definitely don't want to eat a fish from the Spokane River, but that's not to say that will always be the case.
Bart Mihailovich has been on the Spokane River beat for some time — first through downtoearthnw.com, a local blog focusing on environmental issues affecting the Inland Northwest community, which he launched in 2007 with friend Paul Dillon. Three years ago, they expanded their content to the airwaves through a weekly radio show on KYRS. Last year, however, Mihailovich stepped down from the blog to keep tabs on the Spokane River as a full-time job.
Mihailovich holds the title of Spokane Riverkeeper, a position that calls for him to be an advocate, educator and pseudo-guardian of the Spokane River, its tributaries, the watershed and the area's wetlands. Similar positions and programs exist across the country and have been responsible for essentially bringing rivers (like the notoriously polluted Hudson River) back from the dead, and making sure the healthy changes stick.
Mihailovich has three simple standards in mind for the river he's charged with: He wants it drinkable, swimmable and fishable. And although the road to getting the Viagra and flame retardant out of your Spokane River fish fillet isn't easy, it seems his whole life has prepared him for the challenge.
Growing up in Butte, Mont., meant that Mihailovich lived next-door to one of the most overt examples of environmental destruction on record today: the Berkeley Pit, a former copper mine a half-mile wide and nearly one mile deep, filled with toxic water.
"People came to Butte for the mining, made a lot of money off of it, it kept the lights on, it kept food on everyone's table," says Mihailovich. "But at the time, no one was thinking about what that would mean for future generations."
The normally ever-present smile fades from Mihailovich's face when he talks about what the scarred mountains, toxic soil and polluted pit did mean for future generations taking on the task of cleaning up a mess they did not create.
So when he moved to the Inland Northwest to attend Eastern Washington University, it was with the intention to take on environmental issues through journalism. But his focus soon shifted.
"A lot of the same environmental issues that affected Butte, being the heavy metals and contaminants in the soil, also are affecting Spokane via the North Idaho connection," says Mihailovich.
The connection being the mining and its resulting pollutants spread easily by a natural highway: the Spokane River.
Through the Down to Earth blog and radio show, Mihailovich says he made valuable connections with people — many of whom were sitting around the massive table in the Community Building's colorful conference room the day he interviewed for the Riverkeeper position. One of those people was attorney Rick Eichstaedt, who had become the first Spokane Riverkeeper in 2009.
Together, and with the help of other local community groups, the two have made huge strides in the local scene. They worked with Rep. Andy Billig, D-Spokane, to usher in the ban on phosphorous lawn chemicals and watched as several education programs popped up in local schools to provide kids with an in-depth education on the region's water systems.
"Let's grow this institutional knowledge in Spokane, let's really get kids focusing on issues that affect and impact them locally, and maybe that would help solve some of Spokane's problems of people that move away from here," says Mihailovich. "Maybe if people had more of an emotional attachment to this place, then they would stick around and want to fight for it."
Fighting for things is a big part of Mihailovich's job. Between keeping up with local politics, educating businesses, children and community members and tracking the health of the river, Mihailovich has his plate full. It's enough to wear anyone down.
"Whenever it gets overwhelming, I always think that there's so many other people in Spokane who are working on these issues," says Mihailovich. "The scope of work that needs to be done here is large, but it's been done."
Perspective is what keeps him afloat, and spreading that knowledge to the community is what Mihailovich believes will save our river, so long as we embrace it.
"Our problems here on the Spokane River aren't that unique to any other rivers across the United States. You look at the success stories of other places, and it's possible. There's just a paradigm shift that needs to happen here and a culture that needs to change," says Mihailovich. "And it's pretty fun work when you're changing a culture."
To learn more about the Spokane Riverkeeper and follow Mihailovich's blog, visit cforjustice.org/river or call 835-5211.
About the Peirone Prize

For the second year, we here at The Inlander are honoring three local winners (make that four, as one winner is a husband-and-wife team) of the Peirone Prize. They'll each take home the love and admiration of the community for all they do — and a $1,000 honorarium to spend however they'd like.
The award is in memory of two of my grandparents, Joe and Alice Peirone (pronounced "Purr-ohn"). Their lessons of hard work and generosity made it possible for Jer and I, along with our mom, Jeanne, to start The Inlander back in 1993. Part of our mission all these years has been to promote the good things that happen here, and to identify the great people who make this a special place. The Give Guide, now in its 10th year, is a prime example of that.
Thanks to Joe and Alice's two kids, my mom Jeanne and my uncle Jim Peirone, they continue to be generous with today's devoted young people. Joe, who founded Peirone Produce, which still brings fresh fruit and veggies to the region, passed away nearly 20 years ago. But Alice is 92 today, and she wishes the winners of her prize well.
Our criteria for the Peirone Prize is that you be making a difference here at a relatively young age (40-ish and younger). There are lots of deserving people of all ages, but with this award, we wanted to particularly encourage young people who are choosing a life of service, as we all know that can require personal financial sacrifices.
We accepted nominations from local leaders in the nonprofit world and came up with 25 great candidates. Give Guide Editor Leah Sottile, Managing Editor Jacob Fries and I narrowed the batch to eight. Last year's winners — Emily Paulson, Ben Stuckart and Taylor Weech — were asked for their input, and we finally settled on our three winners, who you will meet here.
As you read through the winners' stories, you're bound to be inspired to do your part, too. Lucky for you, the following pages (starting on page 44) are filled with local nonprofits deserving of your support. We've even provided you with three easy ways to give — by phone, via the web or by mail.
As little as $20 can make a big difference — it buys 11 meals at the Union Gospel Mission, for example. So even if you can only give a little, it all adds up. And if you are blessed to be able to give a lot, well … we need you, so pick out some worthy charities and make a difference.
– TED S. McGREGOR JR.
Send your Peirone Prize 2012 nominees or thoughts on this Give Guide section to giveguide@inlander.com.