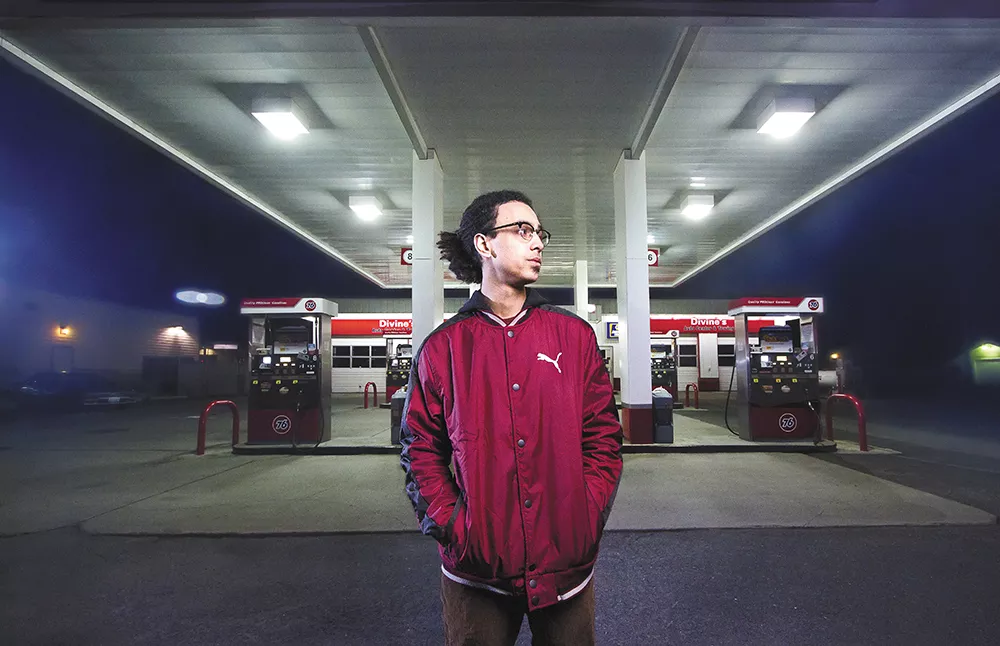 There's loud, excited barking on the other side of the front door. But when Roman "RedKing" Keyes-Slider pulls open the door to his South Hill house in the middle of the afternoon, the big noise is coming from a tiny bundle of black-and-tan fur.
"Zeke! Stop!" Keyes-Slider says. The little chihuahua eventually calms down.
Keyes-Slider's roommates/Lilac Linguistics bandmates, Corban Couey and Milton Armstrong, are camped out in the living room. Today, it's not about the collective, which was named a 2013 Inlander Band to Watch, it's about Keyes-Slider and the sounds he's put into his second beat tape In Antiquity.
He says he wants a real studio sometime in his career, but the basement room he's turned into one is more than efficient. With light-brown wood paneling and gray cloth sound dampeners on the walls, a closet-turned-recording booth, stacks of records everywhere and even a fireplace, the tight space is downright comfortable.
"This is where the magic happens," says Keyes-Slider, sitting in front of a desk packed with recording equipment, Zeke perched on his lap. "I just love chopping samples. It's just my thing."
When he was writing the new disc, Keyes-Slider, 22, says he would produce beats as part of his daily routine. There were times he would hear mixes in his head, and other times when he'd let songs just blossom on their own. He'd take a sample from a record that caught his ear (often old-school R&B and jazz), change the tempo, add any of his prerecorded drum beats and just try to see what fit.
"It was just sleep, come down and make beats and then go to work," says Keyes-Slider, who works as a cook and recently finished a degree in audio engineering from Spokane Falls Community College.
While he enjoys employing other artists' flows and vocals, Keyes-Slider says there is something freeing about just making his own song. For a little added interest, he sprinkles some vocal samples into his tracks, but it's mostly about the creative loops, and devices under them, that he wants to draw the most attention.
For his beat tape release party on Friday, Keyes-Slider will DJ his own music; as there's no way to recreate his songs live, they won't sound the same as the record.
The other acts on Friday night's bill are all either a part of, or affiliated with, Lilac Linguistics.
"There's going to be a lot of music no one has ever heard before," he says.
As Keyes-Slider swivels towards his equipment to demonstrate his exact recording process, Zeke pads out of the room, no longer interested.
"I would like people who wouldn't normally hear my kind of music to listen to it, and I'd be curious to see what they think," he says. "As long as I keep improving, that's what it's about."♦
RedKing's Tape Release Party feat. Kain Bridge One, Vision Field, Student, Infinite Penz, Jay Ave, Harrow Marks, MaTtH, Kr1sten Wiig • Fri, March 28, at 6:30 pm • $5 • All-ages • The Phat House • 417 S. Browne • 443-4103
---
Unique Sound
Local hip-hop artist Nick "Unique" Klepacki says the name fits.
"I was given the name by a close friend. He gave that to me because of my creativity and my ability to succeed when life got hard," he says over the phone last week on his way to get his ride washed.
The rapper, whose deep voice has seen him compared to Tupac Shakur and the Notorious B.I.G., has been at this for the past decade — not only writing music, but later managing Keep Pushin Entertainment. He's just gotten home from his second time at South by Southwest, where he was one of the only white rappers in the Coast 2 Coast Live showcase.
"I've been complimented a lot on my stage presence," he says. "When you're the minority they have to see you vibing, the authenticity has to be there."
He says he sold a box of CDs after the show.
It's his repping of Washington state, with his Seahawks and Gonzaga caps, that marks him as a Spokane hip-hop artist. Dropping his fourth full-length A Day Closer last year, his subject matter runs from the difficulties of life to straight party anthems laid out over dirty, plucky beats.
Unique continues touring behind his album on Friday, headlining the Swaxx stage. There are plans to shoot audience footage at the show for his next music video, "Nine Lives."
"I want to make people feel like they're a part of my music," he says.
Unique with Soundcast, Imperfect Cody, On One, True Justice, Rod Mac • Fri, March 28, at 9 pm • $8/$10 day of • 18+ • Swaxx • 25 E. Lincoln • swaxxspokane.com • 703-7474