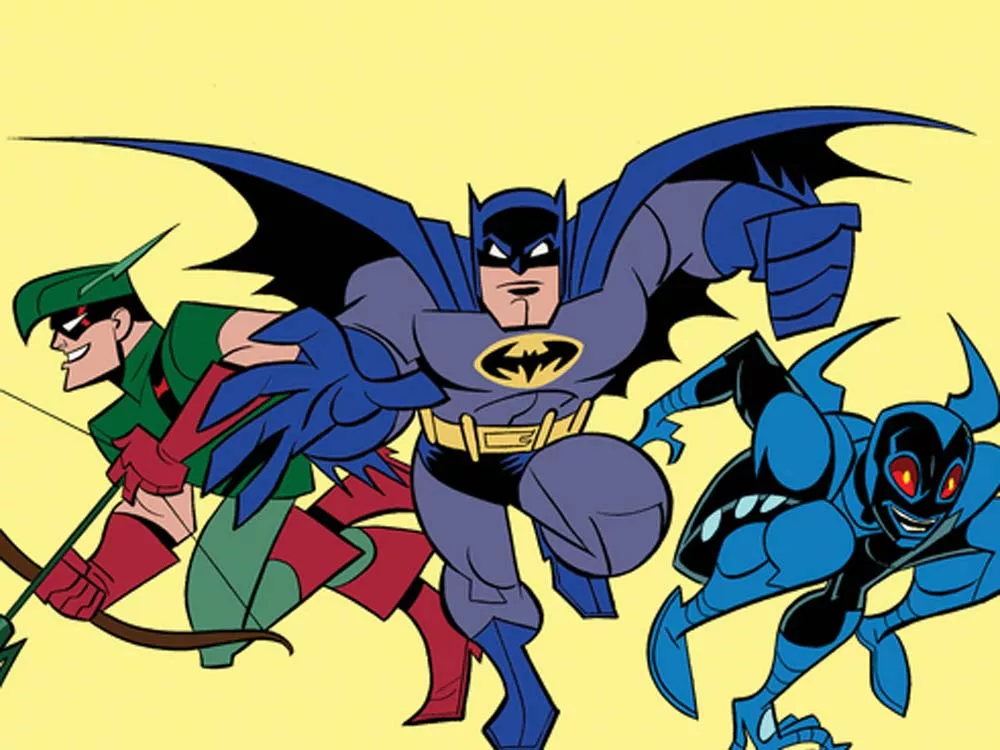 Every episode title for Batman: The Brave and the Bold — from "Terror on Dinosaur Island!" to "Night of the Batmen!" — ends with an exclamation point. That sums up the strengths, weaknesses and overall tone of the latest cartoon series featuring the Caped Crusader. Each episode is infused with dorky, exuberant enthusiasm.
At first, this seems contrary to the batmanishness of Batman: Frank Miller, Tim Burton, and Christopher Nolan have taught us that Batman ought to be gravelly-voiced, drenched in angst and horror. Gotham's savior, they argue, is as dark, gritty and violent as Gotham itself.
But Batman's history shows a less dreary version: the Batman always armed with corny quips and Bat-shark repellent; the Batman who doesn't battle just a nihilistic Joker but finds himself locked in absurd struggles with Calendar Man (who commits holiday-themed crimes on holiday-related events), Crazy Quilt (who sees only in vivid Technicolor, explaining his zany fashion choices) and Egghead (who is especially prone to egg-scrutiating egg puns).
The Brave and the Bold isn't quite as campy as the live-action Adam West series — or even Batman and Robin — but it's never afraid to let go of its pretensions and just play. Each season has been peppered with experimental episodes — those taking place in alternate universes, in the future, in medieval times. One character, an omnipotent super-fan of Batman comics who comes from an alternate dimension, regularly breaks the fourth wall. One episode, where the "Music Meister" (Neil Patrick Harris) attempts to hypnotize the entire world with the power of song, remains one of the best musical episodes to air on TV. (That includes every episode of Glee.)
Silliness has its tradeoffs, of course. Brave and the Bold can't really plumb the deeper themes of Batman's universe the way The Dark Knight or Batman: The Animated Series did. And the performance of Dietrich Bader (The Drew Carey Show) as Batman always has a cheesy "Stop, evil-doer!" quality to it, highlighting especially painful oneliners.
But amid the action scenes — creatively scripted, gloriously storyboarded and beautifully animated — those criticisms are washed away in the chaotic fun of it all.
Start with a "Blam!" and end with a "Pow!" In the end, that's all we ask of our Batmen.
(Fridays, 6:30 pm, Cartoon Network)
---
TIVO - WORTHY
Saturday Night Live
Time to bring to a close another season of hilarious comedians mostly failing to create funny sketches. Tragically, the continued hilarity of the Digital Shorts and the brilliance of sketch shows like Portlandia show that if Lorne Michaels would only remove the "live" from the name, he might have a pretty good show. (NBC, Saturday, 11:30 pm)
The Chicago Code
This has been a bad year for former Shield showrunner Shawn Ryan. Both of his new series, Terriers and The Chicago Code, were canceled. Chicago Code finishes up its one and only season this Monday. Fortunately, as any fan of Terriers or The Shield knows, Ryan puts together masterful series finales. (Fox, Monday, 9 pm)
Clash of the Commercials: USA vs. The World
This awards ceremony for the best commercials of all time will be interspersed with the ho-hum, lackluster commercials of today. Mean Joe Green and the Volkswagen Darth Vader commercial make an appearance; the Money Tree caterpillars and HEAD ON APPLY DIRECTLY TO FOREHEAD do not. (CBS, Wednesday, 10 pm)