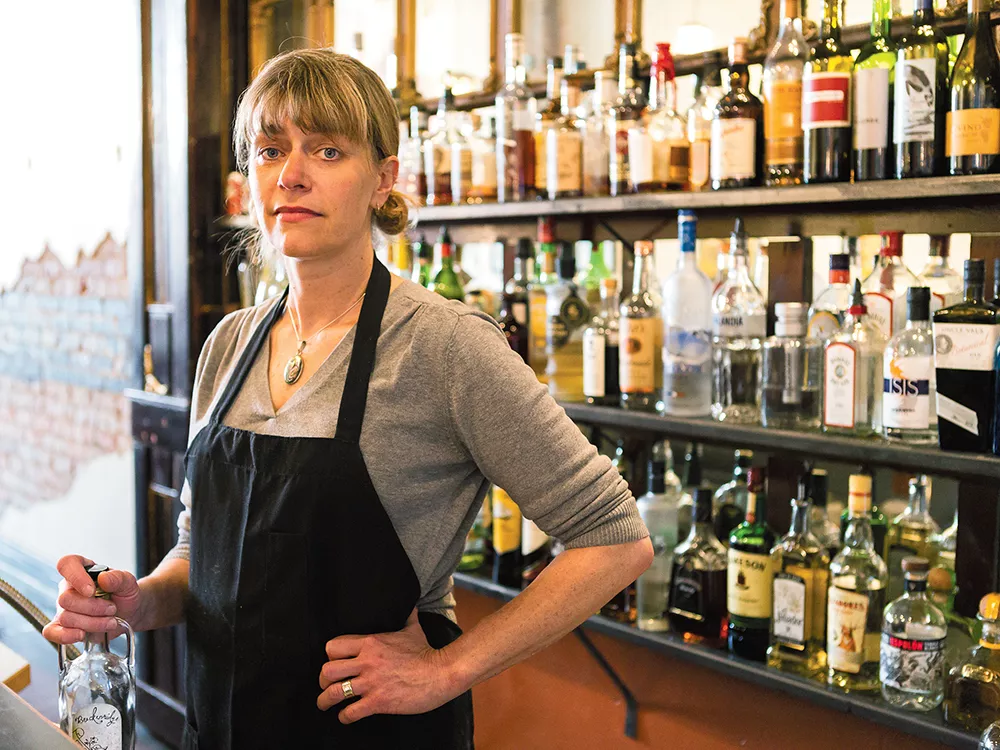 Supporters of Initiative 1183 had high hopes for a privatized liquor industry. A TV commercial for the initiative promised "more competitive prices." Supportive newspaper editorials predicted the extra competition would either drive down costs or keep them stable.
It didn't happen.
Blame the taxes, blame corporate profits or blame inefficiencies, but the reality remains: The initiative made liquor, on average, 13 to 14 percent pricier.
Now Costco and the Washington Restaurant Association have been surprised by a side effect of the initiative they helped write. Their complaint isn't about high prices — "the proponents of the initiative never claimed it would reduce prices," says Joel Benoliel, chief legal officer of Costco. Their issue instead hinges on the way the Washington State Liquor Control Board has interpreted 1183's fine print.
The initiative's 60-page text allows retailers to sell to bars and restaurants, but says in that circumstance "no single sale may exceed 24 liters." The liquor board uses that to limit grocery stores from selling more than 24 liters to a bar in a day. On top of that, those sales get charged with a 17 percent fee.
Benoliel sees the liquor board's interpretation as in "direct conflict with the initiative itself." He accuses the board of "trying to change what the voters passed." Because of the 24-liter limit and the extra fee, many bars and restaurants won't purchase liquor from Costco and grocery stores.
House Bill 1161, introduced by Rep. Ross Hunter (D-Medina), would address that complaint by defining a single sale as any one transaction: All a restaurant would have to do to buy more from Costco is to ring up each 24-liter set separately. Next, the bill would clarify that restaurants and bars wouldn't have to pay the extra license fee applied to consumers buying booze off the shelves.
The bill has meant another round of legal lobbying at a Olympia, pitting one set of interest groups — the big grocery stores, the small liquor stores and the Washington Restaurant Association — against another, the small grocery stores, big distributors and the Teamsters.
In Spokane, Boots Bakery & Lounge opened in the middle of last June, just as the liquor initiative first took effect. Owner Alison Collins knew the transition would be bumpy.
"I didn't know how bumpy, to be honest," Collins says.
Instead of just calling and picking up her orders at a liquor store, she uses spreadsheets to manage orders from multiple different distributors that have exclusive contracts with specific brands.
Since Boots specializes in drinks made from more obscure liquors, it can get "crazy complicated" if they run out.
"Some people collect watches. I totally horde small-batch booze," Collins says. "I have no idea if I'm going to get it several months from now."
Three weeks ago, Collins says, distributor Southern Wine and Spirits ran out of Maker's Mark bourbon to provide to Boots. But if she wanted to go to Costco to get more, she'd be paying 17 percent more than getting it from her distributors. As a result, places like Costco aren't much of a contender for her business.
"We want options in the marketplace," says Bruce Beckett, with the Washington Restaurant Association.
Young's Market Company and Southern Wine and Spirits, two big distributors that control the vast majority of liquor brand shipping, had been against the initiative from the beginning.
"We believe the initiative was drafted in a way solely to benefit Costco and some of the big box stores, to the detriment of everyone else," says John Guadnola, executive director of the Association of Washington Spirits and Wine Distributors.
Both big distributors arrived at a legislative hearing on the bill in January. Between the two of them, they're already required to pay a $150 million, one-time fee, through taxes or direct payments, to enter the Washington state liquor market.
Their complaint is simple: If the 17 percent per-sale fee was gone, groups like Costco could act like a distributor, without the fee. They don't think that's fair.
The Teamsters' union stood up to support the distributors they work with. "If you see these two companies pull out of the state… it would be devastating," Teamster Michael Gonzales said.