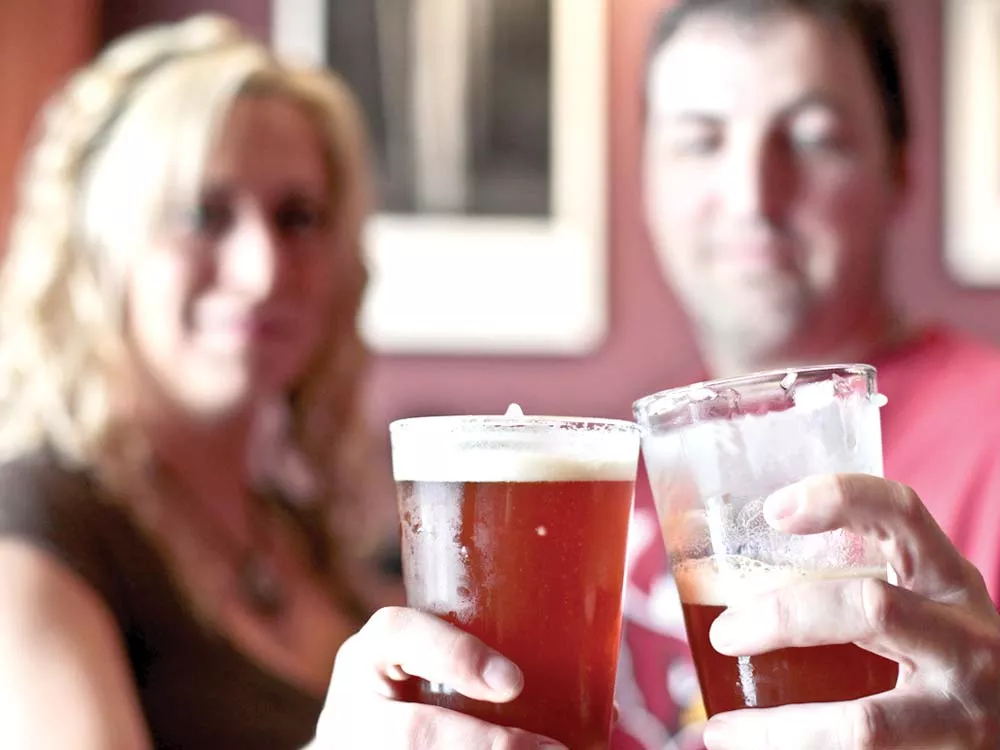 Pub owner Zeke Sawyer had to make a decision a few weeks ago: buy an order of beer, or buy a sign? It was a difficult choice for his new business, but he thinks he made the right one. As a result, Bag o' Nails Pub now has a selection of over forty beers.
"I opened the doors with beer and hoped people would start coming in," he says.
The interior of Bag O' Nails, which is located in the Valley on East Trent, isn't what you might expect from the neon beer signs in the windows. There are no televisions lining the walls, showing four different games. Instead, there are framed Ansel Adams posters. The dark red walls give a sense of easy calm. The 30-foot bar is handcrafted from two different kinds of bamboo. And behind it are three large mirrors showcasing the bar's 45 beers — everything from Iron Horse Brewery beers to Elysian Immortal IPA to the classic Corona.
Sawyer is not new to the food business.
He used to own a hamburger joint called Little Bennie's, located in the Valley. His experience shows in the sandwiches at Bag O'Nails, which are piled high with meat and veggies. Picking up a half of a turkey avocado sandwich ($7.50), I wondered how I was going to wrap my mouth around the stack. Any of these gut-busters is available to go, from the Bag O' Nails signature sandwich ($8.50) with three kinds of meat to the veggie garden ($7.50), which is loaded with red onions, green onions, bell peppers, mushrooms, olives and cucumbers). Sawyer says his pub is "a place you can stop off after work to grab a beer and a sandwich on your way home."
Bag O' Nails doesn't have anything on tap yet, but Sawyer says his plan is to get Rolling Rock as his exclusive tap choice and focus primarily on 22-ounce bottles. He wants to "turn people on to micro beers," he says. "I want to try and change their palates."
Sawyer says he plans to rotate his taps, and he's also looking into opening an outdoor kitchen and expanding his food menu.
And the sign? That should be up in the next few weeks. (Joseph Haeger)

Bag O' Nails • 8901 E. Trent Ave., Ste. 109 (next to the Papa Murphy's) • Open Mon-Sat from 11 am-midnight, Sun noon-10 pm • 242-3360
---
Fish Ahoy

On opening day last week, Regal Street Seafood was stocked with two-foot-long Russian Red King crab legs, prized white king salmon, and squid salad, to name just a few of their ocean delicacies. "You can't get fish this fresh anywhere else (in Spokane)," says Heather Lanzone who owns the new South Hill fish market with her husband, Phil. "This is the best of the best."
The Lanzones have been supplying fresh fish to Spokane- and North Idaho-area restaurants and grocery stores since 2003 through their wholesale business Northstar Seafoods. The new retail venture was a natural progression. As Northstar's seafood buyer, Phil is able to bring in fresh fish every morning, and he knows exactly where the fish comes from and when it was caught.
In addition to an assortment of fresh fillets and lobster tails, there's a shellfish table with mussels, Manila clams and four kinds of oysters, perfect for shooters. Regal Street also sells a selection of gourmet items, like sesame-infused seaweed salad, sauces and rubs, and a few sweet treats. In the next week or so, you'll also be able to pick up a bottle of wine to go along with your meal.
If you don't feel like cooking, Regal Street offers three choices of hand-battered fish and chips to go ($11- $13). The House Special consists of three generously sized pieces of crunchy, fried white fish served with crispy, skin-on French fries and coleslaw. The signature tartar sauce, with fresh herbs and a peppery kick, is perfect for dipping the light, flaky fish. You'll also find salmon and chips, and the Daily Catch, which featured halibut on my visit.
Regal Street is happy to provide recipes and cooking tips, and if you don't find what you are looking for, they'll order it for you. With super-fresh fish at reasonable prices, Regal Street could easily become my go-to place for a quick dinner to throw on the grill, or fish and chips for a park picnic. (Kirsten Harrington)

Regal Street Seafood • 2812 E. 30th Ave. • Open Mon- Sat, 10 am-6 pm • 535-1966