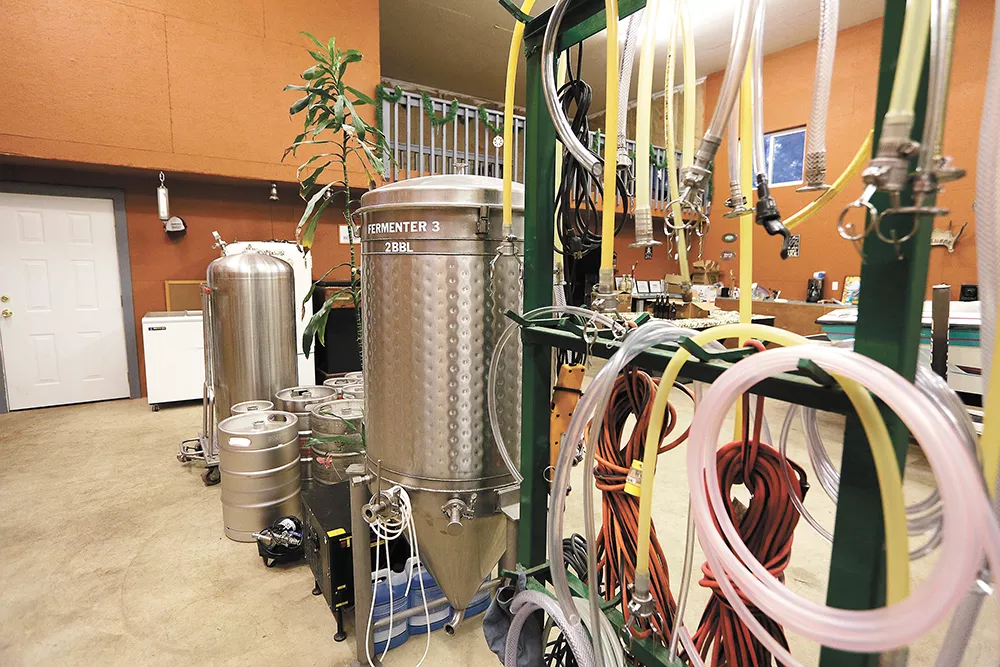 About a year ago, we wrote about the sneaky emergence of Whistle Punk Brewing, which began placing a few tasty IPAs on the taps at beer bars and pubs around Spokane. The hop-forward brewery owned and operated by father-son duo Matt and Craig Hanson was winning over fans, but doing it without a physical location where folks could taste the Whistle Punk beer roster.
The brewery will soon have a place to satisfy those folks in downtown Spokane. Whistle Punk has plans to open a taproom off of Monroe Street in a space formerly occupied by the bar portion of Brooklyn Deli, which moved a block south this past summer.
Matt Hanson says he hopes to have the spot open by mid-March, but that all production will remain out in Newman Lake. Expect to get a much wider look at what the Hansons can do at the taproom, he says.
"We're going to have one consistent IPA — our flagship — on at all times as well as the espresso stout, because people have been liking those. We'll have 14 taps and four or five of those will be different kinds of IPAs," he says.
Upon opening, Hanson says he wants to start a founders club for about 100 people. For the club, they can buy gift certificates to use immediately in return for entry into the club, Whistle Punk gear and invites to special events.
Since the former Brooklyn Deli already had a bar component, Hanson says they don't need to do major renovations to the space, but will touch up the interior a bit and add their own tap lines.
As for food, Whistle Punk will have a few snacks, but they plan to rely on the soon-to-open Texas True Barbecue, which is taking over the former deli side, to serve most of the food. You'll be able to order from that menu and eat it at Whistle Punk with your pint.
• Laughing Dog Brewing, located in Ponderay, just outside of Sandpoint, has made a few location moves during its 11-plus years in operation in North Idaho. Now, the popular brewery, which sells its cans throughout the region and has emerged as one of the biggest breweries in Idaho, has a large-scale production facility that will help the brewery continue to grow. While the production side is pumping out beer, the restaurant and taproom is still not open. Expect that by March.
• If you want a little intrigue with your beer dinner, River City Brewing and the Blackbird Tavern + Kitchen offer a Mystery Beer Dinner. The event, which pairs five courses with five different beers, is set for Jan. 26 at 6 pm. While enjoying olive oil fried mussels, roasted curry chicken, an intermezzo, braised lamb and sweet corn cake, you'll be given a beer and asked to guess the style, and if possible, the beer name. Then you'll engage in a discussion about the particular brew. Tickets are $55 and available by calling 392-4000. ♦