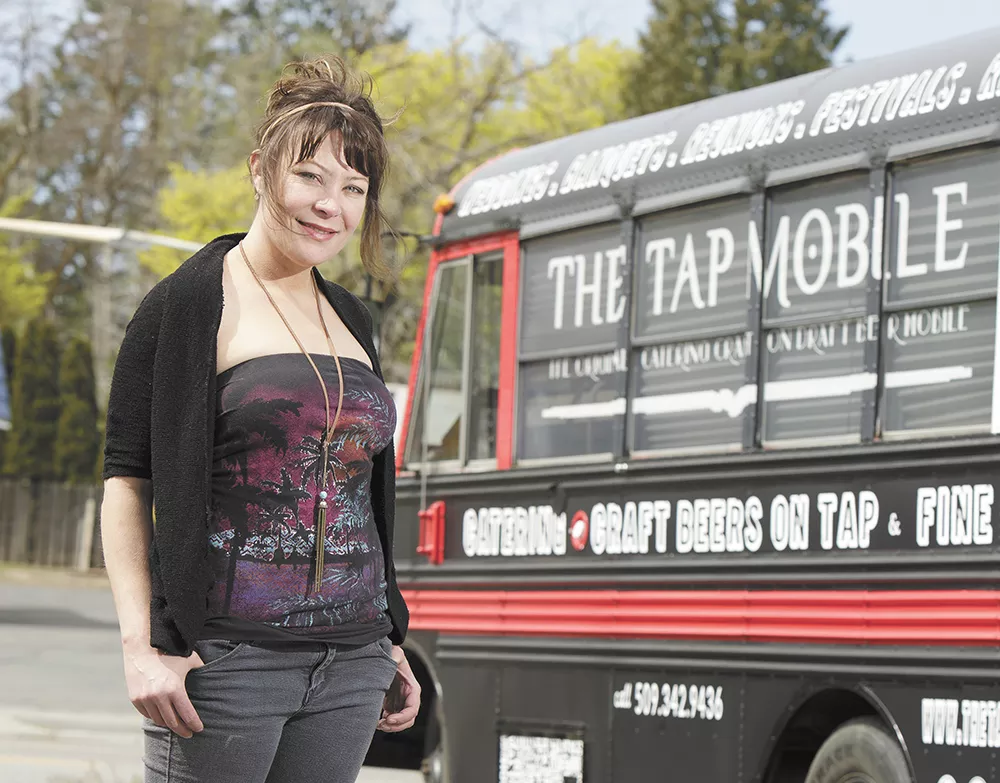 Mel Wood has a new best friend. Her name is Black Betty and she lives in her bar's parking lot.
Betty is a 1982 Blue Bird short bus and she's capable of pouring eight different beers wherever she's parked. Her real name is the Tap Mobile, a mobile beer bar operated by the Hop Shop, and she's unlike anything you'll find in the region.
"Last summer I was sitting on the front patio doing some paperwork and a food truck drove by. I was thinking of how it's such a shame that we can't make the Hop Shop go mobile. But then I thought, why not?" says Wood, who bought the cozy South Hill craft beer pub about a year ago.
Wood was hot on the idea, and by that winter she was in Portland checking out what was once a shaved-ice truck. It ran well, or as well as any 1982 bus will run. She bought it, and with the help of friends drove it the entire bumpy way back to Spokane. Also a graphic designer and painter, Wood produced the layout for the truck's sleek red-and-black exterior and decorated the inside with drawings of hop vines and typographical art. On Friday, it's going to pour its first beers.
As the Tap Mobile heads onto the streets, Wood thinks it will largely be used for weddings and other private parties, but she also sees Betty heading to festivals and other events as a sort of ambassador for the region's craft brewing industry.
"All our local craft breweries put [The Hop Shop] on the map, and how awesome would it be to go to places where people have no concept of 12 String or Iron Goat or Orlison and introduce them?" says Wood, whose dream is to have the Tap Mobile pour beers at the Gorge Amphitheatre. She's been in communication with the venue, but nothing is official yet.
"Our ultimate goal is to go to places where we can introduce the beer to different people," says Wood.
At other times, the truck will fully function without leaving the Hop Shop grounds. As you'll see for its debut on Friday evening, the bar plans to use the Tap Mobile for parties in its own parking lot. Wood says they'll also have occasional live music or maybe a movie night.
The Tap Mobile's liquor permit allows the truck to participate or hold a dozen events throughout the year, but there's no cap on private parties, says Wood. It's been a little tricky figuring out all the laws; when she calls liquor control officials, they have to do some research considering there's no real precedent. There are, however, mobile beer services in both Portland and Boise that frequent outdoor events, tailgate parties and more.
Space is precious inside Black Betty, which is why a custom-designed cooler was specially laid out to hold eight sixth-barrels, along with room for four extra kegs. There's no wiggle room and taps can easily be switched, Wood says. And almost everything you'll see on those eight taps will be locally made.
"[The Hop Shop is] small, and we are who we are because of these small artisans who are amazing at their craft. And their craft just happens to be making amazing beer," says Wood. ♦
Tap Mobile Opening Party • Fri, May 1, at 6 pm • The Hop Shop • 3803 S. Grand • 21 and up only • Featuring live music and food trucks