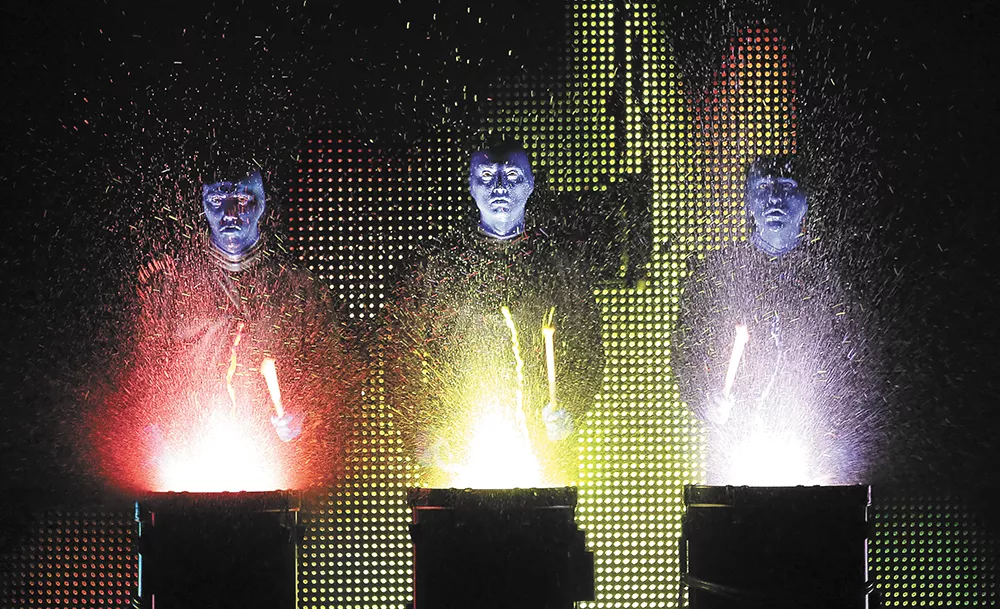 Not everyone is cut out to be a Blue Man.
Even after the initial audition, future would-be Blue Men — the blue-skinned, black-clothed trio known around the world for their quirky, mimed performances — are on a temporary contract during an extended rehearsal period, and could be cut from the roster at any time. The performance group's casting team is looking for a very specific, yet almost undefinable, set of traits that make a successful Blue Man.
Adam Zuick, a 25-year-old actor with the Blue Man Group's North American tour, stopping in Spokane for four nights of shows Oct. 16-19, says trying out for the role was one of the most interesting experiences in his young acting career. Even though he's now a Blue Man, Zuick still has trouble defining the essence of the character and what it takes to become one.
"I've talked to people trying to do an audition and they've wondered what I could tell them to help them, but it's tough because going in blind is almost better," Zuick explains over the phone from San Diego, five stops before the show heads to Spokane, where Zuick lived briefly as a child.
"It's very strange, and they want a certain thing from people. You can't force that thing — you have or don't have it. If you get cut it's not because you're a bad actor, you just don't fit the criteria for Blue Man."
Most of the audition, he says, is silent improvisation, in which actors must convey a story with only their eyes and facial expressions, just as the mute Blue Men do in a live show.
Zuick then rehearsed with other Blue Man cast members for about 10 months before hitting the road in late September for his first string of shows with the company.
Oddly enough, Zuick admits he never saw a live Blue Man show before trying out, though he'd seen them on TV. It wasn't until after the company chose to offer him the role that he went to a live show to see what he was getting himself into: "It blew my mind."
Blue Man Group shows are like mimed improv comedy in the atmosphere of an electronic dance party — black lights, neon colors, thumping beats — mixed with over-the-top performance art, like unfurling rolls of toilet paper into the audience using the air blast of an industrial fan. There are also elements of science and learning, complementing the show's overarching theme of discovery.
Those who've heard of Blue Man but have never seen a show can at least recall the bald-headed, wide-eyed, androgynous trio (yes, Zuick confirms — women can play the role). Or maybe they've heard of the band's giant PVC pipe keyboard, or the mesmerizing paint-splatter drumming segment.
The Blue Man Group, created in 1987 by three friends as a tribute to the 1980s, later took off when their commissioned show "Tubes" was critically acclaimed by the New York Times.
Even though all Blue Man shows, whether in Las Vegas, New York or on the road, contain many of the same acts or elements, Zuick affirms that each performance is different from the next.
Blue Men always react and respond to the environment they're in, he says.
"It's us responding to them and trying to connect with different people, so we change it up, and certain times we're inspired to do different things, and it's all random," he says.
Zuick describes the Blue Man as a hypersensitive being — hearing and seeing everything — and as actors in the show, they're trained to create improvised scenes together based on this trait.
"We're a collective group that moves as one even though there are three," he says, describing a technique in Blue Man-speak called "flocking."
Even with this groupthink mentality as a major influence in the performance, Zuick points out that while they all look identical and portray similar mannerisms, each Blue Man is still encouraged to be an individual.
"It's weird because they tell you these things that a Blue Man has to be and has to do, but in the long run you learn the Blue Man is more yourself than anything," he says. "It is you broken down into the most simple state, discovering things for the first time, not taking things for granted and trying to make a connection with people, and breaking through the barrier people put up." ♦
Blue Man Group • Thu, Oct. 16-Sun, Oct. 19; showtimes vary • $33-$73 • INB Performing Arts Center • 334 W. Spokane Falls Blvd. • bestofbroadwayspokane.com