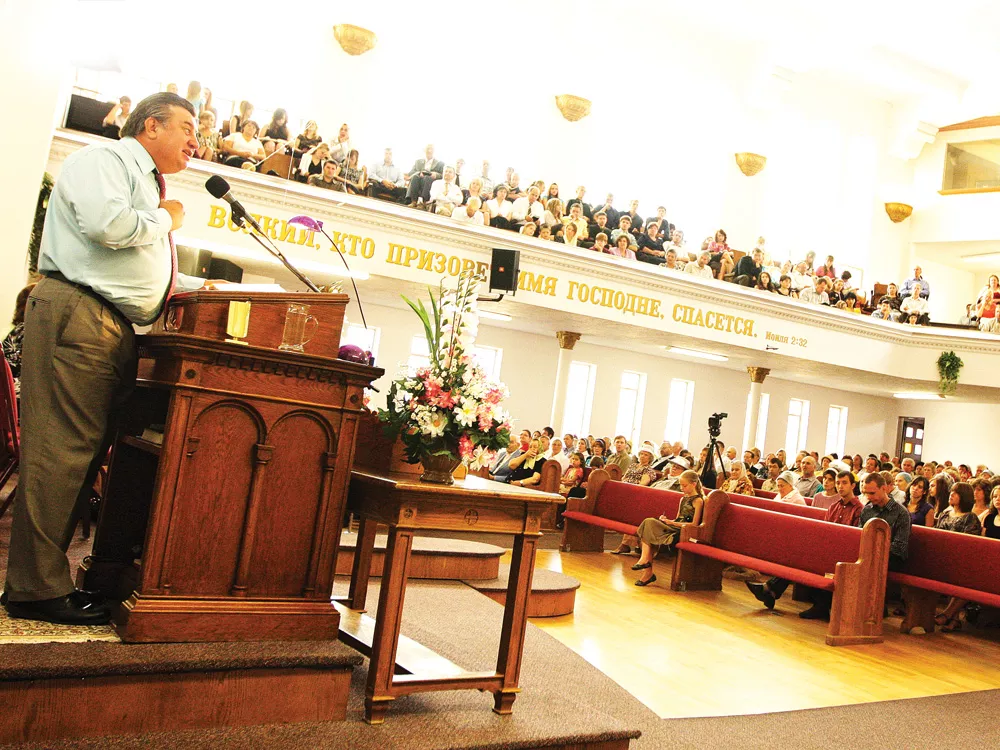 Before he fled Ukraine with six kids and a pregnant wife in tow, Alex Kaprian was approached by a KGB officer.
"You're escaping at the right time," he says the member of Soviet Russia's secret police told him. The agent held a file two inches thick. It was the KGB file on Kaprian. "That's at least five years for you. At least five years in the prison."
Kaprian, 26 at the time, was a leader in the underground Baptist church in his hometown of Mariupol, an industrial city on the Azov Sea. His church was completely illegal — there was, in fact, no physical church to meet in.
"We had services at different places each time," Kaprian says. "At private homes. We went to cemeteries, or the woods."
A couple of decades earlier, Kaprian says, and he could have been killed for his involvement with the unregistered Christian church. Instead, he was simply ostracized. As a youth, he took 13 years of boxing lessons to defend himself. As an adult, he lost a factory job (by the KGB's orders) because of his faith.
Still, coming of age in the 1970s and '80s in the Ukraine — one of the largest of the 14 Soviet satellites ruled by Moscow — was different than it was under Khrushchev. Or, worse, Stalin.
Kaprian became an adult under Gorbachev's perestroika, in which the country began a political and economic restructuring that eventually led to the demise of the Soviet Union. People of many faiths began to leak out of the USSR's borders, seeking relief from decades of religious persecution.
Kaprian and his young, if large, family made it first to Czechoslovakia, then to Austria and, finally, Italy, where they were stalled for three months, waiting for the American embassy to give them refugee status. It was 1989, the year the Berlin Wall fell, the beginning of the end for Soviet Russia.
"It reminds me of when you jump from the airplane, into darkness," he says now of his escape. "And you're not sure if you have a parachute or not. Your own country just took your citizenship. You never can come back. I had no idea about other countries and their life. What do I have to meet in the future? I just jumped."
Kaprian is one of an estimated 30,000 Ukrainians living in the Spokane area. Twenty years ago this week, Ukraine itself jumped into the unknowable future when its Parliament adopted the Act of Independence. In December of that year, 1991, more than 90 percent of Ukrainians voted in favor of the act and elected the new country's first president. Within weeks of the vote, the USSR was officially dissolved.
But Kaprian and his fellow countrymen in Spokane are now focused on their new life.
"I have no one left over there," says Kaprian, the founder and lead pastor at the Pilgrim Slavic Baptist Church in downtown Spokane, which has 1,000 congregants. His parents came to America shortly after him, as did his brother and two sisters. "After so many years, and when you don't have your family there, I am not homesick any more."


Spokane is a lot like Ukraine. The four seasons are pronounced, and its rural areas grow wheat. The national flag has two horizontal stripes: The top one is blue, for the sky, and the lower one is yellow, representing wheat fields. It's been called the "breadbasket of Europe."
In the 20 years since Ukraine declared its independence, the large Eastern European country has struggled and prospered and had its fits and starts of representative government and dictatorship-style reign.
Directly after its independence, the country sank into a recession that lasted throughout the 1990s, bringing heavy inflation and dwindling market prices for the country's goods — not just wheat, but its petroleum and natural gas, as well as its industrial output.
By the dawn of the new century, the economy had righted itself, but the politics began to sour. Tired of what they viewed as undemocratic rule of their country, protestors took to the streets in 2004 and ended the prime ministry of Viktor Yanukovych with the Orange Revolution.
The revolution, peaceful in nature and emulating those that brought down the Soviet Union, made international headlines, but its reforms continue to be fought in Kiev, the capital. Last week, Yulia Tymoshenko, one the revolution's leaders, was arrested, sparking international outrage.
It's this type of news that local Russian-speaking people read about in the local monthly newspaper Russian Spokane. Angelika Sokolova, the editor, was a public relations specialist with her own newspaper in Siberia before she came here two years ago.
"I'm trying to find news, and local stories about local people," says Sokolova, 41. "But most part of the community is refugee. Many people are religious refugees," she says. "We pick what's most important for the community here. … For many people, it's difficult to know what's happening in the world, so we try to inform them."
Dmitri Chaban, a Ukrainian refugee and the employment program manager at World Relief Spokane, keeps abreast of what's happening back home.
But the thing is, he doesn't even consider it home anymore.
"Over there, I'm American. Here, I'm Ukrainian," he says. "In Ukraine, if you smile at me, I think you're mentally challenged. Now, I smile at the telephone pole."


Chaban's story is similar to Kaprian's and to those of many other Ukrainian and Russian immigrants in Spokane.
Like Kaprian, Chaban was a member of an underground Christian church in Ukraine. Unlike Kaprian, Chaban is Pentecostal, but he still had to leave his country to practice his religion.
In college, he was at the head of his class. "I was a very prominent student, one of the top three," he says. He had studied engineering, but he ended up working in heavy equipment maintenance since, because of his beliefs, he couldn't get a good job.
"I had never tasted a banana. I had never tasted peanut butter."
"The politics of our country was trying to destroy the church," he says. "I was given the opportunity to take part in that process. I feared that someday I would be forced to."
So at age 36, Chaban fled Ukraine with his wife and three kids. A few months passed in Rome as he waited for their refugee paperwork to go through. He began learning English and working odd jobs in construction and on farms.
"At the time, we were just waiting for tomorrow," he says. "It was nice to see the Western part of the world. I had never tasted a banana. I had never tasted peanut butter."
He moved first to Tacoma, where he studied even harder to learn English, but it was difficult. One time, when he was first here, a woman gave him something. He wanted to say "thank you," but he couldn't.
"I had the words, but my mouth would not make the sounds," he says.
He graduated from an English as a Second Language class in six months. After moving to Spokane in 1994, he became a certified Russian interpreter for WorkSource. He's been a governor-appointed member of Washington's New American Policy Council, and with World Relief he's helped refugees find jobs and build community.
According to Chaban, who helped found the Valley's Maranatha Slavic Christian Church, there are at
least 10 churches in the area that serve the Russian-speaking community. Up to 70 percent of Spokane's Ukrainians are Christians, he says.
It's America's reputation as a Christian country that brought both Chaban and Kaprian here, but both men admit that America's influence on their children and grandchildren was not something they were completely ready for.
When Chaban first came to America, his host family in Tacoma told him that his future grandkids would not consider themselves Ukrainian.
"I fought it, inside me," he says. "But what can you do?" "[To] my grandkids, sometimes I say, 'Why don't you speak Russian with us?'" Kaprian says. "'Oh, because I'm American. I'm not a Russian.' I say, 'OK. OK. Never mind.' It's a natural process and we can't do anything about it."
He continues, saying that Ukrainians are getting used to becoming American, but Americans aren't necessarily getting used to Ukrainians.
"When we lived in the Soviet Union, we were discriminated [against] because we were Christians," he says. "And now we move to a new country, seeking freedom and we found it here, but it's not a secret that there's still some discrimination, particularly against any kind of immigrants. It doesn't matter if you're Ukrainian, Russian, Polish or African. It doesn't even matter. Lots of American people, they just don't like immigrants. They believe we steal their jobs and ruin their economy, which is absolutely not true."
He pauses. "But mostly, I would say our people are happy here," he says. "Some people say it doesn't really matter where you live because it's God's earth everywhere. You can go anywhere you want to."