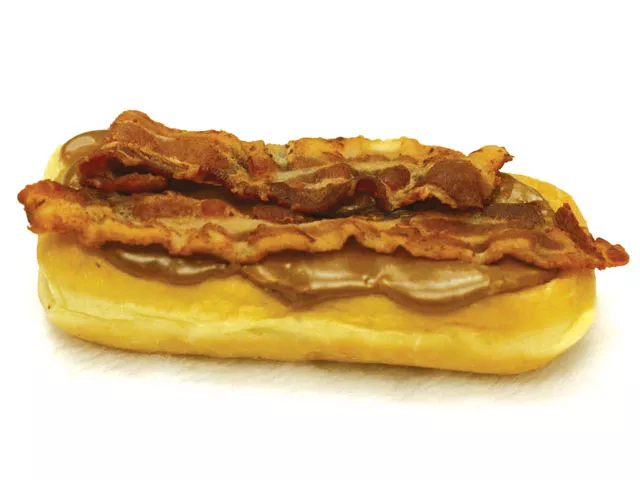 When Jon Berroteran and Dennis Kelly, manager and owner respectively of Zip's at Lincoln St. and Third Ave., wanted a new desert item, they kicked around a few ideas — funnel cakes, mini donuts — before settling on something truly odd and inspired. Alongside traditional cake and glazed donuts, they'd offer some curveballs, like donuts flavored with bacon and chili and chipotle.
There's been some scuttlebutt about the audacity of such an undertaking, but very little written about the actual taste. We decided to rectify that. The donuts have only been around about a month, so don't consider this a full-on food review. It's more like an introductory taste test.
Chili Maple ($1.20)
Berroteran remembers eating maple bars with chili as a kid and loving it. I had similar experiences with chili, and The Inlander's Jacob Fries, who seemingly has the most refined palate in the office, detected hints of cumin as well as chili powder, creating an interesting, surprisingly complex chili flavor.
Chipotle Chocolate ($1)
Deep dark brown and covered with bright red sprinkles, this donut calls attention to itself. Its scent does too. Jacob Fries, sniffing deeply, detected "notes of beef bouillon" in the bouquet. There's no beef taste, though, thankfully. The smoky, earthiness of the chipotle gives the chocolate frosting a mole-without-the-peanut-butter flavor. Audacious, but music editor Leah Sottile echoed the group's conclusion, saying the "mix needs some work."
Bacon Maple ($1.90)
The best of the bunch in our minds (or at least the minds of those of us who eat meat) was inspired by an item at Portland's legendary Voodoo Donuts, Berroteran says, although there are differences. "They do a donut; we do a maple bar."
The sheer huh?! draw of these pastries was impressive. Within minutes of bringing them in, the office was abuzz, people creeping cautiously out of their offices to see what the commotion was, then sticking around to watch the taste testers as though they were contestants on a Japanese game show.
The taste testers generally agreed that these donuts all play with some pretty complex fl avors, but the ones we got had a ton of frosting on them. A little less frosting would help navigate the subtleties.
Donuts that would be better with less frosting. That's gotta be a first. And it's a risky thing, putting meat on a donut. We're glad someone had the chutzpah to do it.

Zip's Drive-In (223 S. Lincoln St. location only) is open Mon-Fri at 7 am and Sat-Sun at 10 am, though the donuts are only available on weekdays, "until there's more demand," says Berroteran. All donuts still in the case at 2 pm become half-price.