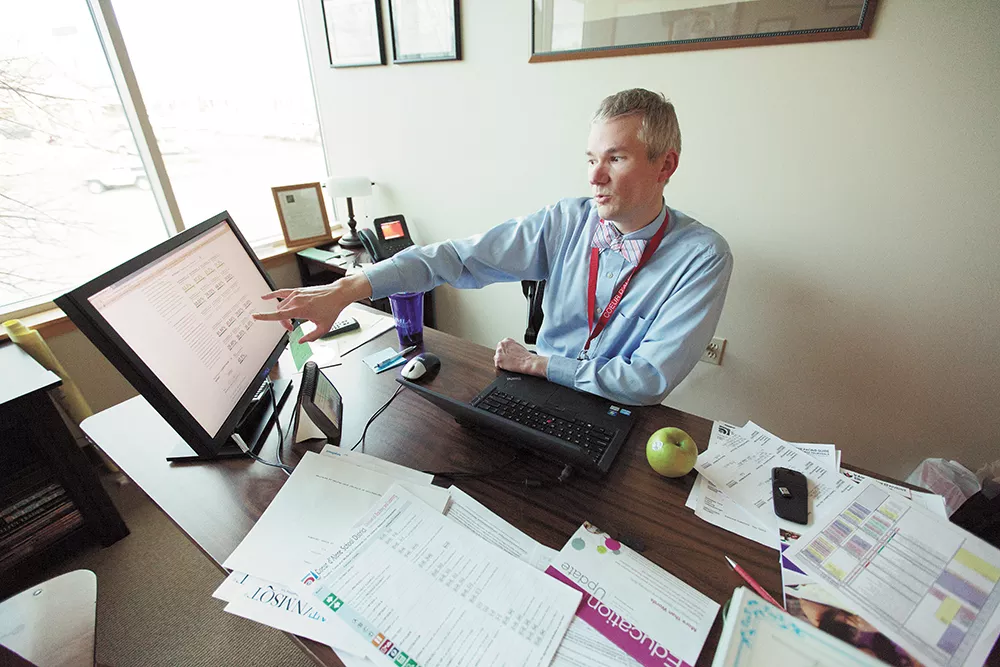 Ideally, technology in the classroom is supposed to improve learning and save teachers time and money. In reality, those high hopes can just as easily be brought low by a tangle of technical difficulties.
In Idaho, that's what's happened with Schoolnet, the ambitious "instructional management system" that the state of Idaho and the J.A. and Kathryn Albertson Foundation have spent millions piloting over nearly three years. Districts believed it would be able to seamlessly transmit data on students from one district to another when they transfer. It would allow teachers to easily create tests and lesson plans, and share them across the state. They would be able to quickly access test scores and grades on their students and share that information with parents.
Instead, Schoolnet has been plagued with wildly inaccurate data, slow loading times and aggravating navigation. A May 2013 study from the Institute for Evidence-Based Change (IEBC), commissioned by the Albertson Foundation, found that while many of Schoolnet's goals have been accomplished, Idaho Department of Education representatives were worried that "the number and magnitude of errors and problems in the system are great enough that the users are losing trust and will continue to do so."
In that report, only 23 percent of Idaho teachers say they have enough time to use Schoolnet and only 25 percent believed it had resulted in more success for students.
So as Idaho begins its legislative session, the progress of Schoolnet is again on the agenda. "Schoolnet has frustrated a number of teachers," says Idaho State Sen. John Goedde, R-Coeur d'Alene, chair of the Idaho Senate's education committee. "We have been promised things are going to be better."
District struggles
Two years ago, the Coeur d'Alene School District received a $250,000 grant to use instructional coaches to train teachers to use Schoolnet. The district hoped to use it to upload their curricula and prepare the school for the new Common Core standardized tests. That didn't happen.
"It became too slow for us to use," says Mike Nelson, the district's director of curriculum and assessment. Just pulling up a single student's name and information with the system, he says, took 30 to 45 seconds — far too long for teachers to look through multiple classrooms.
"It does a lot of things," Nelson says. "It just does not do a lot of things well."
The Schoolnet system already had been used in large school districts in Chicago and Philadelphia, but Idaho, along with Kentucky and North Carolina, are the first to try to take the system statewide. That meant the data system had significantly more data to deal with, and in Idaho, there's an additional challenge: The software had to simultaneously interface with multiple brands of local district grading software. That's very similar to the reason the beleaguered HealthCare.gov site was so glitch-prone this fall.
Some problems aren't with the technology, but with the design. While Schoolnet allows teachers to automatically generate tests easily, drawing from a bank of 50,000 pre-loaded questions, creating new test questions can be tiresome.
Nelson walks through the process step by step: Creating a single new question means clicking through screen after screen asking for the question's grade level, difficulty, school subject, subject matter, curriculum, and how it matches the district standards and the Common Core.
"If you were going to offer your own test, a 20-minute test would probably take you up to two hours or three hours to create," Nelson says. This from a tool supposed to save teachers time.
But getting changes made to Schoolnet, Nelson says, has been as difficult and slow as "turning around an aircraft carrier." Part of the problem is the contractor: Mere days after Idaho made the decision to contract with Schoolnet, the company was purchased by Pearson, a giant, multinational education corporation with its hands in everything from textbooks and grading software to the Financial Times. The IEBC report highlights a testy relationship between Pearson and the state, with education department administrators complaining about a lack of communication and follow-through from Pearson.
"We paid $8 million, we're being told a person is only available every other Friday," one anonymous state education department official said in the report.
Pearson, however, complained the department was too authoritative and didn't give Pearson a chance to pilot the software on a smaller scale before applying it to the entire state. (Last week, both groups reiterated they're committed to making Schoolnet successful.)
The biggest complaints, however, continue to come from districts. "We had a bunch of teachers all excited, ready to jump in and it didn't work," says Tom Taggart, director of business and operations for the Lakeland Joint School District in Rathdrum. He says the district previously used a more narrowly focused, Idaho-developed software system called Milepost. It worked better, but cost the district $20,000. When the state let Lakeland use Schoolnet for free, the district switched. But while it's saved them money, it hasn't been successful.
At a state hearing in September, Meridian, the largest school district in the state, revealed that even after two years, the data it was receiving on Schoolnet was so inaccurate that it still wasn't ready to train teachers on the program. Even things as simple as class schedules turned into buggy messes.
"Students weren't showing up in the right class," says Cindy Sisson, director of curriculum and staff development for Meridian. "If I had six sections of math, it would show I was teaching 10 or 12 or 15 sections." Some classes appeared multiple times; others didn't show up at all.
All three districts say that so far, their teachers have only heavily used Schoolnet for one purpose: to link to the district's Discovery Education library of educational instructional videos. But while many teachers effusively praise Discovery Education, it's a system that doesn't actually require Schoolnet to work.
Meridian, at least, is heading in a new direction. It's abandoning the statewide system and using a separate instance of Schoolnet only within its own district. After all, that what Schoolnet was originally designed to do.
"Basically, what we're doing now is we're building our own version of Schoolnet," says Sisson. "It might work much better as a district solution rather than a statewide solution."
Reselling Schoolnet
Last Friday morning, Roger Quarles, the recently hired Deputy Superintendent of the Idaho State Department of Education, drove about an hour south of Boise to Melba, to a tiny school district of about 300 students, and talked to 50 local teachers. His pitch: Schoolnet has improved by leaps and bounds since the report was issued in May.
"We have really, really worked hard to make sure that there's accurate data uploaded in the system for classroom teachers," Quarles says. "We're probably 90 percent of the way there."
The fact remains: There's been substantial investment of both time and money in Schoolnet. The $16.5 million the Albertson Foundation has already spent on Schoolnet would have been enough to pay the salaries of nearly 175 first-year teachers over the past three years. On top of that, the state has spent over $1 million. The Albertson Foundation has agreed to pay an additional $4.5 million, but only if the software can meet several milestones. After that, the entire cost will be picked up by Idaho.
Quarles remains committed and optimistic, even enthusiastic. The IEBC report concluded the software still had potential. It showed many districts weren't necessarily opposed to Schoolnet — they just wanted it to work. But considering how many teachers have already tried the system and found it wanting, convincing them to try again may be difficult.
"If it did what they said it could do, it would be great," says Lakeland's Taggart. "Once you roll that out and it doesn't work, and you fix it — you've [already] lost confidence." ♦