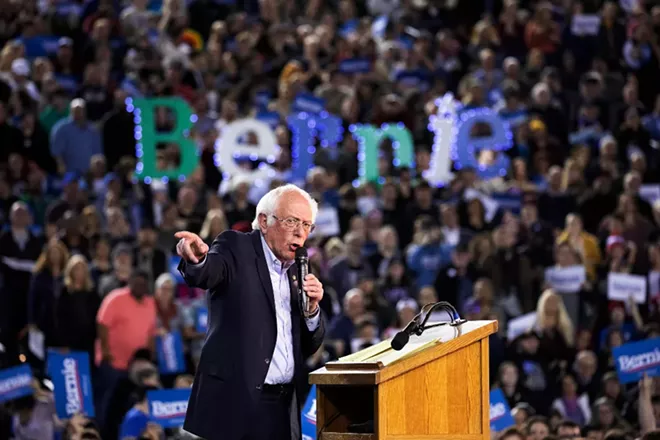 By Sydney Ember
Sen. Bernie Sanders of Vermont is dropping out
of the Democratic presidential race Wednesday, concluding a quest for the White House that began five years ago in relative obscurity but ultimately elevated him as a champion of the working class, a standard-bearer of American liberalism and the leader of a self-styled political revolution.
Sanders' exit from the race establishes former Vice President Joe Biden as the presumptive nominee to challenge President Donald Trump.
In a race reshaped, and eclipsed, by the escalating coronavirus crisis, Sanders faced no realistic path to the nomination after a series of lopsided losses to Biden, beginning in South Carolina in late February and culminating with a string of losses last month in crucial states like Michigan and Florida.
Though Biden had been careful not to pressure Sanders, he had begun to move ahead as if the race were over, taking steps, for example, to begin his search for a running mate.
As Sanders pursued the White House for a second time, he promised he could transform the electorate, bringing new voters under the Democratic tent, but that goal eluded him.
In early primaries this year, he also failed to show that he had remedied a crucial weakness from his 2016 run: a lack of support from black voters, a vital base of the Democratic Party.
Sanders championed and popularized liberal policies like "Medicare for All" and free four-year public colleges aimed at lifting up America's working class, but he faced opposition from many party leaders, elected officials and major donors, as well as large numbers of moderate voters who saw him as too far left.
His departure from the race will amount to a striking turnaround for a candidate who less than two months ago was the clear front-runner, after finishing in a tie for first in Iowa and winning in New Hampshire and Nevada.
For months, Sanders had vowed to do everything he could to beat Trump in November, and his departure, though not what he had envisioned, amounted to an acknowledgment that continuing to battle against Biden would preclude the kind of party unity necessary for the general election fight ahead. Sanders has repeatedly said he would support the former vice president if he were the nominee.