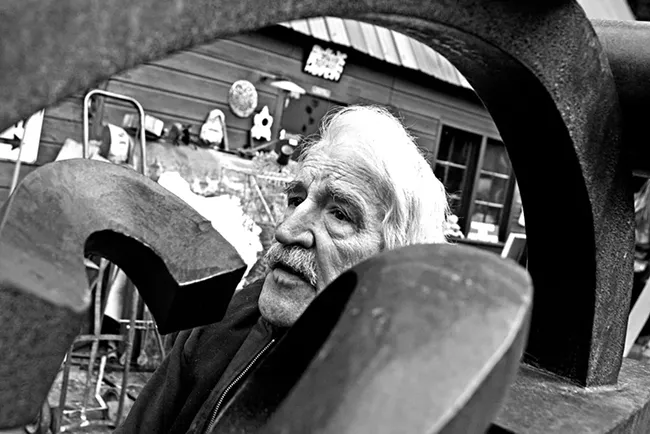 The late Harold Balazs started a nearly unstoppable reign as Best Local Artist from the very first time Inlander readers weighed in for a Best Of poll back in 1994.
In fact, after dipping to third place the next year, the sculptor and multimedia artist from Mead took first place as Best Artist every year from 1996 to 1999.
"If Spokane were to have a patron artist, someone whose work enriched the community, someone with a long history of dedication to his craft, Harold Balazs would be it," the 1999 accolades read. "Riverfront Park is home to one of his best known works, a metal sculpture that is both fluid and full of angles, rising from the Spokane River like a delightfully cubist sea serpent."
The sculpture under the Washington Street bridge is just one of many distinct pieces the artist, who died in late December, left as a lasting legacy. Through decades of work, he created pieces that are displayed in Spokane and throughout the Northwest.
Balazs likely would've been inducted in the Best Of Hall of Fame, with 10 wins, had the Best Artist category not gone on hiatus for five years right after that. But in 2005, Balazs was back with another win.
"Harold Balazs has big hands. You see right away how he would be such a great sculptor. After his paws crush yours in a vise-grip, he fixes you with that toothy smile, throwing his head back and letting out a guffaw, his eyes taking in everyone around him with a bemused grin," the 2005 entry starts. "A real character, you think. This old man must have plenty of stories to tell. He's told them — in steel and stone and ceramic — all over town."
He pushed for "percent for the arts" legislation, enabling public artwork to be included in the price of public projects throughout Washington, and was well known for making art from simple, $10 pieces to incredible towers of elaborate concrete — whatever it took to make art for a living.
And for those willing to buck the rules, by say, climbing to the top of the Lantern outside the INB Performing Arts Center, Balazs' words of encouragement remain: "Transcend the Bullshit."