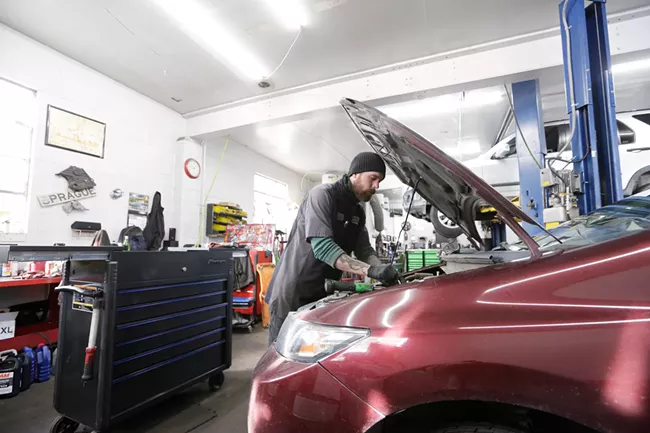 Fifteen years ago Ken Peterson heard from his parents that the owners of Pete's Independent Honda were looking to retire. Peterson, who'd been working at a Honda dealership in Seattle, moved across the state to take over the auto repair shop where his parents had long been customers.
While the original Pete and the current Petersons aren't related, there's still a family atmosphere in the shop thanks to Ken and his wife, Charla.
"Our customers are part of our family. We mourn with them, and we celebrate with them, and they do the same with us," says Charla. "When we married in 2019, a lot of our customers came to the wedding."
Even the waiting room has a home-like, family feel, far from what you might expect at a typical auto repair shop. A still-functional 1902 Mason & Hamlin organ, passed down from Ken's great grandparents, sits alongside a couch, coffee table and vintage Coca-Cola branded mini-fridge.
"We sit and talk," Charla says of their customers. "They come in for an oil change, and they stay for an hour."
Ken and Charla don't advertise their shop, but that hasn't stopped the word from getting out. In 2013, after just five years in Spokane, the Petersons had to move to their larger, current location.
"We outgrew the new location in six months," Charla says.
Word of mouth and hundreds of five-star reviews have been enough to keep business booming over the years. For Charla, their reputation comes from their honesty. You don't have to take her word for it, though. From their Google reviews, where they have a 4.9-star rating, "honest" is the most mentioned quality of all.
2nd PLACE: Mechanics Pride
3rd PLACE: Vandervert Automotive Services