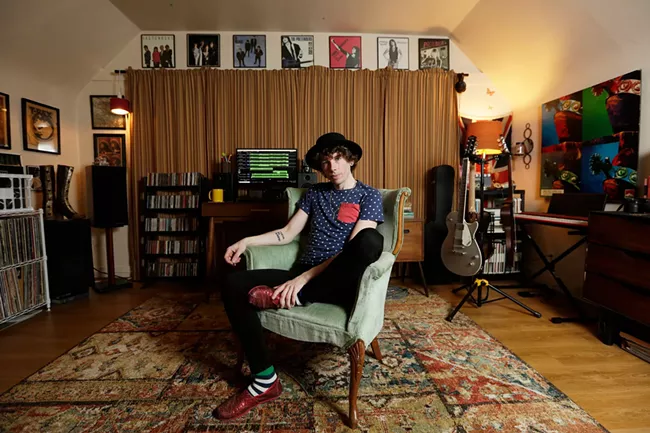 Don't judge Atari Ferrari by its cover. The melodic rock outfit can be a little disorienting at first glance. The group features guys in their 50s, 40s, 30s and one who just turned 20.
"Sometimes when we walk in, [the audience] look at our combination of people and they're like, 'What the hell is this gonna be?" Atari Ferrari frontman Matthew Joseph Hughes says with a laugh.
A 33-year-old Spokane native, Hughes started releasing solo music as Automatic Shoes pretty much as soon as he picked up a guitar in 2006. Inspired by '70s singer-songwriters like Joni Mitchell and metal acts like Megadeth and Ozzie Osborne, Hughes' music — led by his sweet and inviting vocals — has a penchant for eclecticness. Automatic Shoes songs tap into Hughes' folky warmth with an underpinning of alienated optimism.
"I feel like that probably runs through a lot of my music — being a loner, but also hopeful," says Hughes.
Atari Ferrari actually formed after BaLonely frontman Norman Robbins organized a David Bowie tribute concert and invited Hughes to sing a few songs with the house band Robbins had assembled. Hughes clicked with the other guys, and they became his Atari Ferrari bandmates.
While Atari Ferrari touches on a host of sounds across its three LPs, thanks to its range of members, it's undergirded by a base of old school retro rock.
"It's good to not be on the same page and be like, 'This is exactly what our idea is going to sound like,'" Hughes says. "I can bring something and I have no idea what it's gonna sound like with these guys."
Currently Atari Ferrari is trying to work on new songs for the first time in almost three years. The group has also taken a step back from Spokane shows for a while, kind of feeling a bit burnt out by how hard it is to get people out and motivated to go to shows, especially when they get a better response pretty much anywhere else.
The exception will likely be playing Pride at the Pavilion. While he's not loud about being gay, Hughes enjoys Pride crowds' enthusiastic responses and getting the straight dudes who comprise Atari out of their normal comfort zone.
"I try not to be like out and in your face about my sexuality, but it feels like kind of a backdoor vehicle with the music we make and the band I have," Hughes says. "We can go play some dive bar where there's probably people who would never talk to me. And then we can win them over."
BEST BAND, MOSTLY ORIGINALS
2nd PLACE: Snacks at Midnight
3rd PLACE: Free the Jester
BEST SINGER-SONGWRITER
2nd PLACE: Cami Bradley (Carmen Jane, The Sweeplings)
3rd PLACE: Blake Braley