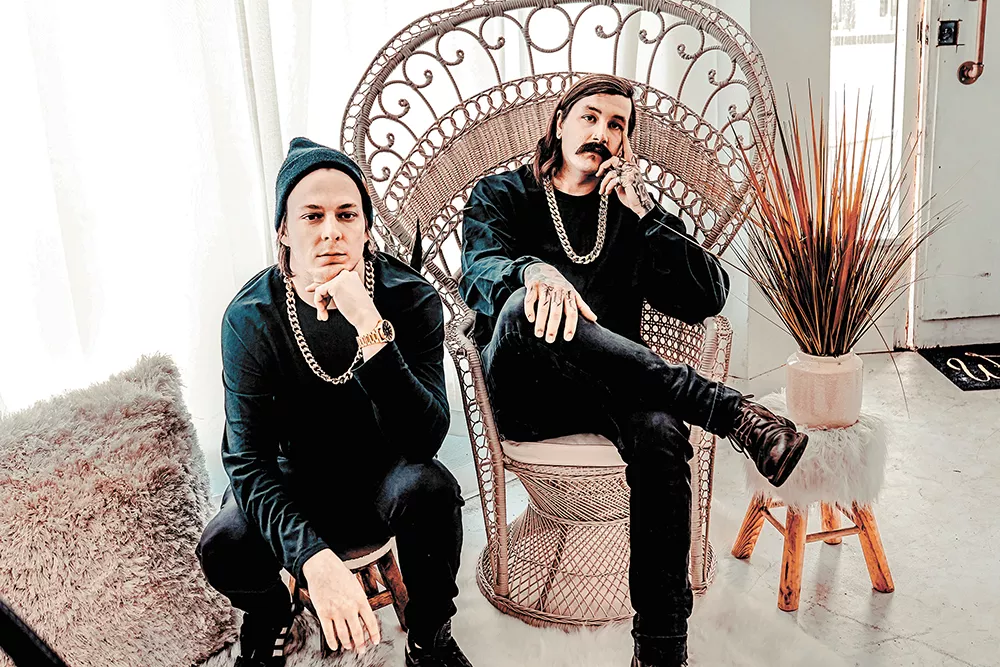 It isn't often that you see a local band selling out most of their gigs, but Indian Goat does.
The duo of Garrett Zanol and Travis Tveit formed a few years ago and almost immediately struck a chord with Spokane audiences: Their live shows are usually raucous, sweaty, beer-soaked affairs, with rooms crammed full of people rocking out in unison. Zanol and Tveit have a locked-in musical chemistry as they barrel through their setlists of '70s-inspired, hook-heavy rock, typically with an American flag stretched out behind them.
It was at the Inlander's Volume Music Festival in 2018 that they first really knew their sound was connecting with people, drawing a late-night audience that filled the Red Room Lounge and spilled out onto the sidewalk.
"It's nice to see your hard work pay off," Zanol says.
"We could play multiple gigs in a month, and a lot of the same people would be at every single one," Tveit adds.
Indian Goat's first two albums — appropriately titled 1 and 2 — came out about a year apart, LPs that were recorded quickly and captured the buzzy, riff-heavy energy of their concerts. Zanol and Tveit are currently working on their third album (see if you can guess what it'll be called) that will be released on Corporat Records sometime this year.
That LP is set to steer the band in a slightly different stylistic direction. The duo says they didn't want to repeat themselves the third time around, but they also didn't want to completely reinvent the wheel. It'll have a "heavier" sound than its predecessors, with tunings and playing styles that weren't present on the first two albums, and it will be recorded in a studio rather than on borrowed mics in Zanol's basement.
"It definitely still sounds like Indian Goat," Tveit says, "groovy and rock 'n' roll-y and riffy. We just really want to take a lot of time on this third album and make it exactly how we want it."
"I think it's important to branch out a little bit," Zanol says. "We want to come out swinging with this third album."
They've also been branching out as a touring act, playing around the West Coast the last couple summers. A contingent of fans have even followed them from Spokane and on to several other states, but that following doesn't begin and end with Indian Goat's hometown.
"Seattle's rad. We've got a pretty fun following," Zanol says. "Weirdly enough, we played Sacramento and there were a few Indian Goat shirts in the crowd."
2nd PLACE: Super Sparkle; 3rd PLACE: Blake Braley Band