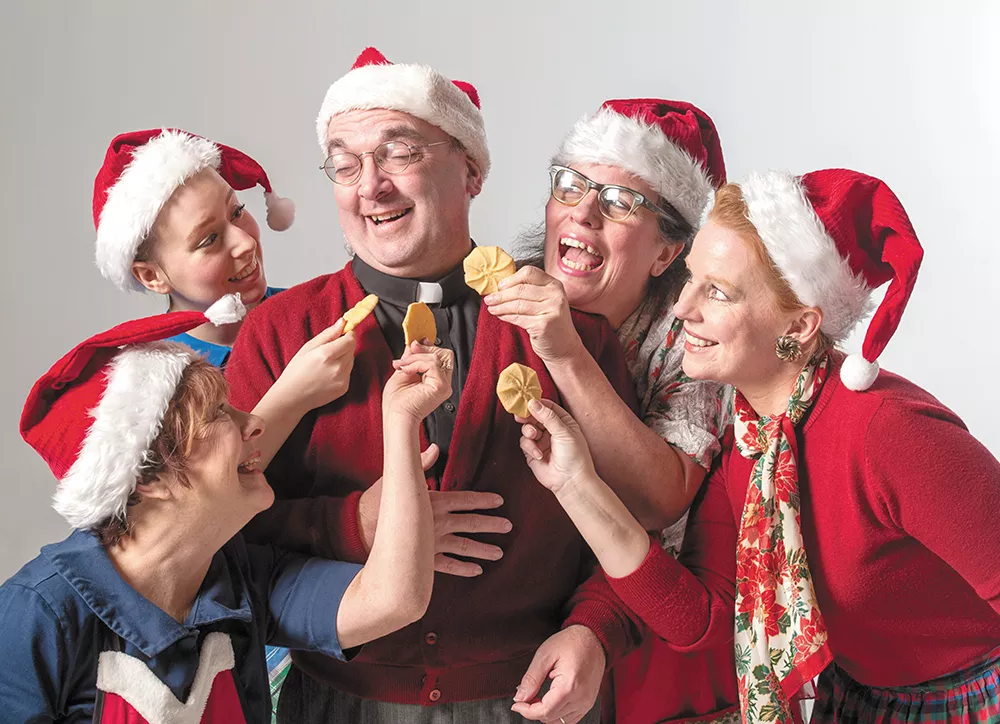 Prequels aren't just for movies. Although they're far less common in theater, you can certainly find them, often by following a long trail of box-office receipts. Due in large part to the success of the first two plays in his Henry VI trilogy, Shakespeare is suspected to have written the first part after what became the third. More recently, the Broadway hit Wicked has continued to mine a theatrical mother lode by post-predating The Wizard of Oz.
So when Church Basement Ladies entertained 250,000 patrons over its two-and-a-half-year opening run at Minnesota's Plymouth Playhouse in 2005, its production company was no doubt inspired to start writing other works at different points on a shared timeline.
Away in the Basement, the Christmas-themed installment, arose as the third play in the franchise, but it's actually the first in its chronology. That made it a clear holiday choice for Interplayers, which staged the original Church Basement Ladies play during the theater's summer preseason.
"It takes place five years before the Church Basement Ladies people saw in the summer," says Jennifer Jacobs, who's reprising — or pre-prising — her role as Karin Engleson. "That allows the characters to change in those five years, and you see how the relationships have developed. But in reverse." In Away in the Basement, Pastor Gunderson, played again by Jerry Sciarrio, meets the woman who will become his wife in Church Basement Ladies. Signe Engleson (Sarah Uptagrafft), whose marriage fueled much of the humor and drama in the summer production, begins dating her future fiancé in this prequel.
"I'm a young teenager this time instead of almost an adult," says Uptagrafft. "And Harry, who's the boy that my character marries in the first show, has developed a crush on me they will not let me forget." The step backward in time also means that Willie, the unseen handyman who passes away in the first installment, is still alive (and still unseen) here.
But in this tiny, mid-20th century Minnesota town, some things are bound to stay the same, even when time moves in the opposite direction. Like the earlier production, also directed by Michael Weaver, there's a big event — in this case, the annual Christmas pageant — that has the church basement buzzing with activity, bringing "scatterbrained" Mavis Gilmerson (Kathie Doyle-Lipe, who's appearing simultaneously in Crazy for You at the Civic), change-averse Vivian Snustad (Marianne McLaughlin, stepping into Susan Windham's prior role), the pastor and the Englesons back together. Their dynamic hasn't changed greatly. Mavis is "the fixer." Vivian is "the antagonist." Pastor Gunderson is the mediator. And even though the stakes are slightly smaller this time around, Signe still butts heads with her mother, Karin.
It's that combination of familiar characters and recognizable personalities that draws theatergoers to each new production of Church Basement Ladies, says Jacobs. "Everybody in the audience knows these people. They have these archetypal categories, and they identify: 'Oh, I know a Vivian,' whether it's in their church or their work. It's fun to come back and see them in this great atmosphere with fun songs."
Sciarrio says that the songs are especially festive in this holiday production. When it comes to message and style, the titles alone hint at what's in store: "Whatsoever You Doo-Wop," "Just Not Mary Material," "Reindeer Rendezvous," as well as the closing number, a traditional Norwegian song called "Jeg er så Glad."
"There's a big message about being a kid again at Christmas and enjoying the season," says Jacobs.
"And remembering others who are less fortunate," adds Doyle-Lipe. "There's all kinds of beautiful messages in the show, but I just want audiences to walk out happier than when they walked in." ♦
Away in the Basement • Dec. 19-Jan. 5: Wed-Sat, 7:30 pm; Sun, 2 pm • $28 ($20 senior/military, $12 student) • Interplayers • 174 S. Howard • 455-7529 • interplayerstheatre.org